Monsanto Company [NYSE:MON] May 19, 2009 - $89.60
52-week range: $63.47 (Nov. 21, 2008) - $145.80 (Jun. 18, 2008)
Dividend = $0.265 quarterly = 1.18% current yield
Monsanto is the world's leading producer of seeds. The company's seeds and genomics division combines advanced breeding and biotechnology traits to produce high-value-added seeds for corn, soybeans, cotton, fruits, vegetables, and other crops. The agricultural productivity segment produces a number of herbicides, including Roundup [company profile from Morningstar].
MON (most recently) came public in October 2000 and has shown spectacular numbers ever since. Split-adjusted earnings rocketed from $0.34 to $3.39 from FY 2000 through FY 2008 (ended August 2008). The first half comparison for the current fiscal year is $3.14 versus $2.25. EPS from the first six months cannot be extrapolated to the full year due to predictable seasonal losses in Q4 each year.
Here are the per share numbers (from continuing operations) as reported by Value Line: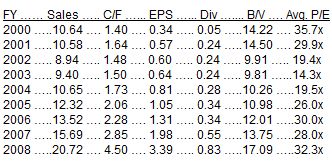 Zacks is looks for $4.65 and $5.22 in FY 2009 and 2010 making MON's multiple about 19.3x this year's and 17.2x FY 2010's expectations. While not 'cheap' in an absolute sense, these shares are now at the second lowest valuation in this decade.
The balance sheet looks great. As of February 28th, Monsanto held over $2 billion in cash versus total debt of just over $1.8 billion. The rapidly growing dividend is well covered at less than a 23% payout ratio.
Morningstar is a fan of this company. They assign MON their highest (5-Star) overall rating and figure 'Fair Value' at $145 – a level actually touched during last spring's commodities boom. Value Line thinks Monsanto can earn $7.50 /share by 2012 – 2014 and sees a 3 – 5 year target price range of $150 - $225.
Monsanto provides a 'dollar hedge' with its worldwide revenue streams and at least a modicum of recession resistance with its agricultural product line. They funnel about 10% of revenues directly into R&D to maintain their leadership position.
Here is my 20-month combination play for Monsanto that will provide a very nice total return, even if the shares just 'mark time' from now until January 2011.

If Monsanto shares go up just 40 cents or plus 0.5% by January 21, 2011:
The $90 call will be exercised.
You will sell your shares for $9,000.
The $90 put will expire worthless- a good thing for you as a seller.
You will likely have collected $185 in dividends.
You will have no further option obligations.
You will end up with no shares and $9,185 cash for your original outlay of $5,440.
That's a net total profit of $3,745 / $5,440 = 68.8% achieved in just 20 months on shares which only needed to rise < 1%.

What's the risk?
If Monsanto shares finish under $90 on January 21, 2011:
The $90 call will expire worthless.
The $90 put will be exercised.
You will be forced to buy another 100 shares and to lay
out an additional $9,000.
You will likely have collected $185 in dividends.
You will have no further option obligations.
You will end up with 200 MON shares.
What's the break-even point on the whole trade?
On the first 100 shares it's their $89.60 cost less the $17.50 /share call premium = $72.10 /share.
On the 'put' shares it's the $90 strike price less the $17.70 /share put premium = $72.30.
Your break-even is thus $72.20 /share (excluding dividends).
Monsanto shares could drop by $17.40 or (-19.4%) without causing a loss on the trade.
This Monsanto combination offers 20-month upside of almost 70%, downside protection of more than 19% and beautiful fundamentals.
Now that's "growth you can believe in."
Some will criticize me for writing such conservative 'at-the-money' options.Keep in mind, though, that outright buyers of Monsanto shares at today's quote of $89.60 would need to see a final share price of over $150 to make the same percentage gain from trade inception.
Disclosure: Author is long MON shares and short MON options.