By David Russell
A large trader is betting that Gap (NYSE:GPS) shares are headed to $20.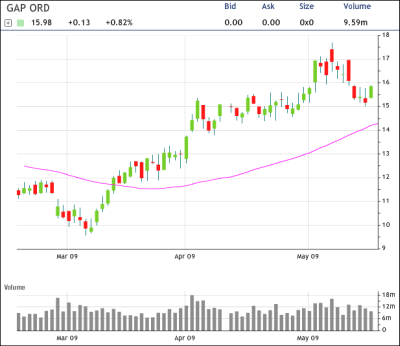 Our monitoring systems detected a complex three-part trade designed to profit from a modest appreciation in the retailer's stock price. Some 3,000 December 12.50 puts were sold for about $0.92, along with an equal number of December 20 calls sold for $0.84. The trader then purchased 2,000 December 15 calls for $2.865.
Volume was more than eight times open interest in all three strikes. The trade apparently represents a combination of a "risk reversal" strategy and a bullish call spread. (See our Education section)

By selling puts, the investor generated extra income and reduced the price of the calls purchased to just $0.23. In contrast, a traditional December 15-20 call spread would have cost more than $2.
The position cost a net $45,000 before commissions to implement and will produce a maximum return of $1 million if GPS closes at $20 on expiration. The trade will lose money if GPS rallies above $30 or falls below $15.23 by expiration.
The shares, which rose 0.82 percent yesterday to close at $15.98, are up 40 percent in the last three months. The company reports fiscal first-quarter results after the market closes tomorrow.