On Tuesday, April 30th, Valero Energy Corp. (NYSE:VLO) reported the results of what I believe to be a very strong first quarter. The company's Q1 EPS of $1.18/share beat Street estimates by $0.18/share, and its revenue of $33.47 billion beat Street estimates by an impressive $3.06 billion. In the wake of the company's impressive first quarter, I wanted to examine several catalysts behind my decision to consider a long-term position in this oil and gas play.
According to Valero's Chairman and CEO, Bill Klesse:
"Valero achieved solid results in the first quarter, despite a heavy turnaround and maintenance workload; our refineries had good performance that was aided by wider diesel margins and crude oil discounts plus contribution from our new hydrocracker at the Port Arthur refinery. Our strong cash flow enabled us to return $415 million in cash to our shareholders through dividends and stock buybacks in the first quarter."
Valero also demonstrated a $700M increase in operating income, which was primarily due to higher refining throughput margins in each of VLO's operating regions (with the exception of the west coast region of the United States), the result of higher margins for diesel and jet fuel, and wider discounts on crude oil and feed stocks.
Recent Performance: On Monday, shares of VLO, which currently possess a market cap of $22.83 billion, a P/E ratio of 11.08, and a forward P/E ratio of 7.08, a PEG ratio of 1.08 and a yield of 1.94% ($0.80) settled at $50.97/share at the end of the trading day. Based on its closing price, shares of VLO are trading 0.45% above their 20-day simple moving average, 5.71% below their 50-day simple moving average, and 18.60% above their 200-day simple moving average. These numbers indicate a short-term and long-term uptrend for the stock, which generally translates into two-thirds of a buying mode for traders. Although the company's 50-day simple moving average is negative, it's not something I'd worry about considering today's announcement of a very strong first quarter.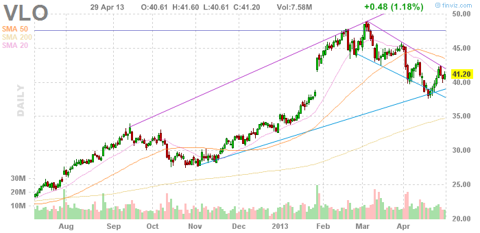 Dividend Behavior: Since February 12, 2010, VLO has increased its quarterly dividend a total of three times by an average of $0.05 per increase each time. From an income perspective, the company's forward yield of 1.94% coupled with its payout ratio (currently 17.00%) and its continued annual increases could equate into a very viable income option for long-term investors.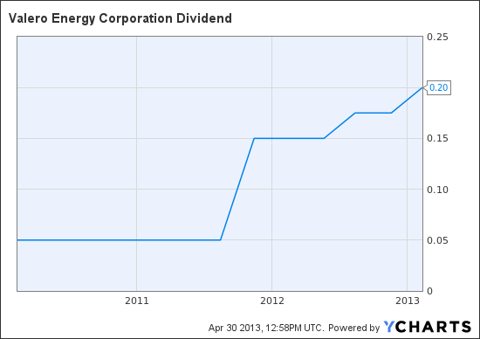 VLO Dividend data by YCharts
Upcoming Spin-Off: On Friday April 5th, Valero received some positive news from the IRS regarding the company's planned spin-off of its CST Retail Brands business. According to the company's press release regarding the upcoming spin-off of CST:
"Valero has received a private letter ruling from the Internal Revenue Service to the effect that, based on certain facts, assumptions, representations and undertakings set forth in the ruling, for U.S. federal income tax purposes, the distribution of CST Brands common stock and certain related transactions generally will not be taxable to Valero or U.S. holders of Valero common stock, except with respect to any cash received in lieu of fractional shares."
The transaction is expected to occur on May 1st, in which Valero shareholders will receive 1 share of CST stock for every 9 share of VLO they currently hold.
Conclusion: When it comes to those who may be looking to establish a position in Valero, I'd continue keep a watchful eye on not only the company's dividend behavior over the next 12 months, but any key developments that may occur that would affect the company's earnings growth, such as the continuation of improved refinery performance and any potential catalyst that would help improve the company's cash flow.
Disclosure: I have no positions in any stocks mentioned, but may initiate a long position in VLO over the next 72 hours. I wrote this article myself, and it expresses my own opinions. I am not receiving compensation for it (other than from Seeking Alpha). I have no business relationship with any company whose stock is mentioned in this article.