The Bakken and Eagle Ford may currently be the largest unconventional oil producers in the U.S., but the two fields certainly do not hold a monopoly on horizontal oil. In fact, North America's shale oil plays may prove to be just as abundant and diverse as the continent's natural gas plays. SM Energy's (NYSE:SM) earnings and operating update released yesterday after the close provides a vivid illustration to that effect.
While the Eagle Ford and Bakken continue to be SM's most significant operating areas, this very reasonably valued 115,000 Boe/d, $5.5 billion enterprise value company has been able, in the course of just few quarters, to unveil three additional sizeable acreage positions in several emerging oil plays: Mississippian Lime in the Permian Basin (not to be confused with the Oklahoma Miss Lime play where SandRidge and Chesapeake are the key players); stacked oil plays in Powder River Basin; and Woodbine/Eagle Ford play in East Texas. While all the "new venture" plays are in early stages of evaluation, results to date have been quite impressive. Today's conference call (10:00 am Eastern Time) should provide details with regard to SM's progress in these plays.
Permian Mississippian Lime Play
In the Northern Midland Basin, SM Energy has leased approximately 66,000 net acres, primarily in Borden County, prospective for Permian Mississippian Limestone oil play. SM drilled its first horizontal test in the play, the Roy 2403H, in September 2010. Since then, SM turned in line another 10 wells; five additional wells are currently completing or waiting on completion.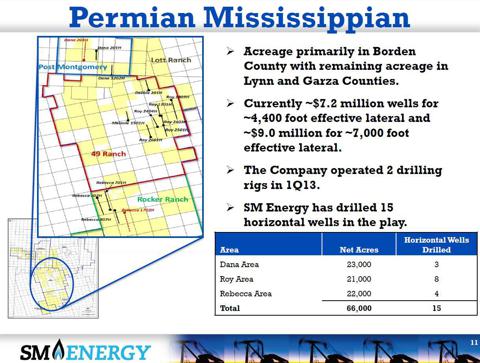 (Source: SM Energy, May, 1 2013)
While the acreage is still under evaluation, operating data provided by SM suggests that the play may already be commercial. Excluding three wells that, according to the company, had mechanical issues, the average 30-day IP rate for short (~4,400-foot) laterals has been over 400 Boe/d. During the first quarter, SM operated two drilling rigs in the area and recently completed a 7,000-foot long lateral, the Roy 1803H, which had a peak 12-day average production rate of approximately 990 Boe/d. Two additional long-lateral wells, the Rebecca 602H and Rebecca 701H, are currently completing.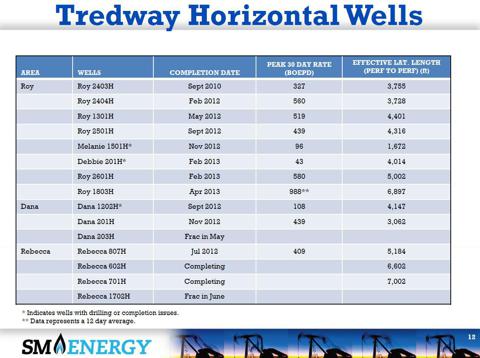 (Source: SM Energy, May 1, 2013)
Based on well performance results to date, SM estimates that EUR for long-lateral (7,000-foot) wells could be 440 MBoe per well. Recent and anticipated well results may push this estimate higher. Cost to drill and complete a long-lateral well is currently in the $9 million range.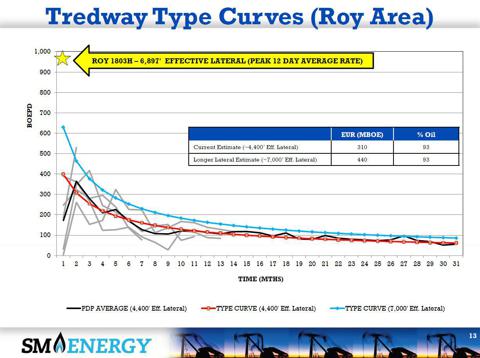 (Source: SM Energy, May 1, 2013)
Assuming an operating learning curve that may lead to higher recovery rates and a reduction in drilling costs in full development mode, the play has potential to be highly economic.
Stacked-Pay Oil Plays In Powder River Basin
SM announced in its press release that it has recently agreed to acquire approximately 40,000 net acres in the Powder River Basin. The acquisition will increase SM's previously disclosed position to approximately 105,000 net acres. While the seller was not disclosed, it clearly is QEP Resources (NYSE:QEP) who has just announced a $145 million divestiture in its Northern division.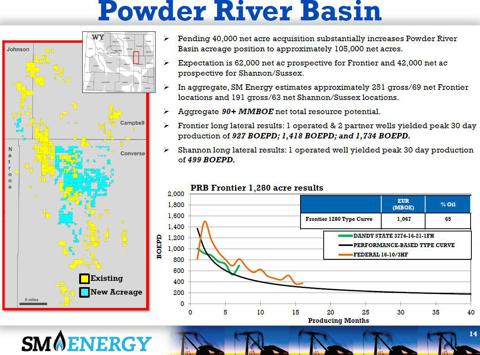 (Source: SM Energy, May 1, 2013)
The acreage is prospective for Frontier, Niobrara, Shannon and Sussex formations. SM plans to focus initially on the Frontier, Sussex, and Shannon and sees a combined 90+ MMBoe resource potential on its acreage.
The acquisition price appears very attractive, although permitting delays and environmental issues have been a factor complicating operations in the PRB.
It is important to emphasize the stacked pay potential of this basin, with the acreage being acquired capturing portions of several plays' fairways.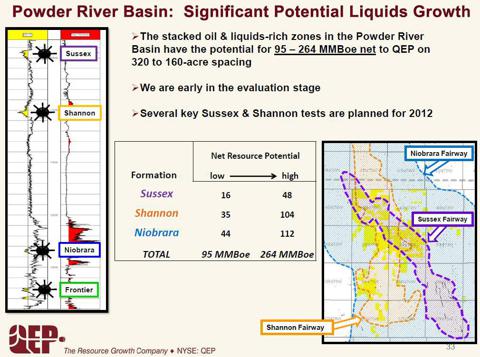 The Sussex is a shallower formation which has been a significant vertical oil producer. QEP has estimated EUR potential for short (5,000-foot) laterals of 300-450 MBoe per well.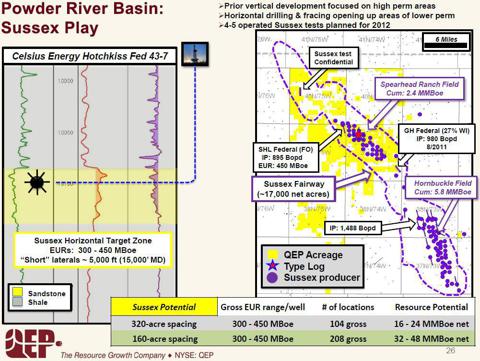 SM presentation provides IP results for three Frontier long-lateral wells, one operated by SM and two partner wells, which had 30-day IP rates of 927 Boe/d; 1,418 Boe/d; and 1,734 Boe/d. The results are, without doubt, very impressive. SM's presentation also provides a long-lateral (1,280-acre drilling unit) type curve and estimates EUR at 1,067 Mboe, of which 65% is oil.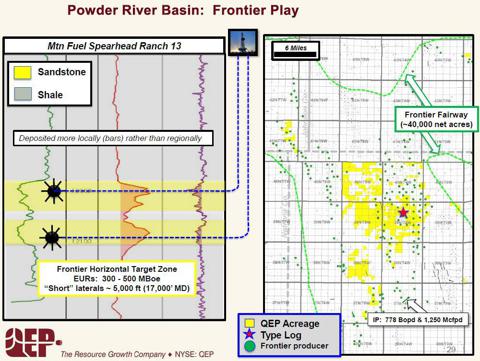 (Source: QEP, November 14, 2011)
East Texas
Few weeks ago, SM unveiled its successful exploration well in the East Texas Woodbine play. The Horizon Properties 2H in San Jacinto County, Texas, a horizontal completion in the Woodbine interval, produced approximately 740 Boe/d in a 24-hour test, flowing at 1,520 psig casing pressure on a 27/64" choke, while cleaning up after fracture stimulation. Production consisted of 305 Bbl/d of 42 degree API gravity oil and 2.6 MMcf/d of 1,250-Btu gas. The well will be shut-in to await construction of a gathering system. Taking into consideration that only 2,500 feet of the wellbore were effectively stimulated, the initial flow rate should be viewed as strong (operators often complete wells in this play with 5,000-8,000 foot laterals). SM Energy expects to have approximately 150,000 total net acres in its new East Texas play upon the consummation of various pending transactions, which are expected to close during the second quarter of 2013. The Company's acreage position is located primarily in Walker, San Jacinto, Polk, and Washington Counties, Texas. SM Energy continues to add acreage in this exploratory play and expects to drill additional test wells in the play targeting primarily Woodbine and Eagle Ford shale intervals in the second half of 2013.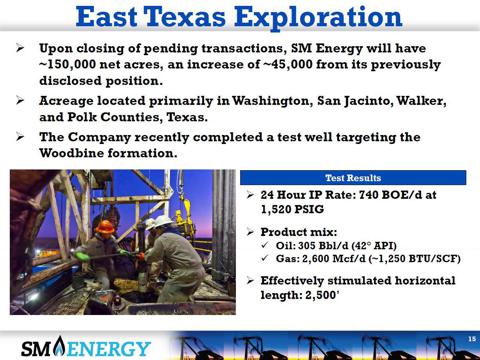 Strong Financial and Operating Results For Q1 2013
Adjusted net income for the first quarter was $55.3 million, or $0.82 per diluted share versus $0.57 consensus. SM reported record quarterly EBITDAX of $328.8 million, which represents 10% sequential growth over fourth quarter of 2012 and 27% growth over first quarter of 2012.
SM Energy reported average daily production of 115,000 Boe/d for the first quarter of 2013, near the top of the guidance range of 110,000 to 116,000 Boe/d. Production increased by 5% sequentially. Reported production in the first quarter was comprised of 30% oil/condensate, 18% NGLs, and 52% natural gas.
During the quarter, the company's operated net production in the Eagle Ford averaged 51,800 Boe/d, a 15% sequential increase, and its net production in the non-operated portion of the Eagle Ford program, averaged 16,000 Boe/d, a sequential increase of approximately 3%. The Bakken/Three Forks production was 12,000 Boe/d, up 3% sequentially.
Conclusion
Combined with very solid financial results reported for the quarter, the rapid ramp up of New Ventures portfolio and strong initial drilling results should have positive implications for this very inexpensive stock and may be welcome news tomorrow at the open.
SM's real time example illustrates that, as it comes to oil shales, the North American E&P industry has barely scratched the surface of the tremendous hydrocarbon resource potential yet to be unlocked. Major basins offer multiple stacked plays with massive amounts of hydrocarbons in place. Clearly, it may take some effort and exploration capital to "crack the code" on some of these plays. With time, however, the map of commercially productive oil shales may look a lot busier than it does today.
Disclaimer: This article is not an investment recommendation. Any analysis presented herein is illustrative in nature, limited in scope, based on an incomplete set of information, and has limitations to its accuracy. This article is not meant to be relied upon for investment decisions. Please consult a qualified investment advisor. The information upon which this material is based was obtained from sources believed to be reliable, but has not been independently verified. Therefore, the author cannot guarantee its accuracy. Any opinions or estimates constitute the author's best judgment as of the date of publication, and are subject to change without notice.
Disclosure: I have no positions in any stocks mentioned, and no plans to initiate any positions within the next 72 hours. I wrote this article myself, and it expresses my own opinions. I am not receiving compensation for it (other than from Seeking Alpha). I have no business relationship with any company whose stock is mentioned in this article.