On Tuesday April 30th it was announced that both the Bakken and Three Forks shale formations in North Dakota and Montana may contain twice as much oil as the U.S. thought they did five years ago, and it is estimated that there are 7.4 billion barrels of undiscovered, technically recoverable, oil within those particular formations, according to a new assessment that was compiled by the U.S. Geological Survey.
Also estimated to be within both The Bakken and Three Forks formations are 6.7 trillion cubic feet of recoverable natural gas and 500 million barrels of recoverable natural gas liquids. As a result of today's findings I wanted to take a closer look at one of the more well-known, dividend-yielding oil & gas plays that have interests in The Bakken and Three Forks formations.
EOG Resources (NYSE:EOG): Based in Houston, Texas, together with its subsidiaries, EOG Resources, Inc. engages in the exploration, development, production, and marketing of crude oil and natural gas. (Yahoo! Finance) On Tuesday, shares of EOG, which currently possess a market cap of $32.94 billion, a P/E ratio of 57.70, a forward P/E ratio of 16.40, and a yield of 0.62% ($0.75), settled at $121.16/share and should see a near-term pop as a direct result of the USGS findings.
One of the first things we should point out is the fact that within the North Dakota Bakken/Three Forks formations EOG announced that positive results from down-spaced drilling tests, coupled with significant modifications in drilling and completion techniques, further boosted the company's crude oil production throughout 2012.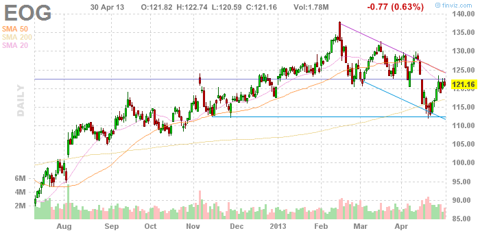 According to the company's February 13th press release the company's 2013 outlook looks quite promising. The press release noted that:
"throughout 2013, EOG plans an active crude oil and liquids exploration program focusing on increasing recovery of hydrocarbons in existing plays and pursuing new greenfield opportunities. The majority of EOG's capital expenditures will be directed toward its two key crude oil assets, the Eagle Ford and Bakken/Three Forks. The Eagle Ford, where EOG estimates it will drill and complete approximately 400 net wells, is expected to contribute the largest share of company production growth in 2013. In the North Dakota Bakken Core and Antelope Extension Bakken/Three Forks, plans are to test additional down-spaced drilling patterns."
If EOG can successfully test its intended down-space drilling patterns and begin to uncover a portion of what the USGS estimates is within both shale formations, 2013 full year results could improve substantially over what the company had dubbed an outstanding 2012.
Dividend Behavior: Since February 12th 2010, EOG has increased its quarterly dividend a total of five times by an average of $0.0106 each time. From an income perspective, the company's forward yield of 0.62% coupled with its payout ratio (currently 32.00%) and its continued annual increases could equate into a very viable income option for long-term investors in search of a very conservative dividend.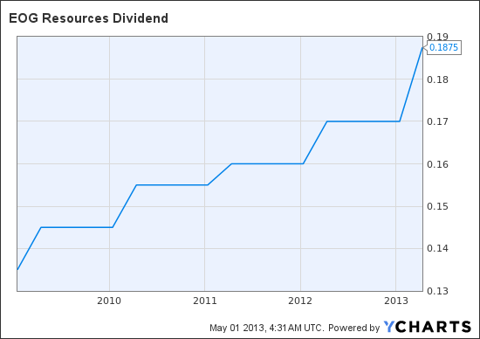 EOG Dividend data by YCharts
Conclusion: When it comes to those who may be looking to establish a position in EOG Resources, I'd continue keep a watchful eye on not only the company's dividend behavior over the next 12 months, but any key developments that may occur within either The Bakken or Three Forks formations in North Dakota and Montana.
Disclosure: I have no positions in any stocks mentioned, but may initiate a long position in EOG over the next 72 hours. I wrote this article myself, and it expresses my own opinions. I am not receiving compensation for it (other than from Seeking Alpha). I have no business relationship with any company whose stock is mentioned in this article.