Real estate is recovering nationally and surging in many U.S. markets. The key drivers of this recovery have been strong measures of investment performance, low and decreasing supply, affordability, favorable interest rates on financing, and last, but not least, foreign investment.
I recently touched on most of these key drivers in my articles "Best Places To Invest In U.S. Real Estate" and "Is the Phoenix Housing Market Getting Too Hot?", but pinning down good macro data on foreign investment in U.S. real estate has been difficult, to say the least. Foreign investment is a stealthy driver affecting many major U.S. real estate markets; people working in these affected markets witness the significant activity and presence of foreign investment and know that it's having an impact, but rarely are there any statistics reported that can accurately reflect the magnitude of foreign investment and the extent of its impact on respective markets.
While admittedly not the most unbiased source, NAR authored a research report on "The Profile of International Home Buying Activity 2012". To highlight a few numbers from this report for the 12 months ending March 2012:
NAR estimated that almost 5% of all home buying activity in the U.S. was attributed to international buyers (estimated sales of $82.5 Billion)
Estimated volume of international sales increased from 2011 to 2012 by 24 percent (sales volume increased from $66.4 Billion in 2011 to $82.5 Billion in 2012)
International buyers came from nearly all over the world, but 55 percent of the buyers are from Canada, China, Mexico, India and the United Kingdom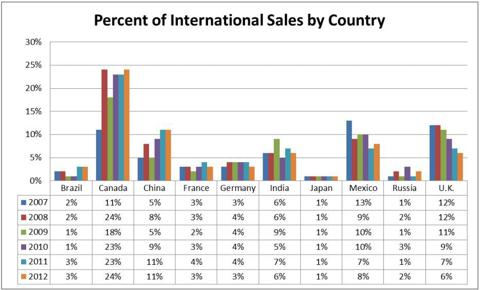 International buyers purchase across the whole U.S., but 51 percent of all international purchases were made in 4 states: California, Arizona, Florida and Texas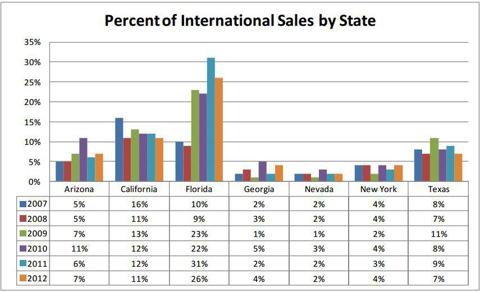 The east coast tends to attract Europeans, the west coast tends to attract Asian purchasers, Florida tends to attract a diverse mix of South Americans as well as Canadians and Europeans, Arizona tends to attract Mexican purchasers as well as Canadians, Texas tends to attract Mexican purchasers
Economic conditions in the foreign exchange rates impact international sales (i.e. a weak dollar increases international sales)
The top 3 factors influencing international buyers (in order) are: location, price, and security of their investment
International buyers have a significant preference for single family homes and suburban areas
Whether coincidentally or not, the U.S. markets identified as the highest percent of purchases for international buyers are also the same markets showing strong performance over the last several quarters in the monthly Case-Shiller reports on sales prices. Phoenix, for example, has had the best performance for some time in the Case Shiller reports. Note that the largest international buyer segment, Canadians, are significant buyers of Phoenix real estate. According to the W.P. Carey School of Business, for the month of February 2013:
22% of purchase transactions in Maricopa county (Phoenix and surrounding cities) were made to out-of-state buyers, and Canadians made up 3.2% of all purchases.
It's clear to see that outside money is helping to fuel the housing recovery in Phoenix. Here's a map from Cromford Report that actually shows residences owned by Canadians geographically in Maricopa county: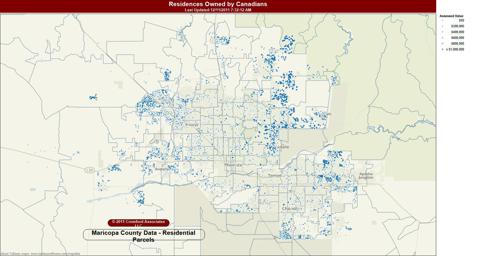 Similarly, San Francisco, Los Angeles, San Diego, Seattle, Las Vegas, and South Florida have all shown strong upward price movements in the Case-Shiller reports, and likewise, happen to be in primary markets with the highest activity of international buyers.
There are significant opportunities to profit from this flow of foreign investment: foreign investment will continue to assist U.S. real estate in its recovery, therefore, the DJ US Real Estate ETF (NYSEARCA:IYR) could be a solid play. Homebuilders (NYSEARCA:XHB) (specifically those with active developments in markets favored by international buyers) such as KB Home (NYSE:KBH), D.R. Horton (NYSE:DHI), Taylor Morrison (NYSE:TMHC), Toll Brothers (NYSE:TOL), Pulte (NYSE:PHM), Lennar (NYSE:LEN) could have strong upside as well. Home construction (NYSEARCA:ITB) should fare well, along with specific stocks Home Depot (NYSE:HD) and Lowe's (NYSE:LOW). Last, but not least, one could play Blackstone (NYSE:BX) and Silver Bay (NYSE:SBY) for their significant acquisitions / holdings of real estate in many of these markets.
Foreign investment in U.S. real estate is yet another bullish signal for the brightening outlook of U.S. real estate, and understanding where that money goes and the impact on the respective market is critical to identifying lucrative investment opportunities.
Disclosure: I have no positions in any stocks mentioned, and no plans to initiate any positions within the next 72 hours. I wrote this article myself, and it expresses my own opinions. I am not receiving compensation for it (other than from Seeking Alpha). I have no business relationship with any company whose stock is mentioned in this article.