In my continuous search for 'boring but beautiful' stocks, companies that remain relatively unknown by the majority of investors because they operate outside of popular/trendy industries, I have come across quite a few specialty chemical makers. Perhaps the reason is that no industry embodies the phrase 'boring but beautiful' better than the chemical/cleaning products segment. It is an industry that creates products meant to operate primarily behind the scenes and outside of the public's field of view. Most people don't want to know how medical equipment is sterilized or how the chemicals in their favorite laundry detergent operate; they merely want to know that the items are made clean and safe to use.
So it's no surprise that I have turned up another hidden gem in the industry: Stepan Company (NYSE:SCL). Much like Balchem Corp. (NASDAQ:BCPC), the previous chemical designer/manufacturer that I researched, Stepan Co. is a relatively small company that has provided investors with large gains over the years through a rare mix of revenue/earnings per share growth and consistent dividend-growth. As such, Stepan is a great consideration for long-term investors seeking both market outperformance and steadily increasing dividends.
The Company:
Stepan Co. is a global manufacturer of basic and intermediate chemicals. Founded in 1932 by Alfred C. Stepan Jr. and headquartered in Northfield, Illinois, the company currently employs over 2,000 people and owns and operates 16 manufacturing plants, located in 12 countries throughout North and South America, Europe and Asia. The company's chemical offerings are broken down into three main segments:
· Surfactants - As an essential ingredient in consumer/industrial cleaning compounds, the 'Surfactants' segment represents the majority of Stepan Co.'s business. Includes the sale of the company's anionic, cationic, nonionic and amphoteric surfactant product lines. Stepan Co. also creates custom surfactants based on the specific needs of customers.
· Polymers - Includes the manufacture and sale of Polyester Polyols, which are used as coatings, adhesives and insulators in commercial construction, Polyurethane Systems, which includes products for commercial roofing as well as engineered specialty foams used in aerospace and defense markets and Phthalic Anhydride, used as a key ingredient for plasticizers.
· Specialty Chemicals - Includes the production and distribution of naturally derived ingredients/oils used in the food, nutrition and pharmaceutical industries. Includes brands such as Clarinol, Marinol and PinnoThin.
The Stock:
In almost any comparable time period, SCL has outperformed all major indices by a wide margin. The following is a breakdown of the equity's performance compared to the S&P 500 (NYSEARCA:SPY) over the last decade:
| | | |
| --- | --- | --- |
| Equity/Index | SCL | S&P 500 |
| 10-Yr. Total Return | 613.6% | 115.8% |
| 5-Yr. Total Return | 258.6% | 26.57% |
| 1-Yr.-Total Return | 30.96% | 15.32% |
(Numbers from YCharts.com, as of 4/28/13, all with dividends reinvested)
With a total shareholder return of over 600%, SCL easily bests the S&P 500's total return of 115.8% during the last decade. On a five-year basis, the stock's outperformance continues, as SCL's total shareholder return of 258.6% compares favorably to the S&P 500's total return of 26.57%. Even on a one-year total return basis, in which SCL is currently off 8.23% from its highs, the stock still significantly outperforms the S&P 500, up 30.96% versus the index's 15.32%.
What's more impressive is that SCL has provided these robust returns while maintaining relative trading consistency. The following is a chart of SCL over the past five years (included are 50-day, 100-day and 200-day moving averages as well as MACD and slow stochastic indicators):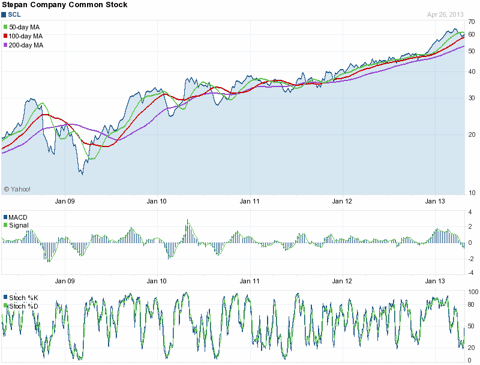 (Chart courtesy of Yahoo! Finance)
First and foremost, SCL's chart is displaying an overall uptrend, which is indicative of a positive growth story. Since recovering from its 2009 lows, the stock has largely obeyed its major moving averages, only faltering significantly twice in 2010. Over the last year-and-a-half, SCL has traded exceptionally well, appropriately bouncing off of major moving average support. Additionally, the MACD indicator shows steady buying pressure and weak selling pressure, particularly since late 2011.
Growth:
For comparative purposes, I have chosen to include the growth rates of the aforementioned Balchem Corp., a company whose business mix and market capitalization match up well with that of Stepan Co. Additionally, I have included industry stalwart The Dow Chemical Company (NYSE:DOW) to give investors a better perspective on the kind of growth small cap chemical companies provide compared to their much larger peers.
| | | | |
| --- | --- | --- | --- |
| Company | BCPC | DOW | SCL |
| Revenue Growth (2013) | 10% | 3.7% | 2.6% |
| Revenue Growth (2014) | 14.9% | 4.4% | 5.2% |
| Revenue Growth (2-Yr. Avg.) | 12.45% | 4.05% | 3.9% |
| EPS Growth (2013) | 18.2% | 23.2% | 13.2% |
| EPS Growth (2014) | 25% | 23.9% | 9.9% |
| EPS Growth (2-Yr. Avg.) | 21.6% | 23.55% | 11.55% |
(Numbers from Yahoo! Finance, as of 4/28/13)
Surprisingly, Stepan Co. is projected to underperform both its smaller peer Balchem and its larger peer The Dow Chemical Company in revenue and earnings per share growth for the next two years. Balchem is expected to grow revenue the fastest over the next two years, at 12.45% per year on average, and Dow Chemical is expected to grow EPS the fastest over the same two-year period, at 23.55% per year on average.
Let's see how the relatively weak 2013-2014 projected revenue/EPS growth estimates for Stepan Co. compare to the company's historical growth rates. The following is a breakdown of SCL's revenue and earnings per share growth rates over the last seven years:
| | | | | |
| --- | --- | --- | --- | --- |
| Fiscal Year | Revenue | Change (%) | EPS | Change (%) |
| 2006 | 1.17B | 8.33% | 0.32 | -50.76% |
| 2007 | 1.33B | 13.67% | 0.75 | 134.37% |
| 2008 | 1.6B | 20.3% | 1.76 | 134.66% |
| 2009 | 1.28B | -20% | 2.92 | 65.9% |
| 2010 | 1.43B | 11.71% | 2.95 | 1.02% |
| 2011 | 1.84B | 28.67% | 3.21 | 8.81% |
| 2012 | 1.8B | -2.17% | 3.49 | 8.72% |
| Avg. 7-Yr. Growth Rate | N/A | 8.64% | N/A | 43.24% |
(Numbers from MSN Money, as of 4/28/13)
The seven-year results are interesting and indicate that management at Stepan Co. has traditionally done a better job at growing earnings per share than revenue and this is projected to be the case going forward until at least 2014. A positive is that projected earnings growth for 2013 and 2014, at 13.2% and 9.9% respectively, are above the company's earnings growth rates for the prior three years (abnormally large EPS growth in 2007-2009 distort the 7-Yr. average growth rate). However, the results also indicate that both revenue and EPS growth have been very sporadic, despite being positive overall.
While volatile, the results are not too surprising considering the apparent patchiness of the chemical sector as a whole and the vast majority of the companies that operate in it. My previous analysis of Balchem revealed similar results on a seven-year historical basis. While not nearly as sporadic as that of Stepan Co., Balchem did experience frequent ebbs and flows in both its revenue and EPS growth rates, in a few instances going negative as SCL has in the past. Similarly, The Dow Chemical Company has experienced massive fluctuation with regards to the growth of its revenue and earnings per share.
Fundamentals:
| | | | |
| --- | --- | --- | --- |
| Company | BCPC | DOW | SCL |
| Market Cap | 1.26B | 39.47B | 1.31B |
| Total Debt | 0 | 20.09B | 182.4M |
| Total Cash | 144.74M | 3.35B | 76.88M |
| 2013 Projected Revenue | 341.28M | 58.87B | 1.85B |
| ROIC | 15.2% | 2.2% | 11.4% |
| ROIC (5-Yr. Avg.) | 17.1% | 3.1% | 11.8% |
| P/E (trailing) | 32.34 | 41.11 | 17.07 |
| P/E (forward) | 21.89 | 11.52 | 12.45 |
| Net Profit Margin | 12.89% | 2.81% | 4.4% |
| Dividend/Yield | 0.22/0.5% | 1.28/3.8% | 0.64/1.1% |
(Numbers from Yahoo! Finance, MSN Money, as of 4/28/13)
Stepan and Balchem stand out as being very small compared to the massive chemical giant that is Dow Chemical. While not burdened with an excessive amount of debt, SCL's current debt load of $182.4 million is equal to 13.92% of the company's current market capitalization; Stepan Co. falls short in comparison to Balchem's total absence of debt. However, both smaller companies appear healthy when positioned next to Dow Chemical, whose debt is equal to just over 50% of its current market capitalization. Similarly, SCL's cash position, currently equal to 5.86% of the company's current market cap, is healthy but pales in comparison to Balchem's $144.74 million, equal to 11.48% of the company's market cap.
On a revenue basis, Stepan Co. impresses as it is expected to generate $1.85 billion in sales for 2013, robust sales indeed for a $1.3 billion company that is still growing. For a company of similar size, Balchem is projected to generate just 18.44% of the revenue that Stepan is expected to generate in the same fiscal year.
With regard to 'Return On Invested Capital,' the measure of a company's efficiency at generating return from capital investments, both Stepan and Balchem appear very healthy. Although Balchem leads Stepan in this metric as well, management at both companies have proven that they are dedicated to providing consistently high return off of capital, as both companies have a five-year average ROIC of above 10%. Dow Chemical falls short in this regard, with ROIC of just 2.2% and a meager five-year average of 3.1%.
In terms of valuation, Stepan Co. is the cheapest out of all listed peers on a trailing twelve-month basis, with a P/E of 17.07. On a future twelve-month basis, Stepan appears cheap as well with a forward P/E of 12.45, behind only Dow Chemical's forward P/E of 11.52. However, when viewed historically, SCL appears slightly expensive on both a current and future basis, as it's five-year average P/E is just 11.06.
Finally, SCL's dividend of $0.64 is equal to a yield of 1.1%, which is more than double BCPC's yield of 0.5%. Dow Chemical has the highest yield by far, currently at 3.8%. However, similar to Balchem, the more interesting aspect with regard to Stepan Co. is in the dividend-growth over the years.
Dividend-Growth:
| | |
| --- | --- |
| Company | SCL |
| Price Per Share | 59.64 |
| Dividend | 0.64 |
| Yield | 1.10% |
| Payout Ratio | 14% |
| Dividend Increases In Last 10 Years | 10 |
| % Increase In Last 10 Years | 68.42% |
| Annual Dividend-Growth (10-Yr.) | 4.7% |
| Annual Dividend Yield (10-Yr.) | 2.71% |
| Dividend Increases In Last 5 Years | 5 |
| % Increase In Last 5 Years | 52.38% |
| Annual Dividend-Growth (5-Yr.) | 7.1% |
| Annual Dividend Yield (5-Yr.) | 1.87% |
| Dividend Increases In Last 3 Years | 3 |
| % Increase In Last 3 Years | 33.33% |
| Annual Dividend-Growth (3-Yr.) | 8.8% |
| Annual Dividend Yield (3-Yr.) | 1.49% |
| Most Recent Dividend Raise | 11/28/12 |
| Most Recent Dividend Increase (%) | 14.28% |
(Numbers from Yahoo! Finance, Dividend-Stocks.com, as of 4/28/13)
With regard to dividend increases, Stepan Co. is the very model of consistency. The company has increased its dividend every year for the last decade without falter. In fact, the history of dividend increases extends much further back; as SCL has managed consecutive yearly increases in dividends for the past 45 years! When there is so little to depend on in investing, extreme dedication to dividend increases, like Stepan has displayed for nearly half a century, is encouraging and should be a welcome comfort to investors.
The dividend-growth rates are admirable but nowhere near the best levels that I've seen among the top echelon of dividend-growth stocks. A total dividend increase of 68.42% over the last decade is merely decent, especially compared to Balchem's 1,285% increase over the same time period.
However, what is particularly interesting and most important is that dividend-growth has been accelerating over time. The ten-year average dividend-growth rate is at 4.7%, while the five-year average comes in at a more robust 7.1%. Even better still is the three-year average growth rate of 8.8%. To top it off, the last dividend increase, payable on 11/28/12, was at a robust 14.28% rate. Almost half of SCL's ten-year dividend growth rate percentage (33.33% to be exact) has happened in the last three years alone.
By analyzing the annual yield over time, it is apparent that the stock's current yield of 1.10% is far off from normal levels, which indicates that stock appreciation has outpaced the company's dividend-growth rate, even at its more recent robust levels. This is to be expected, as the stock is up approximately 25% since November alone, which is when the most recent dividend increase was approved.
The company's strong revenue/EPS growth has fueled rapid gains in shares of SCL over the past five years and has forced management to increase dividend-growth at higher levels. Unfortunately, the dividend increases have not been able to keep up with stock appreciation and the yield has declined over time. However, with revenue/EPS growth projected to slow for at least the next two years and management's dedication to raising dividends each year at more robust levels, it may be just a matter of time before SCL's yield is significantly closer to its historical highs.
Growth Catalysts:
Stepan's 'Surfactants' business segment, which accounts for approximately 70% of the company's net sales, was a laggard performer in 2012. Sales for the segment were down 4% last year due mainly to lower selling prices. Gross profit for the segment, however, was up 14% to $203.4 million due mainly to margin recovery. Despite lagging sales growth, management remains confident in its plan to evolve the 'Surfactants' business by improving the global product mix. Management's goal for 2013 is to increase distribution to key markets like agricultural/oil field as well as consumer/industrial cleaning. Although most likely modest, management at Stepan expects its largest business segment is "positioned for earnings growth in 2013."
The company's 'Polymer' segment, which accounts for approximately 25% of Stepan's net sales, grew revenue 1% in 2012, volumes 3% on the addition of new adhesive applications and gross profit 17% to $71.9 million on a favorable sales mix. The segment is expected to grow in 2013 on the continued use of polyol as an energy saving insulator as well as the compound's newer applications in metal panels and cash products. However, results will most likely be restricted once again as the company battles "higher costs of operating in China" that "may limit overall profit earnings growth in 2013."
Additionally, management is in the process of making improvements to operating efficiencies across the board, including an expected increase in the capacity of its polymer plant in China from 20,000 tons to possibly 50,000 tons. Management also stated that they are considering either expanding the company's production plant in Brazil or building an additional plant to improve Stepan's emerging market presence.
Finally, after raising the dividend in the fourth quarter, management at Stepan also bought back 23,000 shares of its common stock, worth approximately $1.37 million at current pricing. Just in late February, the board approved a new share repurchase plan of up to 1 million shares of common stock.
Q1 2013 Earnings Results:
Stepan Co. recently reported first quarter earnings results on April 30 and the results were down from the comparable 2012-quarter. First quarter net income in 2013 dropped to $19.034 million ($0.83 per diluted share), down approximately 15% on a year-over-year basis from $22.302 million ($0.98 per diluted share) in 2012. Net revenue in the quarter dropped approximately 2% year-over-year to $456.5 million, down from $465.2 million in 2012.
However, similar to the entirety of fiscal 2012, sales volumes in the first quarter grew, by approximately 3%. Management attributed the drop in net sales dollars to overall lower selling prices, which dropped approximately 5% in the quarter.
The 'Surfactants' segment, which saw sales volume rise 5% and net sales drop 2% in the first quarter, is expected to experience improved margins throughout the year and should continue to benefit from strength in agricultural markets. The 'Polymers' segment, which saw sales volume decline 7% and net sales decline 1%, was hurt in the quarter by a particularly slow start to the construction season and weak demand in Europe.
Additionally, management reiterated its plans to expand geographically and to improve the company's global sales mix, with a focus on "higher value added products," according to President and CEO F. Quinn Stepan Jr. Management also highlighted strong growth in Brazil, driven by the company's large 'Surfactants' segment, and is planning "additional investments to support Brazilian growth" in the future.
Finally, alongside earnings, the company also announced the acquisition of North American Polyester Resins from Bayer MaterialScience. The deal includes Bayer's production facility in Columbus, Georgia, which has 21,000 ton per year capability with room for additional expansion, as well as an advanced R&D laboratory. The business, which centers on CASE (Coating, Adhesives, Sealants, Elastomers) and PUSH (Polyurethane Systems House) polyol applications and generates annual sales of approximately $64 million, will expand Stepan's offerings in both areas and is expected to be "accretive to 2013 earnings."
In summation, the lower-than-expected first quarter earnings results will make it difficult for Stepan Co. to deliver full-year earnings growth in 2013. However, CEO Stepan Jr. stated that management would continue to "evaluate additional investments that can accelerate growth and deliver value to our shareholders."
Risks:
As was mentioned prior, the main risk for Stepan Co. going forward is the rising cost of raw materials, which could negatively impact the earnings of company's two largest business segments, 'Surfactants' and 'Polymers.' Indeed, as was gathered from the most recent earnings report, management expects the rise in raw materials to limit the company's overall earnings growth for 2013-2014, possibly even stifle growth altogether.
China will also be a particular area of concern for Stepan during the next two years, as the company has been forced to relocate its production plant by government mandate. Management has stated that the company will continue to provide its Asian customers with product from other Stepan production sites until the relocation is complete.
Conclusion:
Growth has definitely started to slow for Stepan Co. as of late. Fiscal 2012 was a mixed year for revenue and earnings per share growth for the company and projections for the next two years, although slightly better than 2012, are still well off the company's historical average rates. The company's most recent and disappointing first quarter results have only highlighted some of the serious headwinds the company faces with regard to future growth and presents management with a tough task in growing earnings for the full 2013 year. Since Stepan Co. is no longer growing revenue/EPS at the rates that it has in the past, it would be ideal to see valuation drop to levels that accurately reflect the growth challenges going forward, which would be a forward P/E ratio below the company's 5-year historical average of 11.06.
However, the company has long excelled at maintaining a healthy balance sheet and providing investors with increasing dividends every year. It is hard to find many companies more consistent with regard to dividend increases than Stepan has been over the last four-and-a-half decades. Perhaps more importantly is that dividend-growth has been accelerating as of late and this appears to be a trend that will remain viable long into the future. As stock appreciation presumably slows over the course of 2013-2014, due to expected weakening in revenue/EPS growth, and dividend-growth accelerates I expect to see Stepan's yield increase and reach its more historical average rates in the coming years.
I think Stepan Co. is best viewed in comparison to Balchem Corp. Both are high quality stocks that suit long-term investors looking for stock appreciation and dividend growth. Balchem is a nice consideration for investors looking for larger revenue/earnings per share/dividend growth but willing to accept higher valuation levels/lower yield. On the other hand, Stepan is a nice consideration for investors looking for slower growth at lower valuation levels and higher yield.
Disclosure: I have no positions in any stocks mentioned, and no plans to initiate any positions within the next 72 hours. I wrote this article myself, and it expresses my own opinions. I am not receiving compensation for it (other than from Seeking Alpha). I have no business relationship with any company whose stock is mentioned in this article.