Earnings continue to beat and those who are missing are missing badly, which indicates to us that their businesses are in trouble and/or their management teams lack the necessary skills to manage the assets in this environment. We think that we are at the beginning of a major bull run and thus one should seek out those companies already performing well and ride them higher through the good times. It is the safest bet but does leave some gains on the table, for when all boats rise with the tide it is the worst managed and worst operationally managed companies who perform the best near the end. That is until the party is over. We have a few tech names included in today's article for consideration along these lines.
Chart of the Day:
This chart continues to stay bullish with the uptrend line remaining intact, even with all of the noise we have had to deal with lately. And THAT is most certainly bullish.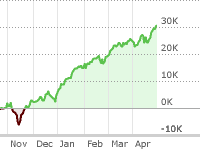 Chart courtesy of Ameritrade.com
We have economic news due out today, and it is as follows:
MBA Mortgage Index (7:00 a.m. ET): N/A
ADP Employment Change (8:30 a.m. ET): 155k
ISM Index (10:00 a.m. ET): 51.0
Construction Spending (10:00 a.m. ET): 0.5%
Crude Inventories (10:30 a.m. ET): N/A
FOMC Rate Decision (2:15 a.m. ET): 0.25%
Auto Sales (3:00 p.m. ET): N/A
Truck Sales (3:00 p.m. ET): N/A
Asian markets finished lower today:
All Ordinaries -- down 0.48%
Shanghai Composite -- CLOSED
Nikkei 225 -- down 0.44%
NZSE 50 -- down 0.25%
Seoul Composite -- CLOSED
In Europe, most markets are closed this morning:
CAC 40 -- CLOSED
DAX -- CLOSED
FTSE 100 -- up 0.57%
OSE -- CLOSED
Technology
It is safe for the bulls to roam freely once again in 3D Systems (NYSE:DDD), which yesterday reported double digit increases on both the top and bottom lines. This quarter helped clear up the confusion which was created during last quarter's presentation when certain numbers did not seem to add up and forced some analysts to call into question the growth rate. This makes it almost two years of double digit earnings growth and by all indications next quarter will make that official. The earnings release is located here, and for those wanting the transcript to the conference call you can find that via this link.
We got the results we expected and the price action we wanted, but now we must watch the $40/share level and see whether it can be breached. Notice the recent 'higher highs and lower lows trend'.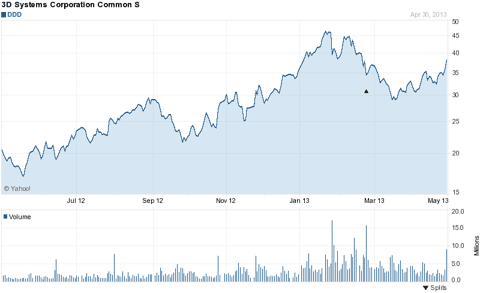 Chart courtesy of Yahoo Finance.
Regarding earnings and good earnings calls, we really liked what we heard over at Sirius XM (NASDAQ:SIRI) which made the Chief Executive Officer title official after dropping the interim label for Jim Meyer. He stated that the company is prepared to use its foothold in the vehicle via satellite radio to expand into other services, such as automated safety. This could create some issues with General Motors (NYSE:GM) moving forward, but with the shrinking market share of the GM brands this could very well be a very lucrative path to venture down. The risk/reward is quite appealing and the shares told us that yesterday. On the positive news shares rose $0.18 (5.86%) to close at $3.25/share with volume surging to 131.3 million shares. The conference call transcript is located here and certainly worth the read.
Waiting for a breakout to happen so we can once again move to the bullish side of the crowd on this trade.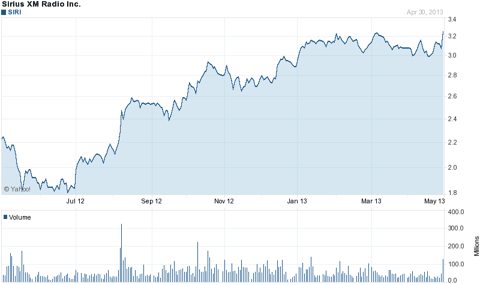 Chart courtesy of Yahoo Finance.
It has been a while since we last discussed Vishay Intertechnology (NYSE:VSH) but yesterday's move certainly caught our eye. Shares rose $1.25 (9.77%) to close at $14.04/share with volume of 4.3 million shares on the back of solid earnings. The company beat on both revenues and EPS which is great in this market but they did provide guidance for next quarter which came inline with what analysts had been expecting. We would expect another beat next quarter based on the current beat and the guidance. The company makes basic tech components and therefore their conference call (located here) is always worth listening to when trying to get a feel for where the economy and technology are headed in the next few months.
One tech name which did poorly yesterday, falling over 18% to close at $19.04/share, was Nuance Communications (NASDAQ:NUAN) which reported disappointing results... something investors should have been aware of coming into the announcement, and were but did not expect the numbers to be that bad. A few positives from yesterday? Well the company announced a share buyback and Carl Icahn filed paperwork showing that he increased his passive stake to 10.72% of the outstanding shares. Now the breakup rumors are beginning to circulate and talk of management being ousted is picking up, but neither of those seem likely in the next 3-6 months. Maybe in the next 12 months, but this is certainly going to be a name where Carl earns his returns by getting dirty and whipping the business into shape. Certainly not a commitment we want to be making at this time with so many other viable options out there.
Biotechnology
Biotech outfit AVEO Pharmaceuticals (NASDAQ:AVEO) saw shares lose roughly a third of their value yesterday after the FDA, Food and Drug Administration, posted documents relating to the company's kidney cancer drug and the possible need for further trials. The price action got worse as the day progressed and although nothing is set in stone it does appear that the company will have to do some sort of additional data gathering as the FDA likes to err on the side of caution. Much like some of the other names we follow, the FDA will go through a process of having an expert panel review AVEO's drug and the results to date and render an opinion on whether additional testing is needed. It could result in no new additional testing, additional data gathering on only a few data points or a whole new additional study.
Disclosure: I have no positions in any stocks mentioned, and no plans to initiate any positions within the next 72 hours. I wrote this article myself, and it expresses my own opinions. I am not receiving compensation for it (other than from Seeking Alpha). I have no business relationship with any company whose stock is mentioned in this article.