A little over a year ago I presented the second article of my "Yield, Value, Safety" series, focusing on stocks in the consumer staples group. Even then, considering the market prices prevailing, yield and safety were available, but not much value, it seemed. Unfortunately, that is the case even more so today. Still, I believe it would be useful to review the same stocks once again, to see how they have fared, and more importantly, to see if there are any lessons to be learned to improve my approach going forward.
A link to the original article is provided here. No doubt, the article would have received more interest than it did if there had been any inkling of the pending out performance of this group. To summarize, I reviewed 22 stocks, excluding tobacco-related firms, brewers, distillers, fast food / snack food companies, and soda / beverage firms, all of which I covered in a subsequent article. I also skipped any firms not paying a regular dividend of at least 2%. These companies are among the largest, safest corporations on the planet, offering a wide array of consumable products to consumers worldwide. They do have competition, from below with discounted store brands, and from above with regional, specialty brands, or expensive imports. Still, their revenues are steady in good times and bad, allowing for sustainable and growing dividends. Most of these firms carry substantial debt, as their managements use leverage to improve returns. Apparently, with the diversified and dependable revenue streams, they can carry high debt safely, similar to utilities in that respect.
In the original article, I recommended eight firms, along with buy prices. I further qualified six more that were also strong, well-run firms, but had less than desirable yields. Finally, I listed eight more companies, including some household names, that had either too much debt, or other flaws that precluded them from being recommended.
As far as lessons learned, nothing really jumps out in this post-mortem review as a glaring mistake to be corrected. I do have two observations, however. First, if a dividend is inadequate, it will likely stay that way, even as the firm prospers. This supports my view that a rewarding dividend policy depends as much on management and the board's attitude towards dividends, as it does on financial capability. The second observation is that one cannot always count on a lower price coming along soon if the current price is "too high." Today's high price may be tomorrow's bargain price. This is not an argument in favor of buying regardless of price, but perhaps it is an argument for not selling just because a stock has become "pricey," on the assumption that it cannot go much higher. As alluded to earlier, the consumer staples group has taken off like a rocket since the beginning of 2013, beating the S&P 500, and most other stock groupings. These stocks, considered "defensive" historically, are not the types of stocks that usually outperform in a mature bull market. But these are not normal times. The combination of the Fed's zero interest rate policy, which has made fixed income alternatives unrewarding, and an ever increasing population of retirees seeking income and safety, has created a "perfect storm" of demand for these stocks.
I will present some interesting details for each of the three groups of stocks, in two sets of tables. The first table for each group will compare the price, dividend, yield, and payout ratio a year ago to recent values, to provide some insight as to what has occurred over the past 12 months. I also provide the prior article's buy prices, for the two recommended groups, which unfortunately are now merely wishful thinking. Further, to get a sense of how these stocks are presently valued by the market, I present the full value / target prices, per recent stock reports, from Morningstar, S&P, and Credit Suisse. The second table for each group provides some current metrics on financial strength and valuation, for comparison and evaluation. Following the two tables for each group, a brief synopsis of each stock in the group is then presented, including whether it could have been purchased at or below the prior article's buy price following publication of the original article. While some such opportunities did materialize, they usually did not last long, and are certainly long gone by now.
First Group - Eight Consumer Staples Stocks Recommended in March 2012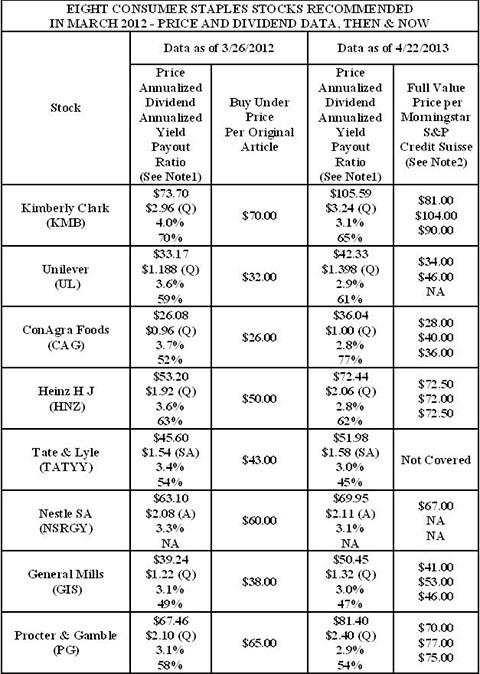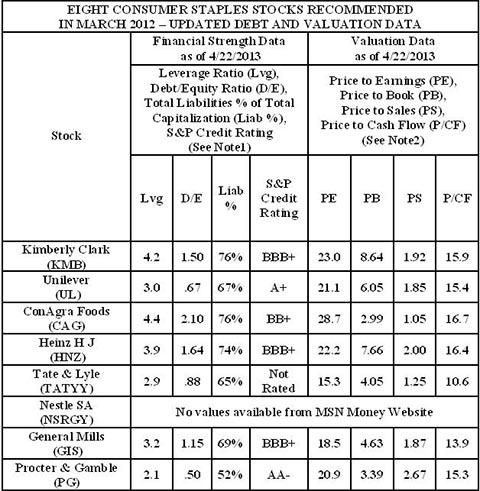 ConAgra Foods (NYSE:CAG) - Recommended as a buy under $26, it reached a low of $23.64 on 7/24/2012, and could have been bought below $26 most of the time from April through August 2012. With high debt, poor valuation metrics, and a yield under 3%, I would not hesitate to sell in the $35 to $36 range today, if I owned it. In fact, I did sell, but unfortunately, long before the huge 2013 price advance. Hence the lesson learned regarding caution on selling too soon.
Unilever PLC (NYSE:UL) - Recommended as a buy under $32, the stock reached a low of $30.85 on 6/1/2012. Even so, it only dipped below $32 occasionally during May and June 2012, where a nimble player could have scooped up some shares. While debt is reasonable, the price jumping up into the $42 - $43 range recently has resulted in unattractive valuation metrics, and a yield threatening to dip below 3%.
Procter & Gamble (NYSE:PG) - Recommended as a buy below $65, and reiterated in a subsequent article published on 6/29/2012, available here, PG presented investors with several excellent buying opportunities in 2012. The stock reached a low of $59.07 on 6/26/2012, and while it was only available below $60 occasionally in June 2012, it did not move up beyond $65 until August. I sold a July $77.50 call against my position when the stock neared $75, and was amazed to see the stock rise into the low $80s recently. I was even more amazed that my shares were not called away at the recent ex-dividend date. The threat has diminished somewhat since the company reported on 4/24/2013, admitting to some market share challenges in some categories, which caused a decline back below the strike price. While debt is less of an issue with PG than most in this group, the recent swoon would have to continue for some time before I would buy back the shares, if I end up losing them via exercise of the option. If I can escape from the option, I will consider selling some shares if the price subsequently gets back into the $80s, or perhaps sell another option.
General Mills (NYSE:GIS) - Recommended as a buy below $38, the stock was only available at that price occasionally in June and July 2012. It was close to the buy price when a subsequent article came out on 9/6/2012, available here, closing at $39.32 on that date. The stock took off like a rocket after that, with recent highs above $50. This household name is a great company, with reasonable debt, but like many others in the group, has become very expensive.
Tate & Lyle PLC (OTCQX:TATYY) - Based in the United Kingdom, this food processor was recommended below $43. It could have been bought well below that price just about anytime from May through September 2012, after which it took off like the others. While the debt and valuation metrics are better than most, I dropped the stock from my lists because of extremely low trading volumes and a dearth of analyst coverage. The stock pays semi-annually, in unequal amounts, and yields around 3%, assuming the dividend continues at recent levels. I have no opinion on the stock today, other than it seems pricey, compared with historical prices.
Heinz (HNZ) - Heinz never retreated to my recommended buy price of $50, but was certainly confirmed as a quality company, well worth the $50 to $60 range it was trading at when the blockbuster news came out that Warren Buffett was acquiring the firm at a substantial price premium. It has flat-lined at that price since then, around $72.50, and will soon disappear as a public company. A number of pundits have noted that Warren was really paying up in this case, uncharacteristically so. One take-away for the individual investor is if Buffett is paying up for quality, maybe one should take another look at quality stocks, which seem over-priced at the moment.
Kimberly-Clark (NYSE:KMB) - Another name which, never pulled back to my buy price of $70. The closest it came was $75.51 on 4/23/2012. It has rocketed up since the first of the year to $105 and beyond. KMB has always been one of the higher-yielding staples, and it still delivers over 3%, even with the stratospheric price. KMB and CAG both have higher debt levels than the rest of the original eight recommended stocks, but the levels are manageable, and I would not pass on either of these stocks for that reason.
Nestle S A (OTCPK:NSRGY) - Recommended at $60, the stock hit a low of $55.50 on 6/1/2012, and could have been bought below $60 most of the time between May and late July 2012. You know the story from there by now -- another rocket ride. Even though it is a household name, analyst coverage is lacking on this Swiss firm. Unlike the other foreign firms in this article, the MSN Money website, my primary financial data source, has nothing on NSRGY. With a dividend paid just once a year, a buyer today won't see any dividend cash until May 2014, at the earliest, and thus I cannot get too excited about NSRGY.
Second Group - Six Consumer Staples Stocks With Low Yield, But Still Recommended in March 2012, With Entry Price Below the Market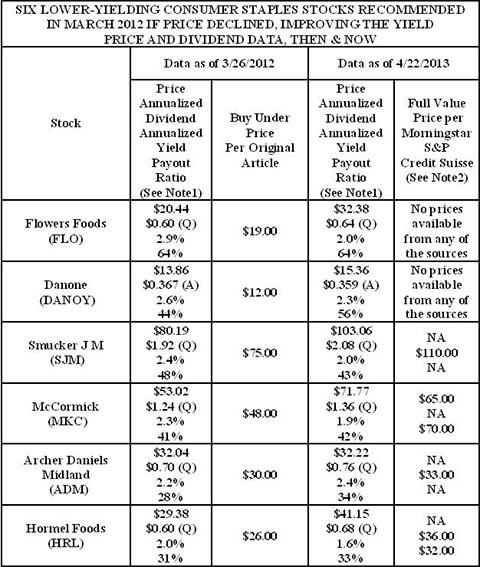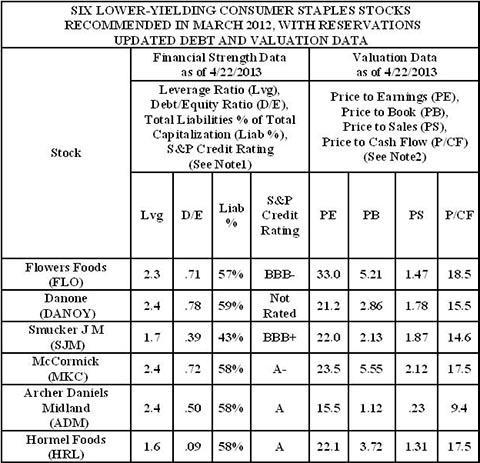 (Notes for these tables are the same as the notes following the first two tables presented earlier.)
Hormel Foods (NYSE:HRL) - Recommended below $26, the stock never got there. The inadequate yield is today even less adequate, under 2%. With a payout ratio of 33%, HRL could do more for shareholders, but is unlikely to anytime soon.
McCormick & Co (NYSE:MKC) - Recommended below $48, it likewise never got close. Same story as HRL.
Archer Daniels Midland (NYSE:ADM) - Recommended below $30, it hit a low of $24.38 on 11/14/2012, and was available under $30 most of the period until early February 2013. While it has not gone up as much as most of the stocks discussed in this article, today's price of $34 or so only delivers a yield of 2.2%, certainly not a world-beater. The company does feature attractive debt and valuation metrics, however.
J. M. Smucker (NYSE:SJM) - Recommended below $75, it hit a low of $73.20 on 6/28/2012, and could have been bought below $75 at times from May to August 2012. At a price exceeding $105 today, valuation is lacking, and yield is barely 2%. SJM is an excellent company, but unfortunately (for buyers), the market recognizes that fact.
Flowers Foods (NYSE:FLO) - Recommended below $19, it hit a low of $18.46 on 11/12/2012, and was available below $19 briefly for about a month, from around October 10 to November 10, in 2012. Debt is low, but valuation metrics are poor, and yield is under 3% at today's lofty price.
Danone Sponsored ADR (OTCQX:DANOY) - Recommended below $12, this French firm was available occasionally at that price during the summer of 2012, and again briefly in October. While debt and valuation metrics are reasonable, the current yield is barely above 2%, and proceeds would be further reduced by significant foreign tax withholding. The dividend is only paid annually. The ex-dividend date is set as 5/2/2013, per a press release from the annual meeting, which just occurred on 4/25/2013.
Third Group - Eight Consumer Staples Stocks Not Recommended in March 2012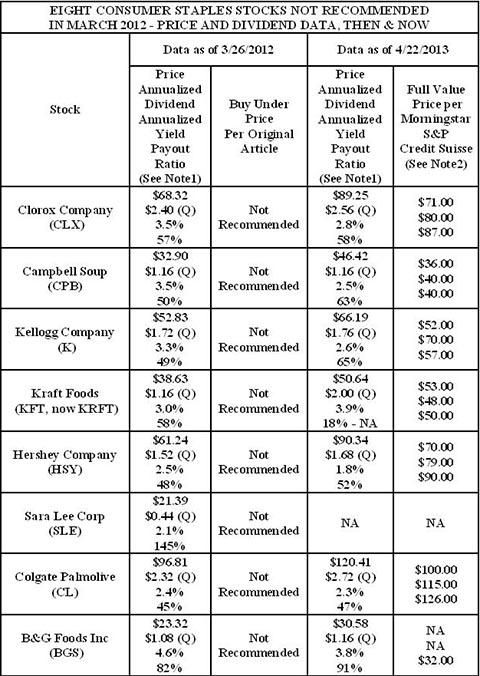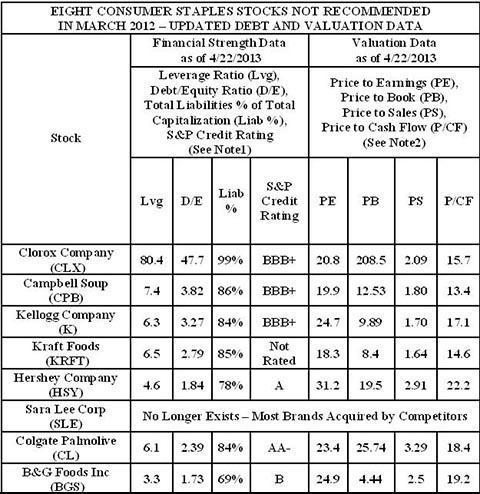 (Again, Notes are the same as for the first set of tables presented earlier.)
Clorox (NYSE:CLX) - With total liabilities matching total capitalization, then and now, I cannot recommend CLX, even though under the "new normal," that is apparently of no concern, with a debt rating still at investment grade, BBB+. A yield under 3% is not worth the risk, in my opinion.
Campbell Soup (NYSE:CPB) - With only slightly better debt metrics than CLX, CPB is not a stock I could buy with confidence, either.
Kellogg (NYSE:K) - Same song, third verse.
Kraft Foods (KRFT) - The new Kraft, with a yield near 4%, is focused on dividends, an encouraging change from the old Kraft, which was not. Unfortunately, the new KRFT has a ton of liabilities, with similar debt metrics to the over-leveraged Kellogg.
Hershey Co (NYSE:HSY) - Debt metrics are not as bad as the first four stocks in this group, but are not great, either. With a PE exceeding 30 and a yield under 2%, HSY remains a stock I don't recommend.
Sara Lee (SLE) - Long gone, this under-performer was recognized as such a year ago, and is no longer with us. The parts were sold off piecemeal to more robust competitors.
Colgate-Palmolive (NYSE:CL) - Long considered a star performer, debt levels are surprisingly high, right up there with Kraft and Kellogg. While the market obviously did not agree with my assessment from last year, the firm still has excessive debt, and is over-valued even more today, with a yield of just 2.2%. While you have to give management credit for near-flawless execution, I will still pass on CL because of excessive leverage.
B&G Foods (NYSE:BGS) - While debt metrics are decent, the concern here, then and now, is the high payout ratio, now exceeding 90%. This indicates to me that the dividend is at risk, unless the company's growth plans come off without a hitch. The nearly 4% yield is tempting, but I will have to pass once again on BGS.
Final Thoughts
Income investors with new money to invest in stocks today are faced with a dilemma -- either buy now at prices that are higher than desirable, or wait for better prices, hoping for a market pullback. A possible consequence is that one may not be able to get in for many months, maybe even years, a painful proposition with cash earning essentially zero. Further, today's high price may become tomorrow's reasonable price, if things continue like the recent past. On the other hand, buying an over-loved stock above the consensus value almost guarantees a sub-par return, unless the bull continues raging on for a long time to come. My own approach, as a true value investor, is that I will not buy a stock that is overvalued by nearly all measures and ratings opinions. But, if I own it, I will be very cautious about selling, since once it is gone, I might not be able to get back in for a very long time, without paying up. As mentioned in my prior "redux" article on utilities, an alternative cash management approach championed by Josh Peters of the Morningstar Dividend Investor, my favorite advisory newsletter, is to remain fully invested at all times, and avoid holding a significant cash position awaiting opportunities that may or may not come. When cash builds up sufficiently in the account such that there is enough available to justify paying a commission, Josh allocates the funds to the best buy opportunity available at that point. Certainly this would have been the best approach over the past eight or nine months, considering that the market has gone straight up without a meaningful correction since the summer of 2012. But as for me, it just does not suit my personality. I would rather suffer the pain of holding a significant cash position of as much as 25%, earning nothing on those funds, than risk the pain of a significant downturn presenting buy opportunities, and finding myself with minimal cash available to take advantage of them.
Disclosure: I am long GIS, PG. I wrote this article myself, and it expresses my own opinions. I am not receiving compensation for it (other than from Seeking Alpha). I have no business relationship with any company whose stock is mentioned in this article.
Additional disclosure: I am a subscriber to the Morningstar Dividend Investor. Other than that, I have no relationship with the newsletter.