One of my longstanding favorite Industrial stocks is Eaton Corp PLC (NYSE:ETN). The company offers nearly everything I seek in an equity: good balance sheet, strong margins, earnings growth, dividend growth, and a bankable CEO flanked by an excellent management team. The company is notably shareholder friendly.
In this article, I will review the business, stock catalysts and valuation from an investor's perspective. The analysis comes after Eaton's first full quarter since the Cooper Industries merger. That deal was completed in November 2012.
Eaton Corp PLC -- Price and Volume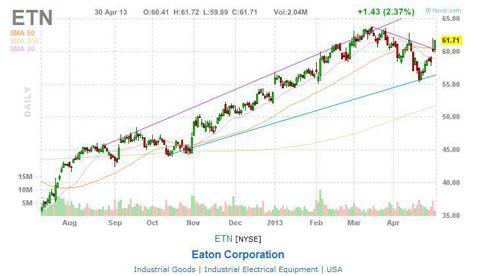 courtesy of finviz.com
Executive Summary
Eaton is a diversified power management company. The company's businesses currently consist of five segments: Electrical Products, Electrical Systems, Aerospace, Hydraulics and Vehicles. The company is a provider of electrical products, systems and services for power distribution and control, power transmission, lighting and wiring products; hydraulics components, systems and services for industrial and mobile equipment; aerospace fuel, hydraulics and pneumatic systems for commercial and military use; and truck and automotive drive train and power train systems for performance, fuel economy and safety.
Eaton reported a "beat" for the first quarter on Monday: operating EPS of 84 cents versus a 79 cents consensus. Revenues were in-line with the Street. Company management maintained full-year guidance. The operating EPS mid-point is projected to be $4.25 a share.
The company generates strong cash flows. Increasing dividends and paying down post-merger debt are management priorities. ETN leadership intends to improve the credit rating to a solid "A." Margins are good, despite some difficult international markets. Merger synergies are ambitious. If executed, which I believe will be accomplished, corporate EPS growth will get a strong, multi-year boost.
It appears the shares are at fair value now. ETN stock trades over $61 at the time of this writing. My one-year target price is $68. Those wishing to invest may wish to wait for a pullback.
How Does the Post-Merger Balance Sheet Look?
The Cooper Industries acquisition represented a much larger deal than Eaton management had undertaken before. It re-arranged the balance sheet. While the long-term debt-to-equity ratio stands at a heady 62 percent, it's down three percentage points from year-end 2012. The company paid down nearly $300 million of debt in the first full quarter since the deal. Liquidity is good. The current ratio is 1.7. There's $1 billion in cash and investments on the books. CEO Sandy Cutler has stated his intent to see the company return to its historic top credit rating. Nonetheless, the current score is solidly investment grade, and stable.
Merger Synergies
The Cooper merger effectively doubled the size of the company. Significant synergies were identified early on, and Eaton senior leadership is focused upon delivering them. Out of the box, CEO Cutler remains on point and ready to execute. Here's an excerpt from the April 29, first-quarter conference call:
And I think very importantly, and I know you're all interested in this subject, the Cooper integration remains right on track, both from a revenue point of view, from a cost reduction point of view, from our recognizing the working capital and associated tax benefits. Synergies of about $15 million in the first quarter. You'll recall that we're talking about 90 [million] for the full year this year. That equates to about $0.03 all on its own. Full year forecast, keeping the same, it's $90 million.
One of the things I like about Eaton management is its willingness to commit to targets, then measure itself against them. Here's a slide from the conference call presentation [pdf] that outlines the merger synergy forward expectations through 2015: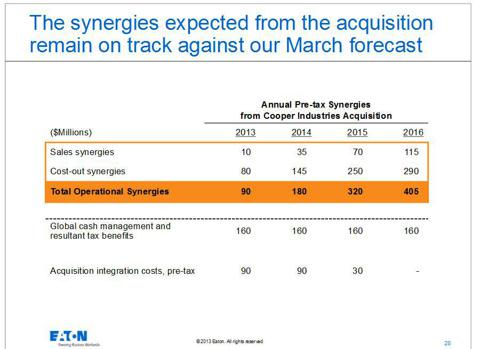 Please note that by 2016, the synergies are expected to be $405 million. ETN has about 475 million shares outstanding today. This would mean that approximately $0.85 EPS, or over 13 percent of the projected 2016 EPS will be attributed to merger synergies. Bolstering this assumption is the fact that historically, Eaton has not experienced share count dilution. The shares outstanding have remained steady.
Where are Earnings and the Dividend Heading?
The short answer is up. ETN has a 15-year annual operating EPS growth rate of 8 percent. Post-Cooper merger, the earnings growth is forecast to accelerate. Currently, the corporation is subject to particularly weak sales in Europe, representing about 18 percent of total revenue. North America is improving, but the economy is far from robust. At such time the global economic picture improves, Eaton is well positioned to capitalize upon it. Investors have taken notice. Eaton shares have gained nearly 10 percent this year, outpacing the SPDR Industrials Trust (XPI) by 2.8 percentage points.
Senior leadership is transparent about the metrics it uses to measure corporate success. Operating segment margins are a prime tool. I've provided another slide from the first quarter presentation that exemplifies how clearly management states goals and conveys such to investors. Here's ETN's 2013 segment margin guidance for each business compared with 2012: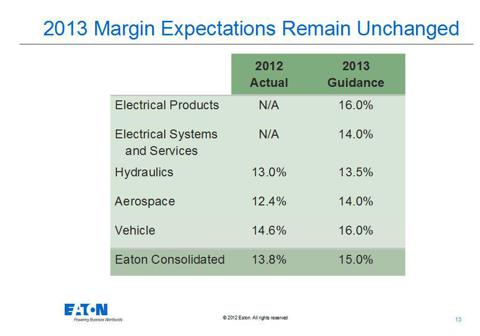 Pretty straightforward stuff. Electrical Products and Electrical Systems were constituted from the merger and recent acquisitions. That's why there was no comparable from 2012 for those business segments.
Dividends should also increase smartly. For the past five years, ETN directors have raised the dividend by over 12 percent annually. Going forward, CEO Sandy Cutler reiterated the plan to increase dividends commensurate with earnings growth on the earnings conference call:
Our commitment in terms of increasing our dividend in line with our future expectation of our earnings, that was the 10.5% increase we made in the dividend this year, pay down the debt to get us back to a solid A. It means we stay out of the M&A market for any appreciable activity here for a couple of years until we get there. So that's very consistent with what we laid out going back to last May, as what would be our game plan in terms of the balance sheet.
Wall Street analysts project the five-year EPS growth rate to be 11 percent.
What About Stock Catalysts?
I envision two significant catalysts for the business and stock appreciation: the Cooper Industries merger and CEO Sandy Cutler.
First, the Cooper business provides the company a platform to build upon an already strong and diversified business. The new Eaton Corp PLC has transformed from a North America centered mid-cap stock into an international large-cap stock. Revenue is anticipated to be split nearly 50-50 between the U.S. and the rest of the world. Eaton is now a worldwide manufacturer of electrical products and systems, augmented by mid-to-late cycle businesses like aerospace and vehicles. Management has stated aggressive merger synergies that, if executed, should accelerate earnings growth from the high single digits to the low double digits.
Second, I believe CEO Sandy Cutler is one of the most bankable chiefs in the business. Having followed ETN stock and Mr. Cutler for years, I remain impressed with his candor and willingness to share both corporate expectations and strategies with investors. Furthermore, he has demonstrated the ability to execute: to get results. He is no stranger to M&A activity. Indeed, Eaton typically purchases several small businesses each year. I believe that the Cooper merger is a crown jewel for both Eaton and CEO Cutler. It is larger and more complex than past deals. If executed successfully, it will leave a mark on Eaton Corp's history; and in turn, Cutler's legacy.
Stock Valuation
So that brings us to the question of stock valuation. It's not important where the stock has been, it's important where it's going. And frankly, while I believe that Eaton's future fortunes are outstanding, I also think the stock has had a pretty strong run-up and may be due for a breather. Let me use a F.A.S.T. graph to highlight this viewpoint: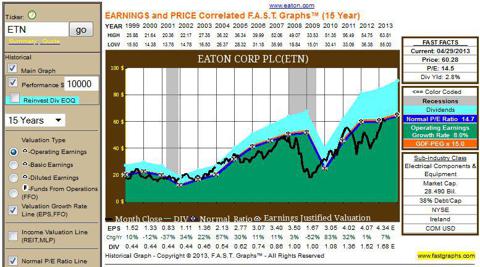 courtesy of fastgraphs.com
I've utilized a 15-year chart and plotted "operating earnings," as this is primarily how the company measures its earnings performance. One can see that the expected P / E ratio and the normalized multiple are nearly the same, or about 15x. The normalized ratio is the average of what the market has assigned the shares over the time period. Using these benchmarks, the shares are at fair value now, as the black line (share price) is upon the orange and blue lines (the expected and historical P / E). Over the years, rarely has the price ventured much above the 15x multiple.
One could argue that post-Cooper merger, the multiple could expand since the future growth is expected to accelerate. This would be a reasonable assumption. However, since I seek stocks that appear to be undervalued, I hesitate to buy at current fair value in anticipation of a fundamental change in the valuation metrics. Therefore, I suggest it may be prudent to wait for a "garden variety" pullback before initiating a position, say 5 percent or so. If already long, as I am, there is no reason to sell.
Furthermore, Eaton has provided full-year midpoint earnings guidance of $4.25 a share. Since the company typically beats the Street (five beats in the past 13 quarters with one miss) my 2013 target price is $65, or $4.30 operating EPS times a P / E multiple of 15x. Given the current share price is over $61, that doesn't leave much upside for acquiring more shares now.
Confirming my opinion is another F.A.S.T. graph, this time plotting the price versus FFO (Funds From Operations) or a close cousin of operating cash flow: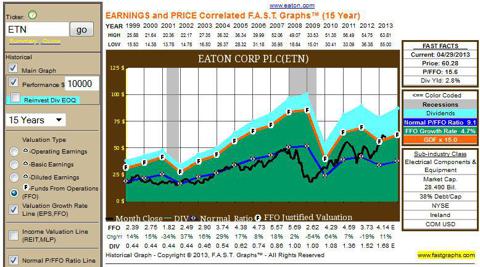 courtesy of fastgraphs.com
Here the stock valuation appears a bit frothy, as the black price line is considerably above the blue FFO normalized multiple marker.
Conclusion
I submit that there are few stock companies with the clarity of vision and execution exhibited at Eaton Corp. Backed by an outstanding CEO and management team, the company has the balance sheet, business strategies, and earnings growth potential to reward long-term investors. The dividend is secure and adds a current yield of about 2.75 percent.
Nonetheless, the shares appear to be fully valued for the time being. Based upon historical multiples of operating earnings or cash flow, the stock is upon its near-term expectations. Therefore, it may be wise to wait for a retreat before starting a position, coupled with the fact that the overall market has had a very strong YTD run, now above or at the doorstep of all-time highs. Markets never go straight up.
Please do you own due diligence before making any investment. Good luck on all your 2013 investments.
Disclosure: I am long ETN. I wrote this article myself, and it expresses my own opinions. I am not receiving compensation for it (other than from Seeking Alpha). I have no business relationship with any company whose stock is mentioned in this article.