At Cowen Group's 33rd Annual Health Care Conference held in Boston, MA, early last March, Vincent Milano, President, Chief Executive Officer and Chairman of the Board of Directors of ViroPharma (VPHM), presented an overview of the corporation's pipeline and major drug trial initiatives. Towards the end of the exchange - more of a "fireside chat" than a formal presentation - Cowan's biotech analyst asked Mr. Milano what excited him the most at this time about his company's pipeline. Surprisingly (just before Minute 25), Mr. Milano said he wanted to "…bring back the Phoenix story of maribavir."
Maribavir, you may recall, was intended to be used as prophylaxis in allogeneic stem cell, or bone marrow, transplant (SCT) patients. Unfortunately, as announced in February, 2009, the Phase 3 trial did not achieve its primary endpoint. According to the company's press release at the time: "In the primary analysis, there was no statistically significant difference between maribavir and placebo in reducing the rate of CMV disease.
"The primary endpoint of this Phase 3 study was the incidence of CMV disease, confirmed by an independent endpoint committee, within 6 months post-transplant. The incidence of CMV disease within 6 months was 4.4 percent for maribavir compared to 4.8 percent for placebo (P=0.79). The first of four key secondary endpoints was the rate of initiation of anti-CMV treatment within 6 months, which was 37.9 percent for maribavir compared to 40.5 percent for placebo (P=0.49). In addition, the incidence of graft-versus-host disease, mortality and CMV disease-free survival was comparable between the groups."
Through a treatment investigational new drug (NYSE:IND) compassionate use program, however, the company found that resistant-refractory patients - patients who come down to their last chance and had failed all other stem-cell/organ transplant therapies - were responding to maribavir. As well, the anti-viral data from the company's two Phase 3 studies were quite good as well (despite the fact the efficacy data were not as good as expected). So, the company made the treatment available in France through a named-patient program, where it is being used with some success. The doctor leading this program has published an abstract on her work, which caused the company to rethink its strategy. Namely, ViroPharma now is resurrecting maribavir in a treatment setting versus a prophylactic setting. More importantly, the FDA requested that the company focus on a Phase 2 study using maribavir for treatment of resistant or refractory CMV infections in transplant recipients, a study that currently is enrolling patients in the US. The data will be released in 40-patient increments. If the results from this trial are positive, further development of maribavir in this indication may qualify for a "Breakthrough Therapy" designation, given that the patients have no other options.
As Mr. Milano stated in the company's earning's call of last February:
"(The patients) either die or this works. So that's a very tempting proposition. And the amount of data - what we can say is that we're - we've taken a position where every 40 patients or so, combined, that we have anti-viral data, we're going to stop, look and listen to make sure that what we believe to be true, in terms of this potential drug efficacy and safety, and move forward. And when we have enough data in this resistant/refractory, it gives us some confidence that we're onto something, we would likely have a sitdown with the FDA to ask them their view on whether this might qualify for breakthrough. So it's a long answer to a very easy question because there is no short answer to that very easy question. So we expect that maybe by the time we get on the earnings call in April, we'll have 40 patients' worth of data at least, and there's a good chance that we'll have a reasonable percentage, maybe 25% of that 40 would be in this resistant/refractory, which will be our first look at that population. The data that we shared with the Street, to date, has all been in the asymptomatic. As a reminder, 100% of the 20 patients that we've shared with you so far, have cleared the virus within 4 weeks. So very encouraging data and we're looking forward to sharing the next round of it with you guys, as soon as we have it."
The data for the first 40 patients were released during the conference call on May 1, 2013, when the company announced its 1Q13 financial results. Again, the company is conducting two ongoing Phase 2 clinical studies of maribavir, both of which are open to recipients of either stem cell or solid organ transplants. The results are nothing less than remarkable ... by any measure! Viral clearance has been attained in more than 90% of the initial 41 maribavir treated subjects, including those subjects with virus resistant or refractory to current treatment.
Here are the specifics. Both studies each have three separate dosing arms of maribavir ranging from 400 mg twice daily (NYSE:BID) to up to 1200 mg BID. The EU study also has a valganciclovir arm at the labeled dosage:
· In Europe the company has an ongoing study targeting an enrollment of 160 patients with asymptomatic CMV viremia, with three separate dosing levels of maribavir head to head against valganciclovir.
· The other study, which is being conducted in the U.S., is targeting 120 patients who are resistant or refractory to prior anti-CMV treatment, including ganciclovir, valganciclovir, or foscarnet therapy. This is a very challenging patient population with a high unmet medical need because there are few if any good options for treating these patients.
The studies are open label, with the lower limit of detection of CMV in plasma is 200 copies/mL. For this most recent snapshot of these ongoing studies, data were available through at least week three of treatment for 36 subjects in the asymptomatic study and 13 in the resistant/refractory study. In the asymptomatic study, of 28 subjects treated with maribavir, 26 (93%) achieved undetectable plasma CMV DNA while on study drug treatment. Only one maribavir subject did not clear virus while on treatment, and one other maribavir subject was withdrawn from treatment for non-virologic reasons before clearing virus. In the valganciclovir arm, of 8 subjects who started treatment, 5 (63%) achieved undetectable plasma CMV DNA, the remaining 3 subjects were withdrawn from treatment for non-virologic reasons. So, 93% vs 63% undetectable.
In the resistant/refractory study, of 13 subjects treated with maribavir, 12 (92%) achieved undetectable plasma CMV DNA while on study drug treatment. One subject was withdrawn from treatment before clearing virus because of progression of underlying post-transplant complications that led to a decision to pursue comfort care only and the subject subsequently died.
To date the company reports a few patients who have had a rebound in viremia when still on maribavir therapy: one patient in the asymptomatic study and 3 patients in the resistant/refractory study, which may also be related to the complexity of their condition and the impact on their immune system. Note that the study is not unblinded, and that all antivirals will show some level of rebound.
The company reports it has seen good safety and tolerability with taste disturbance being the most commonly reported adverse event (consistent with all other studies) compared to the serious adverse effects including myelosuppression, neutropenia and renal toxicity seen with currently available therapies (val/gan, foscarnet, etc.).
Finally, again, depending on the results of the two maribavir studies, there is the potential for the company to apply to the FDA for a "Breakthrough Therapy" designation for this treatment. From the FDA's Web site:
"The Food and Drug Administration Safety and Innovation Act (FDASIA) defines breakthrough therapy as a drug that is "intended, alone or in combination with one or more other drugs, to treat a serious or life-threatening disease or condition and preliminary clinical evidence indicates that the drug may demonstrate substantial improvement over existing therapies on one or more clinically significant endpoints, such as substantial treatment effects observed early in clinical development. "The Breakthrough Therapy Designation is intended to encourage and facilitate the development and review of breakthrough therapies. As for drugs reviewed through FDA's other expedited review programs, drugs that are granted a Breakthrough Therapy Designation still must meet FDA's high standards for safety and effectiveness. All of the programs that expedite development and review are simply approaches intended to make therapeutically important drugs available at an earlier time."
Conclusions
Maribavir almost assuredly is not included in any analyst's revenue estimates at this time. This fact would be expected to change, however, with positive results from the Phase 2 trial and the treatment's designation as a "Breakthrough Therapy." Such progress would strengthen the company's pipeline as well as expectations for the company's out-year performance.
Technical Analysis
As seen in the daily chart below (courtesy StockCharts.com), the stock currently is down in a negative market. In part this is the result of disappointment by investors who, while cheered by the company having beat Wall Street's expectations on profits, failed to exceed consensus revenue estimates as a result of collapsing vancomycin sales in the face of generic competition. At this writing, the stock is down $1. The Relative Strength is neutral and the MACD, thought positive, appears to be tipping over.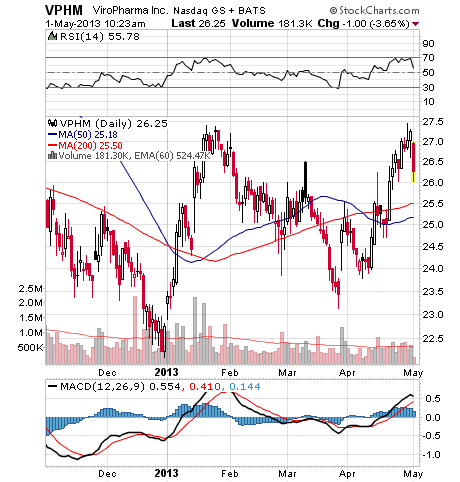 The Weekly chart shows the stock in an uptrend, with the Relative Strength and MACD neutral.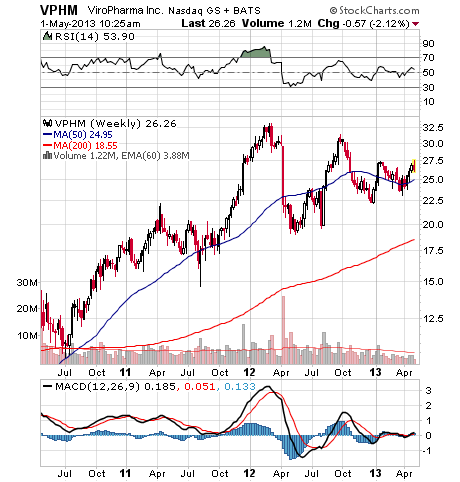 Disclosure: I have no positions in any stocks mentioned, and no plans to initiate any positions within the next 72 hours. I wrote this article myself, and it expresses my own opinions. I am not receiving compensation for it (other than from Seeking Alpha). I have no business relationship with any company whose stock is mentioned in this article.
Additional disclosure: I am not a registered investment advisor and do not provide specific investment advice. The information contained herein is for informational purposes only. Nothing in this article should be taken as a solicitation to purchase or sell securities. Before buying or selling any stock you should do your own research and reach your own conclusion. It is up to investors to make the correct decision after necessary research. Investing includes risks, including loss of principal.