Today is the first trading day of the new month. Predictably, the month has opened with a myriad of "Sell in May and go away" pieces throughout the print and online media, as well as May Day austerity protest rallies in Europe. My own perspective is that there is no reason we should not expect to see the same "second-quarter swoon" we experienced in 2010, 2011, and 2012.
Investors should take heed and rotate into stocks with cheap valuations, that have nice dividend yields, and that should hold up well in any downturn. These equities should provide a strong redoubt in this uncertain market. One stock that fits this bill is Cisco Systems (NASDAQ:CSCO).
Why Cisco should hold up well in a decline:
The company announced a 21% dividend hike in late March and now yields a solid 3.3%. This should put a floor under the stock.
After the recent rally in the defensive consumer staples and healthcare sectors, Cisco stacks up nicely against the stalwarts in that sector such as Johnson & Johnson (NYSE:JNJ), which is up some 20% this year compared with Cisco's 5% gain. Cisco has seen higher average cash flow and earnings growth than JNJ over the last decade. CSCO also has a slightly higher yield and projected revenue growth rate; yet, JNJ has a 50% premium to CSCO measured by forward earnings. Look for this divergence to narrow, as was nicely profiled in Barron's this weekend.
Finally, there is a nascent rotation from defensive sectors into large-cap tech recently (see chart below), which I detailed yesterday. This dovetails nicely with Apple's (NASDAQ:AAPL) huge buyback announcement as well as disappointing forecasts from Procter & Gamble (NYSE:PG), Unilever (NYSE:UL), and Clorox (NYSE:CLX) over the last week. CSCO should benefit from this rotation.
Click to enlarge image.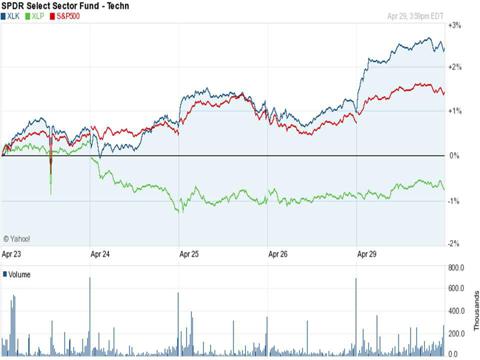 Here are four additional reasons why CSCO offers solid value at under $21 a share:
The company has a fortress-like balance sheet with over $45 billion in net cash/short-term marketable securities on its books. I would not be surprised if Cisco initiates increased stock repurchases a la Apple in the next year or so, perhaps by accessing the low yields available in issuing debt in the credit markets right now.
The stock is selling at the bottom of its five-year valuation range based on P/E, P/B, P/CF, and P/S.
Cisco is projected to grow revenues at an annual pace of between 5% and 6% over the next two fiscal years. Also, the stock sports a very reasonable five-year projected PEG (1.24) for an equity yielding over 3%.
The company has beat expectations on the bottom line for 12 straight quarters. CSCO sells at under 10 times forward earnings (under seven times if you subtract net cash), a discount to its five-year average (12.6).
Disclosure: I am long AAPL, CSCO. I wrote this article myself, and it expresses my own opinions. I am not receiving compensation for it (other than from Seeking Alpha). I have no business relationship with any company whose stock is mentioned in this article.