By Jon Najarian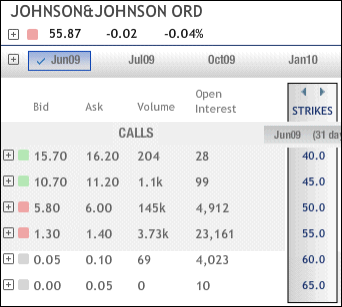 Wednesday we saw 173,000 calls change hands in Johnson & Johnson (NYSE:JNJ), many in large blocks as the final hour of trading approached. But these were not the kind of institutional-size trades that give us the directional information we normally look to possibly follow.

No, trades like this are done by professionals to collect the dividend on in-the-money calls. Here's how that works:

With JNJ trading around $56.40, the traders noted 4,900 contracts open at the June 50 call strike. They buy and sell these calls, in what I'll call "flipping"--in this case, buying 20,000 for $6.40 and selling 20,000 for $6.40 in the same second, alleging that in that single second they exercised their right to turn those in-the-money calls into shares of JNJ, thus making themselves eligible for the dividend.

With fewer than than 5,000 contracts open interest, we saw more than 110,000 calls flipping in and out this way yesterday. No "tell" here, folks, so move along!