By Matthew Bradbard
RBOB (gasoline) futures have come down a full 53 cents/gallon, or 33%, from the most recent February 19th peak. Clearly a contrarian play, I'm now willing to suggest that aggressive traders can wade into bullish plays.
Recent selling pressure can be attributed to crude oil stockpiles, which are approaching 400.0M barrels. This puts oil inventories at their highest level since the EIA began reporting weekly oil stocks in 1982. While this fundamental data is far from bullish, I suspect much of this has already been priced in. Any move higher in crude should bring RBOB up with it. As a general rule of thumb, RBOB tends to move about 3-4 cents for every $1 change in crude. That has been my observation. However, it's just a rule of thumb and past performance is not indicative of future results.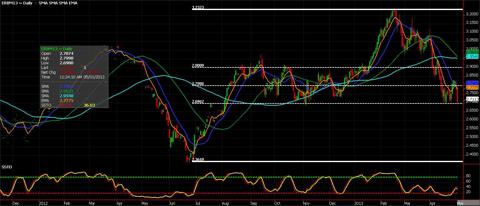 The 61.8% Fibonacci retracement level, shown below as the bottom-most white jagged line, has current support keeping June futures above $2.70 for now. A stop loss order below this level is a must. I cannot stress this enough, as we would likely see another 15-20 of selling if this level is penetrated.
Just as I highlighted the 61.8% Fibonacci level as support, I would also use the higher Fibonacci levels as profit objectives, assuming we hold at $2.70 and start tracking higher. A move back to the 50% Fib level is a dime and getting back to the 38.2% level, which may take a few weeks to play out, gives twenty cents overhead from current prices.
RBOB is a 42,000 gallon contract which values the contract at $114,000 at current prices. Every 1 cent move in the futures equates to a gain/loss of $420 per contract. Trade accordingly. If you're not willing to buy futures outright, with a tight stop, I would also look to trade the RBOB/heating oil spread, buying RBOB and selling heating oil 1:1.
Risk Disclaimer: The opinions contained herein are for general information only and not tailored to any specific investor's needs or investment goals. Any opinions expressed in this article are as of the date indicated. Trading futures, options, and Forex involves substantial risk of loss and is not suitable for all investors. Past performance is not necessarily indicative of future results.
Disclosure: I have no positions in any stocks mentioned, and no plans to initiate any positions within the next 72 hours. I wrote this article myself, and it expresses my own opinions. I am not receiving compensation for it. I have no business relationship with any company whose stock is mentioned in this article.