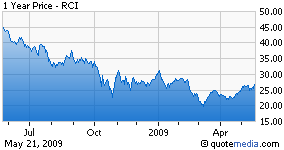 Rogers Communications Inc. (NYSE:RCI) took a step Tuesday clearly aimed at enhancing shareholder value, and UBS Securities analyst Jeffrey Fan is very supportive.
Toronto-based Rogers announced a plan to grow its current share buyback program to as much as $1.5-billion or 10% of the outstanding shares (whichever is cheaper). It also set a target leverage range of net debt to adjusted operating profit of 2.0 to 2.5 times.
Mr. Fan wrote in a note that the buyback could be "very accretive" to earnings per share.
"With a slower growth profile, we believe this is a shareholder-friendly move to enhance equity returns. We also believe this move reflects [the] Rogers family and management's efforts to create value for all shareholders," he wrote.
He believes that the company can continue to buy back $1-billion to $1.5-billion of its shares for several years, increase its dividend and stay well within its target leverage ratio and dividend payout range.
Mr. Fan has a "buy" rating on the stock and a target price of C$37.00 a share.