With the growth and popularity of ETFs in recent years, closed-end funds have fallen off the radar screens of many investors. However, investors seeking a dependable income stream should take a closer look at this misunderstood investment class.
Closed-end funds differ from traditional open-end funds in that a specific number of shares are issued at the Initial Public Offering. Once issued, closed-end funds trade daily on the markets just like stocks and prices are determined by supply and demand. Barring a secondary offering, the number of shares in the public float remains constant. Conversely, open-end mutual funds continue to issue additional shares to new and existing investors until such times that they decide to "close" the fund. Shares are priced at NAV (Net Asset Value) at the end of the trading day and therefore do not fluctuate during the daily trading session.
Fund managers of traditional open-end mutual funds must buy or sell stocks as required by the flow of money into and out of the fund (redemptions). Closed-end fund managers are not subject to these money flows and can invest without concern that additional cash may be required to meet sudden redemptions, creating the need to sell stock from the portfolio.
Conventional advice has always advised against buying closed-end funds at premium prices to net asset value while professing the wisdom of buying them only at a discount. Before adopting this advice as a cardinal rule, one should first look at the underlying components that contribute to a premium or a discount.
For example, the John Hancock Preferred Income Fund (NYSE:HPF) sells at a premium of 4.83% over net asset value. There is a reason for this. The fund offers a current yield of 7.2% and the distributions are "income only" without the destructive ROC (return of capital) drag that is found in many fund distributions selling at discounts to NAV. The naysayers would argue that it makes no sense to pay more for the fund than the sum of its parts. In theory that may be true, but from a practical standpoint, trying to duplicate this portfolio solo and its performance would be very difficult.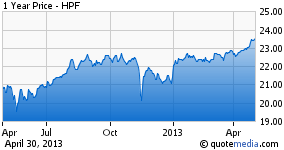 Like any investment class, diversification should be a major objective when constructing a closed-end portfolio. I want exposure to MLPs (Master Limited Partnerships), BDCs (Business Development Companies), and equity concentrations in Utilities and Financials. My basic criteria for new closed-end fund positions are:
Distribution Yield > 5%
Distributions that do not include "Return of Capital"
Premiums over NAV that do not exceed 5%
Listed below are the five CEFs from my personal portfolio. The complete list of all of my current holdings can be viewed here.
Fund Name

NAV

Price

Premium (+)
Discount (-)

Current
Yield

Distributions

Portfolio Mix

First Trust Specialty
(NYSE:FGB)

8.75

8.62

-1.47%

7.7%

Income Only

90% Business
Development Cos.

John Hancock
Preferred Income

22.34

23.42

+4.83%

7.2%

Income Only

Preferred Stocks
55% Financials
27% Utilities

Nuveen Energy MLP
(NYSE:JMF)

19.83

20.59

+3.83%

6.1%

Income Only

Master Limited
Partnerships

John Hancock
Premium Dividend
(NYSE:PDT)

15.49

14.67

-5.29%

6.2%

Income Only

Preferred & Common
49% Utilities
35% Financials
7% Telecoms

Reeves Utility Income
(NYSEMKT:UTG)

28.83

27.84

-3.43%

5.7%

Income + Long
Term & Short
Term Gains

95% General Equities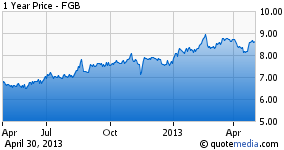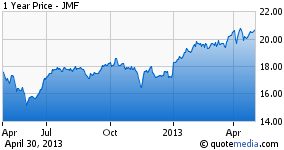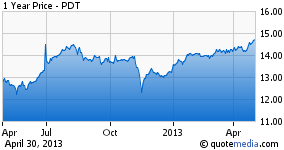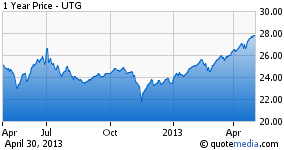 Conclusion
Closed-end funds may not meet the standards of the dedicated Dividend Growth Investor where emphasis is placed on dividend growth over static yield. Further, CEFs should be closely monitored in a declining interest rate environment as they would be susceptible to price declines. I view this class of investment as a tool to boost my overall yield in a portfolio that contains a number of lesser-yielding dividend growth stocks.
Disclosure: I am long FGB, HPF, JMF, PDT, UTG. I wrote this article myself, and it expresses my own opinions. I am not receiving compensation for it (other than from Seeking Alpha). I have no business relationship with any company whose stock is mentioned in this article.