Tuesday morning market moves were difficult to swallow for objective traders who witnessed poor indications from the Goldman ISCG store sales and housing starts data. The Goldman report indicated sales during the May 16 ended week were down 1.2% from the prior week and -0.3% off comparable sales last year. Similarly dire were April's annualized rate of housing starts, which fell to 458k from 510k the week before and far below the consensus of 540k. This decline represents a 12.8% decline for the month on top of an 8.5% drop in March; good news for the bloated inventory but bad news for all things construction. The "silver lining" was the less erratic single family home starts number, which popped by 2.8% in April, yet destruction in multi-family structures and permits heed caution for investors.
An informed gambler would have bet against U.S. equities on the heels of these reports and the strong gain in stocks on Monday, but markets fought higher all day before ending slightly lower Tuesday afternoon. The confidence in banks and the derived financial system buoyed all stocks as more secondary share offers went through and Bank of America (NYSE:BAC) sold shares at the decent price of $10.
Wednesday appeared uncomfortably similar to Tuesday when the opening bell marked stocks charging higher on negative data.
The MBA Purchase Applications report showed a 4.4% decrease in mortgage applications, where an increase in refinancing disguised the again depressed purchase applications. Crude oil inventories declined slightly for the second week by 2.1 million barrels compared to a -7.1 million barrel change the prior week, trending in line with many indicators which are flattening out temporarily near their worst levels. The Inventory peak has corroborated the viscous tear higher by equities as reason enough for the price of WTI crude to close above $60/barrel for the first time in over six months.
Buyers jumped the gun Wednesday on extremely low volume and offered a nice pop for those with an objective top-down strategy to sell on. How markets have flown to current valuations may be a mystery to all, but the argument that "the economy is improving or declining at a lessor rate", has become less compelling. Retail sales have been declining more quickly over the past two weeks, according to ICSC , and decreased over the month of April by 0.4% (-10.1% yoy). Mortgage applications are again falling after a short term pop thanks to low mortgage rates. Housing starts are again falling as the end of the foreclosure moratorium has prompted a surge of new foreclosures which are expected to rise. It seemed that traders and investors may have woken up to smell the proverbial coffee by the end of trading Wednesday as the S&P 500 ended down four points below Tuesday's close at 903.
Thursday showed that weekly initial jobless claims have stabilizing near the peak, muddling hopes of a decline as continuing claims continue to make record highs, increasing 75,000 last week alone to a total 6.662 million collecting benefits. The Philadelphia Fed survey also weighed on bullish euphoria as the report came in worse than expected and little changed from the previous month at -22.6, where stagnant new orders for the month of May compared to April offer no immediate sign of improvement for manufacturers. The natural gas inventories report citing an increase of 103 bcf (billion cubic feet) played some part in spooking the commodity market near rally highs for inputs including crude oil, copper, and soft agri-goods.
U.S. equities sold off steadily throughout the first half of the day Thursday and helped to pull back the jump in commodities on renewed fears of economic destruction ahead. There will be little to judge U.S. equity movement on a Friday without economic data tomorrow. A sell off ahead of the uncertain three day holiday will secure the upper hand for the bears in the week to come, possibly marking the beginning of a significant pull back in equities dependent on next week's results from the HPI, Existing Home Sales, Durable Goods Orders, and GDP reports.
The chart below will provide a visual perspective to the move we have seen in U.S. equities, as summarized by the S&P 500 index, over the past six months.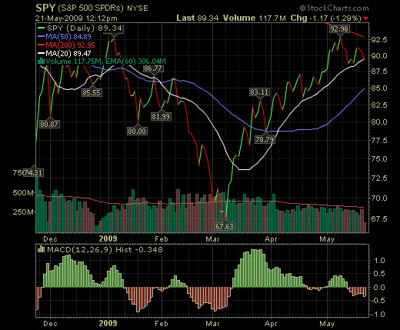 Disclosure: Long SKF, Long SCC, Short USO