SunPower Corporation (NASDAQ:SPWR) has had a great year, as it is up 140% YTD. On May 2, SunPower will announce its first quarter financial results, and I am bullish for many reasons. Some of these reasons are well known: the explosive growth in solar installation year-over-year (up 76% in the US), the struggles of Chinese competitors, and grid parity with coal sources. A few other factors may be less well-known but they are illuminating.
First let's take a look at the correlation between Google Trends and the SPWR stock price. The stock price and the Google Trends are highly correlated, as the figure below demonstrates. Search interest in the stock was largely dead for 2009 through 2012, with a 300% uptick in 2013 (increasing from 7 in December 2012 to 19, currently). Whether the correlation will continue remains to be seen, but there is plenty of newfound interest in the stock. During the decline in solar stocks of 2008, the Google trend lagged the stock price by about five months.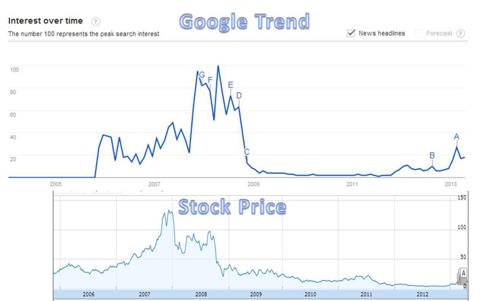 Another factor which has flown under the radar, so far, is community-funded solar. In 2012, the community-funded movement was just too small to garner much attention from industry or the investment community. The major player here is SolarMosaic.com, which allows private investors to invest directly in solar projects, starting with as little as $25. Their investments yield a modest return of 4.5-6.38% (depending on the project). In 2012, Solar Mosaic finally cleared some regulatory hurdles and offered a few small, beta projects for investment. The big news came on April 8th, when Mosaic obtained permission to offer $100 million worth of solar investments to California residents. That number is large enough to turn heads. So far, Mosaic has funded $2.1 million worth of solar projects, and their first few projects have been funded completely within hours. This new investment vehicle shows no sign of slowing down.
The final factor that I find very interesting is the short interest in SPWR. On March 12, a whopping 25% of the company's total float was shorted. Since then, the stock has risen 8% and the short sellers have gotten burned. The figure from April 10th show that short interest has declined but is still a significant portion of the total float, as it now sits at 17.3% of total floating shares. This volatile stock is ripe for another short squeeze.
For these reasons, the author is bullish on SunPower. The earnings release on May 2 will be interesting. If it's anything like the last earnings release of competitor First Solar (NASDAQ:FSLR), there is serious money to be made.
Disclosure: I am long SPWR. I wrote this article myself, and it expresses my own opinions. I am not receiving compensation for it (other than from Seeking Alpha). I have no business relationship with any company whose stock is mentioned in this article.