See this data below.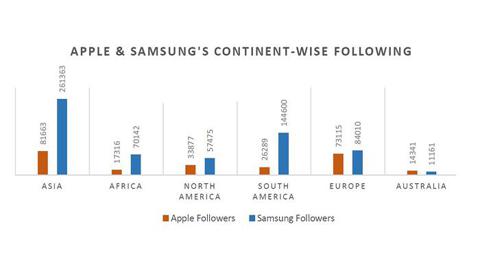 Source: sammobile.com
Notice how Samsung (OTC:SSNLF) has penetrated the global smartphone market. It is playing a volume game with Apple (NASDAQ:AAPL) and the rest, and volume has a security and lack of volatility that premium (read overpriced) products never have.
In this volume game, China and India are some of the most important markets for Samsung. As you can see in the chart, Asia is where Samsung really has a huge lead, and half of Asia lives in these two countries. In this article, I am going to see how Samsung is doing in India, especially with regard to its launch of the Galaxy S4.
Samsung has recently launched its Galaxy S4 smartphone in India at a dollar equivalent of around $760. This would be in competition with other similarly priced smartphones such as Apple iPhone 5, Sony Xperia Z, HTC Butterfly, Nokia Lumia 920 and BlackBerry. The smartphone segment is currently booming in the country due to the rising income levels and young population demographic. Now as each of these companies has put in their best technology in their latest smartphone devices, what's left to see is which of these smartphones are accepted by Indian consumers.
Growing Market
Around 15.2 million smartphones were sold in India in 2012. This number is expected to reach 34-36 million in 2013. IDC expects a CAGR of 68.4% in the Indian smartphone segment until 2015. It expects the country to achieve total shipments of 81.5 million by 2015. This growth has already begun as smartphone shipments increased by around 75% in the second half of 2012 as compared to the first half.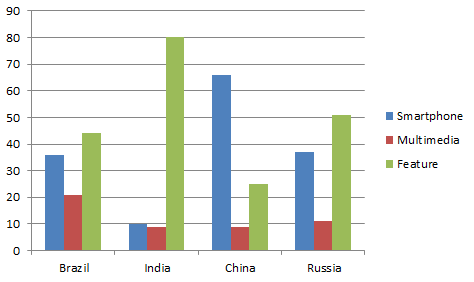 As is evident from the graph above, the penetration of smartphones among the Indian mobile phone users is the lowest among the BRICs. 80% of Indian users still use feature phones. The highest penetration among these countries is in China with 66% of total mobile phone users using smartphones. This presents a huge potential for Samsung to expand in India. Galaxy S4 might prove to be an initiator in this expanding process.
Market share rivalry
According to CyberMedia Research (CMR), the number of smartphones sold in India constituted only 7% of the total handset units sold in 2012. But the year-on-year growth rate for smartphones was the highest at 35.7%, as compared to feature phones (19.9%) and other mobile handsets segment (20.8%). Nokia emerged as the overall market leader in India, with a total market share of 21.8%. This was due to its feature phone segment. Samsung was the market leader with a massive 43.1% market share in the smartphone segment, followed by Nokia with only 13.3% share. With the recent launch of S4, Samsung expects to garner even more market share in the country where the growth rate of the smartphone segment is one of the highest.
Local players like Micromax, Karbonn and Lava have also been offering differentiated products at reasonable prices to Indian consumers. This is further making the Indian market more competitive in the smartphone segment.
Samsung's initiative in India
Samsung has recently announced that it will start manufacturing the Galaxy S4 in India as well. The company currently imports the Galaxy S4 from South Korea. Till now, it has been producing 35-40 million phones annually in India, including 12 smartphones.
Samsung has been trying hard to reach a larger number of consumer segments. To achieve this, it has introduced a number of schemes. These schemes are mainly aimed at the middle class. Samsung has launched an EMI scheme in India, in which customers can get Samsung smartphones with no cash-down payment, 0% interest on EMI, no processing fee and some cash back. This offer though is not for the Galaxy S4 as of now. Even Apple did something like this a few months back to expand sales of its iPhone 4 and iPhone 5. This will help Samsung sell more units, increasing its revenue, and thus further increase its market share in India.
Android factor
One factor that is in favor of Samsung as compared to Apple and Nokia is its Android environment. According to Gartner, Samsung captures 42.5% of the Android market globally. Because of Android being open source, it gives its users a lot of freedom to operate. Android grew by more than 87% globally in the fourth quarter of 2012 to capture around 70% of the smartphone operating system market share. Apple's iOS was far behind with around 21% share. Apple's platform iOS is preferred by mostly high-end users. This is because its applications are not free of cost. In a country like India, where the smartphones are a relatively recent phenomenon, cost effectiveness is expected to play a big role. Nokia on the other hand depends on Microsoft to provide the platform for top-end devices. This affects the expandability of the platform because of the proprietorship of Microsoft.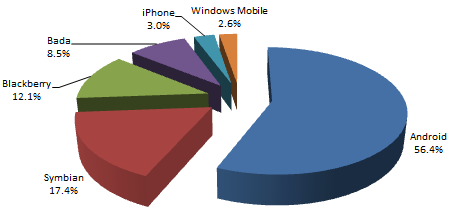 The above pie chart represents the Indian smartphone market share of the operating system platform during the first half of 2012. Android is the clear market leader with 56.4% share, with just 3% share for Apple's iOS and 2.6% share for Windows mobile. This data are against Nokia and Apple as compared to the global trend. This clearly suggests that Samsung has a huge advantage in the Indian market and it can leverage this to further expand in the country.
Concluding Word
Samsung is in the best position to make use of this amazing opportunity of the expansion of the smartphone segment in India in the next few years. This is because the company already has wide acceptance in the market. Samsung has almost become synonymous with Android, and therefore will greatly benefit from Android expansion as well.
But it will not be a smooth road for Samsung. Its competitor devices have been similarly priced and have almost the same features in them. Samsung has to aggressively keep reaching out to its young and aspirational consumers in India in order to substantially increase its revenue. The country has the potential to become one of the major markets for Samsung in the next few years and the Samsung Galaxy S4 might just be the beginning.
Disclosure: I have no positions in any stocks mentioned, and no plans to initiate any positions within the next 72 hours.
Business relationship disclosure: StockRiters is a team of analysts. This article was written by Prince Jain - B.Tech, CompSci, MBA in Finance, IIFT - one of our analysts, and edited by Shas, StockRiters' Editor-in-Chief. We did not receive compensation for this article (other than from Seeking Alpha), and we have no business relationship with any company whose stock is mentioned in this article.