It's time to revisit bank credit quality again, utilizing the information collected by the Federal Financial institutions Examination Council of the Federal Reserve. I've been doing this rather depressing task for a year or more now. The idea has been to chronicle the unwinding of the debt bubble using data that are not influenced by mark-to-market accounting. Additionally, because this data set was originated after the last major real estate downturn, it includes a couple of economic cycles including a the early 90s "credit crunch." As longtime Urban Digs readers know, the numbers have been shockingly bad and have given lie to the notion that the credit mess is being way over-exaggerated by mark-to-market accounting and a broken securitization system.
The delinquencies you see in these charts are real individual loans going bad as real borrowers stop paying their debts. The charge-offs are real writedowns by banks of the value of the loans they can no longer collect.
Here are the particulars regarding these statistics from the Fed's web page:
The 100 largest banks are measured by consolidated foreign and domestic assets.

Charge-offs are the value of loans and leases removed from the books and charged against loss reserves. Charge-off rates are annualized, net of recoveries.

Delinquent loans and leases are those past due thirty days or more and still accruing interest as well as those in nonaccrual status.
Now, one can argue all day that the broken financial markets have caused the broken economy and vice versa....some will even argue that the economy is now fixed. However, the data you are about to see suggests something else, and that is that we are just entering the teeth of this credit crunch, with likely negative effects on the general economy, if not the credit card market, commercial real estate market and now corporate debt market. Until now, I was not tracking the corporate loan market, believing that it was far enough away from the eye of the storm to be a side show. This may still prove to be the case, but recent trends are ominous. So here goes.
Residential Real Estate Loans:
Residential real estate lending continues to be an utter, unmitigated, butt ugly disaster....can I be any more emphatic? Here is the chart of delinquencies: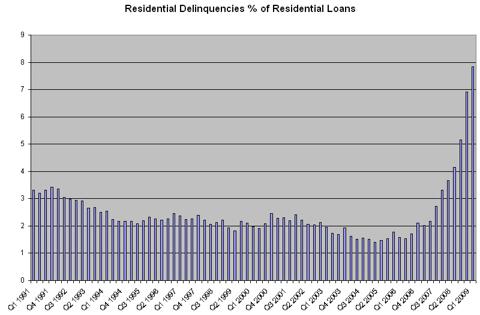 and the chart of charge-offs: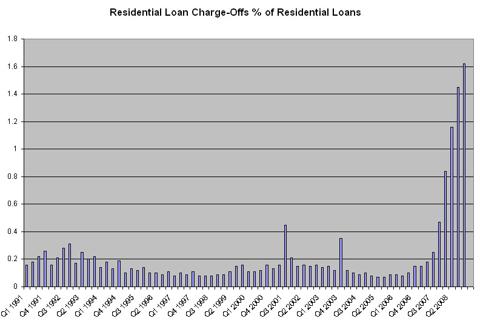 Here are the latest clicks: 7.83% of all residential loans are now delinquent; this is the highest number on record and we blew by the peak numbers of the early 1990s a couple of quarters ago. Residential loan delinquencies are up a staggering 361 basis points year-to-year and 176 basis points quarter-to-quarter. That's an acceleration in the year-to-year pace from 243 bps last quarter and in the quarter-to-quarter pace from 101 basis points between Q3 and Q4 of last year. This disaster shows no sign of slowing down. I personally can't see how the banking system can begin functioning normally again until this stops accelerating.

Commercial Real Estate:
I like to think we were early at Urban Digs in both warning about the potential for trouble in commercial real estate and later declaring the likelihood of a debacle that would significantly impact bank balance sheets and and potentially feed back into the economy. I think we are about to start seeing the effects of that if the stress tests are any indication of the severity with which the government is regarding this problem. Of note, Sandler O'Neill, a brokerage firm that focuses on analyzing the financial services industry, recently estimated that small banks need $24 billion in additional capital to meet the same stress test standards as the big banks, due largely to commercial real estate exposure.
I have been writitng for quite some time that I anticipated that there would be a second shoe to drop after the first credit contraction, from the shutdown of the CMBS market, in the form of bank lending being severely curtailed as a result of the need to absorb losses. I can tell you that I had a conversation with a relatively healthy regional bank in Pennsylvania the other day (non-performing assets are 1.58% of their loans) and the lender said to me "None of us are doing much, we are all just absorbing losses right now." I don't know how much more clearly the message need be expressed.
Here are the charts of commercial real estate delinquencies: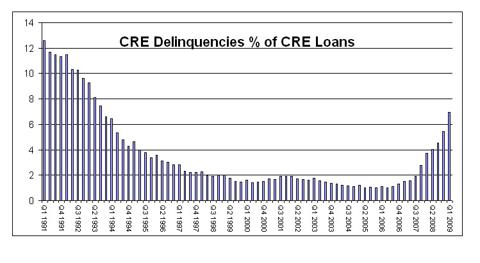 and charge-offs: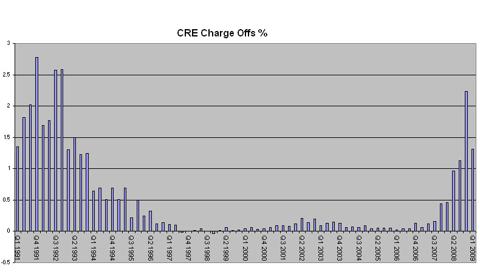 Latest clicks: Commercial real estate delinquencies are now 6.94% of all commercial real estate loans; this is up 322 basis points year-to-year and 148 basis points quarter-to-quarter. That is an acceleration from the 270 basis point year-to-year rise last quarter and the 94 basis point increase from Q3 to Q4. We have clearly gone ballistic on commercial real estate losses, but we are nowhere near the depraved peaks of the early 90s at 12.57%, we are however on quite a trajectory towards that neighborhood.
Credit Cards:
Here are the charts for credit card delinquencies: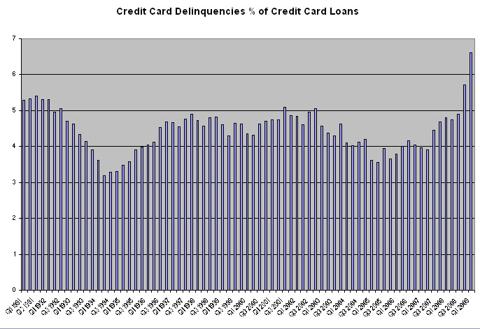 and charge-offs: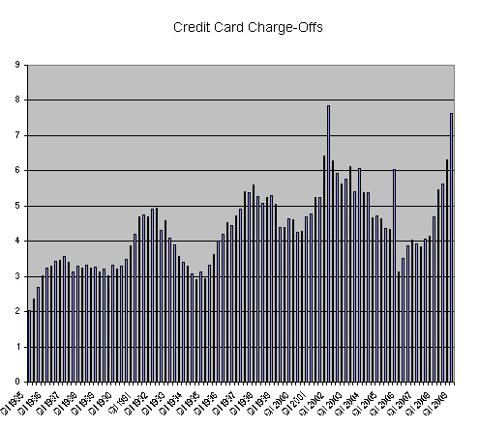 I have to admit to being wrong on credit card delinquencies. I really thought that with all the advanced warnings that credit card companies had of an impending consumer debacle and with the short length of their liabilities and ability to discourage consumers from taking on new debt, they would have been able to manage through this downturn better. However, my guess is that the severity of the residential real estate debacle is just dragging so many people under that the credit card companies are just being overwhelmed. The numbers are turning truly ugly.
Here are the latest clicks; Credit card delinquencies are now 6.61% of credit receivables (loans), this is a notch up from the all time hit, hit last quarter. Delinquencies rose 181 basis points year-to-year and 89 basis points quarter to quarter, these are accelerations from the 104 basis point year-to-year rise last quarter and 82 basis point climb quarter-to-quarter in Q408.
C&I (Commercial & Industrial) Loans:
This is the first time I am showing the chart of delinquent C&I loans, which I now believe are becoming relevant to the second phase of this credit crunch. We all breathed a huge sigh of relief back in the fall, when the run on money market funds and seizure of commercial paper market was halted, and the fear that corporate giants who borrow for their everyday cash needs in the commercial paper market would not be laid low. However, I am now worried that a version of this potential debacle in miniature could happen to the many small and mid size businesses who fund working capital needs through bank loans and lines of credit as this final loan class starts to head south in a big way. Maybe I am wrong and this is a lagging indicator, showing the final stages of a recession where businesses that held out through the downturn finally succumb, but I have a gnawing feeling that we are on the front end of this trend, rather than the back end.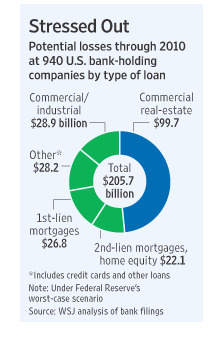 As you can see from the chart to the left, which I borrowed from Wednesday's Wall Street Journal article, which was highlighting the risk from commercial real estate loan losses under "stress" scenarios, that C&I loans are a smaller but still substantial source of risks to banks balance sheets. I believe that we are seeing the beginnings of a stress scenario for C&I loans. C&I delinquencies are currently at 3.15% of C&I loans; the prior peaks were 6.58% in Q1 1987 (not a recessionary period, but bad corporate debt was probably a legacy of the high interest rate era of the early 1980s and severe pressure of international competition on U.S. manufacturers) 6.25% in Q1 of 1991 and 3.93% in Q2 of 2002. The latest reading was up 170 basis points year-to-year, up from a 128 basis point increase year-to-year last quarter. I will note that prior big year-to-year increases came near the peak of the delinquency cycle in 2002. The quarter-to-quarter increase of 56 basis points was actually a little smaller than the 79 basis point surge from Q3 to Q4. I would note that several retail REITs have expressed some surprise that retailer bankruptcies weren't worse in Q1 and one noted that the June/July time frame is particularly tough for retailers in trouble as their sales are down (cash flow in), while they need to start buying for the fall (cash flows out). How distressed retailers fare this summer, will say a lot about the economy and credit markets.
Lastly, here are the charts for total bank loan and lease delinquencies: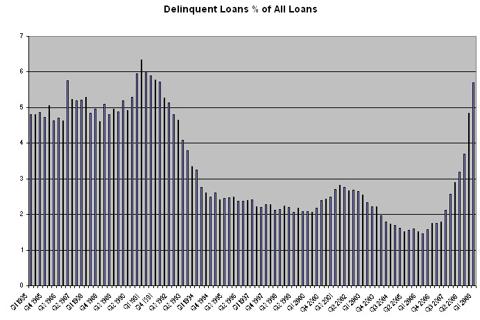 and charge-offs: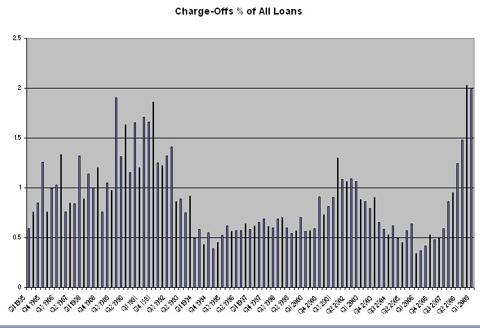 Latest Clicks: Total loan and lease delinquencies clocked in at 5.7% of all loans and leases in Q1, versus an all time high of 6.33% reached in Q1 1991. For all intents and purposes we are in the same kind of banking crunch as the early 90s - when a lack of funds caused widespread maturity defaults (a refi crisis). Delinquencies were up 280 basis points year-to-year in Q1, an acceleration from the 229 basis points last quarter. The quarter-over-quarter increase did moderate from 116 basis points in Q3 vs. Q4 of 2008 to 85 basis points in Q1. Interestingly, banks appear to be dealing with the bad loans more aggressively than in prior periods, with charge-offs at 2% of all loans and leases, down slightly from 2.03% last quarter and above the prior peak of 1.9% in Q4 1989.
There is no way to sugar coat these numbers, they are horrible and the fact that new loan types continue to see accelerating losses, while the initial problems still have not slowed down is discouraging to say the least. I hope those green sprouts turn to big oak trees....and quickly.