Sirius XM (NASDAQ:SIRI) is testing new 52 week highs after the company's Q1 conference call that offered up solid financials and a surprise in the form of some 209 million shares having been repurchased by the company. Sirius XM had previously announced that it would conduct $2 billion worth of share buybacks. Thus far it would appear that the company is about 30% complete on the share buybacks, having spent an estimated $640 million.
There are some interesting dynamics now for shareholders to consider. The equity moved up to $3.25 on about 125 million shares traded on the day of the conference call. Wednesday, on what is still above average volume, the company tested as high as $3.37. The big question for active traders is where the peak is in the shorter term, and where the equity will price out in the longer term.
The Shorts
What we could be seeing on this run is a mini short squeeze of sorts. While not all shorts are in losing positions (because of hedging strategies), there are likely some that want to get out of the current short position to limit losses. This can cause a run in the stock. Longer term holders need to be cautious here because a short squeeze creates an artificial run up in the price per share that will not be sustained by additional buying after the shorts that want to have covered. In fact, when an equity moves up by artificial means it becomes a target for the shorting again at the new highs. For shorts the essential question is how much of this upward move is based on fundamentals of the company. With Sirius XM the fundamentals look strong, so there will be caution amongst these in-and-out players.
Valuation
It has been a while since valuation has been discussed. The main reason for that has been that the equity has been pretty well range bound for months. Any time an equity makes a strong move it is prudent to re-visit the valuation. Remember, the goal here, especially for more active traders, is to know the peak and base valuation at any given time. Is Sirius XM approaching (at least in the near term) peak valuation?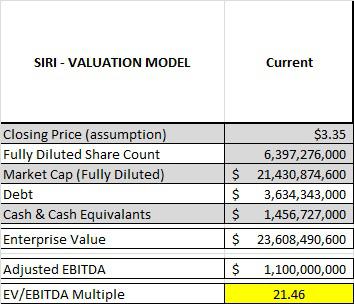 I like to look at Sirius XM's valuation with the Enterprise Value to EBITDA method. Depending on how you want to treat Sirius XM's $1.25 billion credit facility, you could arrive at a current valuation multiple of about 21. Sirius XM's peak multiple is typically about 24 with a base at about 17. It tends to spend most of its time at a multiple of about 20. I have counted the credit facility as if it is available cash, and as if it was debt. In doing this I have a current multiple of 21.46. It could be that, at least in the short term, the upside potential is capped at about $3.40 or so in realistic terms, with a comfortable baseline at about $3.20 to $3.25. This is far from an exact science, but the reality is that companies tend to trade within certain multiple ranges.
Watch The Volume
For an active trader one key element to watch is the volume. Sirius XM moved up on the day of the call while trading over 125 million shares. If volume peaks out and the stock price pauses, it may be a decent sign that a top is in. With the move Wednesday it is not yet time to call a top, but it bears watching. The good news is that the baseline, or level this equity would retrace to, is moving up as well. For the moment I would estimate that there will be strong support at $3.18 or so. This means that downside protection is forming and seeing that protection substantially above $3.00 is comforting.
The story here is watching the elements of this equity closely. The fundamental story is quite good, and I have a $3.85 price target for this equity in 2013 with a possible pop to $4.25. All of that remains intact. As long as this company marches forward and brings in its $10 million a day in revenue, there is little to be bearish about in the longer term. Stay tuned!
Disclosure: I am long SIRI. I wrote this article myself, and it expresses my own opinions. I am not receiving compensation for it (other than from Seeking Alpha). I have no business relationship with any company whose stock is mentioned in this article.