PepsiCo (NYSE:PEP) has long been one of the more consistent dividend-growth stocks. Recently, PepsiCo announced its 41st consecutive annual dividend increase, boosting the quarterly dividend 6% to $0.5675 per share, or $2.27 annually. YTD, PepsiCo's stock has been on a tear, climbing over 21%. At current prices, PepsiCo yields about 2.75%.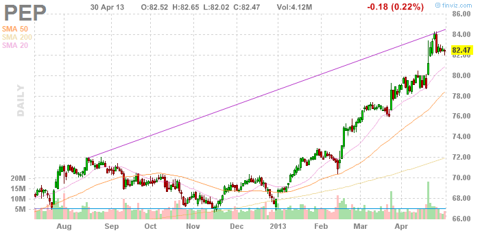 On April 18, PepsiCo reported its Q1 2013 results. PepsiCo reported core EPS of $0.77, up 12% from last year. Excluding the effects of currency, EPS was up 13% from last year. The company saw total revenues grow 1% to $12.6B. Total volume increased 4% in the snacks segment and 3% in the beverages segment. Excluding Venezuela, operating margins increased 80 basis points.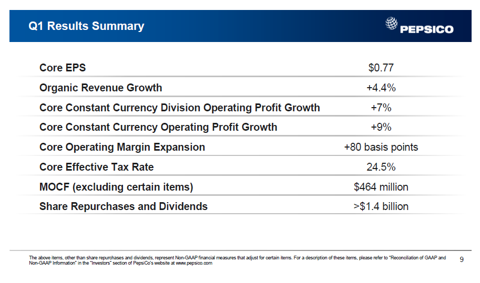 During the quarter, PepsiCo's Americas Foods group saw its revenue increase 5% to $5.1B. The best performer by far was the Latin America Foods segment, which saw its revenues surge 11% to $1.4B on higher pricing. The Frito-Lay North America segment also saw 4% revenue growth to $3.1B. The Quaker Foods North America segment saw its revenues grow a modest 2% to $634M.
In terms of operating profit, PepsiCo's Americas Foods group saw a 6% increase to $1.2B. The Latin America Foods was again the best performer, seeing its profits surge 18% to $216M. The Frito-Lay North America segment also saw it profits grow 6% to $828M. The laggard was Quaker Foods North America, which saw profits fall 4%.
PepsiCo's Americas Beverages segment saw revenues decline 1% to $4.4B due to a 3% decline in volumes. However, PepsiCo's Americas Beverages operating profits actually increased 8% due to cost cutting. PepsiCo's Europe segment saw a recovery during the quarter, with revenues up 5% to $1.9B and operating profits up 10% to $88M. PepsiCo's Asia, Middle East & Africa saw revenues collapse 14% to $1.1B, due to structural changes, principally the refranchising of bottling operations in China, which had a 27% negative impact. However, Asia, Middle East & Africa did see its operating profits increase 24% to $184M, due to 10% volume growth in beverages.
During the quarter, PepsiCo returned about $1.45B to its shareholders via $831M in dividends and $626M in share buybacks. The company has already announced a 6% increase to its quarterly dividend to $2.27 annually. Since 2008, PepsiCo has averaged an annual dividend growth rate of about 7%. PepsiCo expects to return about $6.4B to its shareholders through $3.4B in dividends and $3.0B in share repurchases in FY2013.
PepsiCo has also updated its FY 2013 outlook. The company expects 7% core constant currency EPS growth and mid to single digits organic revenue growth. PepsiCo is on track to its target of $900M in productivity savings in 2013 and $3B by 2015. Capital spending is expected to be approximately $3Bin 2013, with long-term capital spending target of about 5% of net revenue.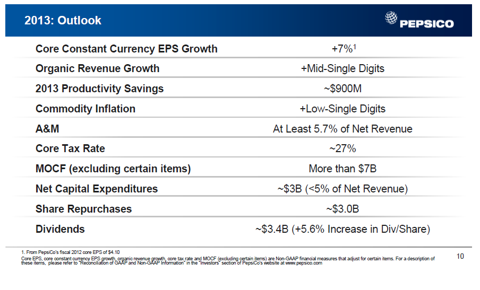 Conclusion
PepsiCo is a dominant player in both the beverage and snack markets. While its namesake brand is a cash cow, it is facing increasing pressures from health conscious consumers. However, PepsiCo is seeing plenty of growth overseas, especially in Latin America.
PepsiCo remains a solid choice for those seeking a dividend stock with a large moat. However, the valuation of PepsiCo is getting rather stretched. This quarter's double-digit EPS growth was achieved by cost-cutting, not revenue growth. Is PepsiCo's core EPS growth of 7% enough to merit the current 21 P/E?
Disclaimer: The opinions in this article are for informational purposes only and should not be construed as a recommendation to buy or sell the stocks mentioned. Please do your own due diligence before making any investment decision.
Disclosure: I have no positions in any stocks mentioned, and no plans to initiate any positions within the next 72 hours. I wrote this article myself, and it expresses my own opinions. I am not receiving compensation for it (other than from Seeking Alpha). I have no business relationship with any company whose stock is mentioned in this article.