Forget Haswell. Well, okay, don't forget it, but as compelling as I believe this particular chip will be in reinvigorating the Ultrabook as well as in securing the lead in the uber high-end tablet space, the really interesting thing - coming on May 6th - is the public disclosure of Intel's (NASDAQ:INTC) upcoming "Silvermont" low power processor architecture. For the first time, Intel's "Atom" processors will cease to be the red-headed step-child of Intel's offerings, and instead be the processor core that will drive significant unit volume growth going forward.
What Do We Know?
So, what do we know so far? Well, check out this slide that leaked a little while ago: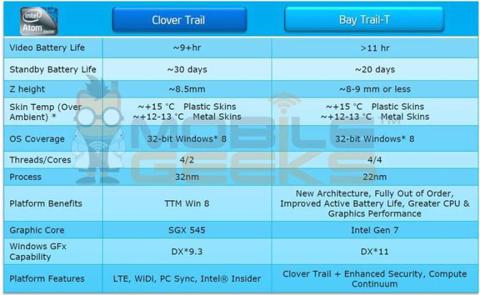 We know that the microprocessor architecture is new (the current Atoms are based on a 5-year old micro-architecture), which means that unlike the original Atom, which launched in 2008, it should feature quite a few modern bells and whistles. From the slide here, we see that the processor supports out-of-order execution (that means that the processor can re-order the instructions of a program to execute them more efficiently), is built on the 22nm low power FinFET process, and will come in quad-core configurations rather than the dual-core configurations that we see today. All of the performance enhancements will be within the same power envelope, too. Pretty neat stuff, right?
However, a new processor architecture in itself doesn't mean much to non-techies, so what does this upcoming announcement mean for investors?
Competitive Positioning Against ARM-Based Chips
Right now, with the 5-year old Atom micro-architecture powering the latest Atoms for tablets and phones, Intel is in a pretty decent competitive position on the CPU side. According to recent benchmarks run on the latest Lenovo K900 smartphone (powered by a dual-core Atom), in power constrained smartphone environments, a dual-core configuration of Intel's old Atom holds up quite well against Qualcomm's (NASDAQ:QCOM) quad-core Snapdragon 600 and ARM's (NASDAQ:ARMH) Cortex A15 as implemented in Samsung's (OTC:SSNLF) Exynos chip: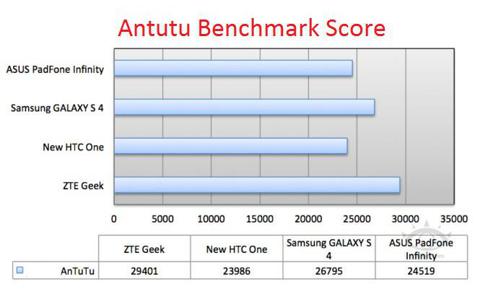 Intel's chip is certainly no slouch, but you have to remember that Intel is the newcomer to this space. In order to displace these market share leaders from the big-time design win sockets, Intel can't just match its competitors' performance or even lead by a small margin, it needs to offer clear and unshakeable evidence that its chips are much better.
See, no phone or tablet vendor wants to be caught using sub-standard components. Whether you want to argue about whether there really is a point to faster processors (if there weren't, Qualcomm, Nvidia (NASDAQ:NVDA), Samsung, and Intel wouldn't be pouring so much into developing them), the truth is that if a vendor starts peddling a vastly superior processor at a reasonable price, then some vendor will likely use it. And, in an attempt to not lose benchmarks/get negative publicity, you will see other vendors flocking to use this brand new "wonder chip" in their own devices. Further, a company like Intel has an amazingly strong brand, so companies that failed to offer an "Intel Inside" smartphone in a competitive landscape filled with such devices may risk market share loss.
The point is: there's a reason Qualcomm makes so much noise about how great its processors are (and they are great), and there's a reason Qualcomm keeps winning design after design. Intel will now be showing its hand on May 6th, and if what we see is encouraging (i.e. it looks like Intel could have an undeniable performance/watt lead), then you can almost assuredly expect Intel to start gaining significant market share in smartphones and to further extend the momentum that it is seeing in tablets.
Conclusion
May 6th will be an interesting day. I can't wait to see the architecture disclosure, as I believe that the investing public will finally have a good idea as to how good Intel's next chip is going to be and how much market share it could stand to gain with this new design. Let me tell you...if Intel's ancient, neglected 5-year old Atom core is competitive with the best of the best available today, the next gen Atom could be a wonder chip.
You know, those $25 May 18 calls are still cheap at only $0.06/contract. Anybody who likes to gamble may just want to pick some of these up. We'll be getting a new Atom AND a new CEO before they expire.
Disclosure: I am long INTC, NVDA, NVDA. I wrote this article myself, and it expresses my own opinions. I am not receiving compensation for it (other than from Seeking Alpha). I have no business relationship with any company whose stock is mentioned in this article.
Additional disclosure: I am short ARMH