In the first article of this series, I discussed about the rising demand for LNG (liquefied natural gas) and why some specific companies making business with natural gas (NYSEARCA:UNG) are set to benefit for this great opportunity.
Natural Gas, A Clean Energy Source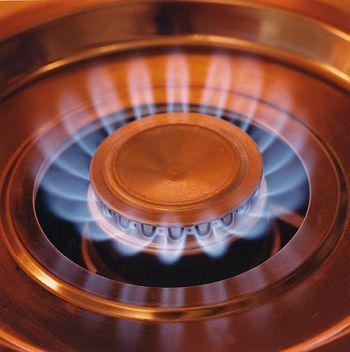 Finally, we examined the third of the top three promising U.S. LNG exporters which was Chevron (NYSE:CVX). Today, we will discuss about the second LNG exporter that could very much profit from the vast potential offered by the natural gas boom. Click here to see my article on this opportunity, "Shale Gas Revolution: Greatest Boom Ever For The U.S. Economy?"
Dominion Resources (NYSE:D)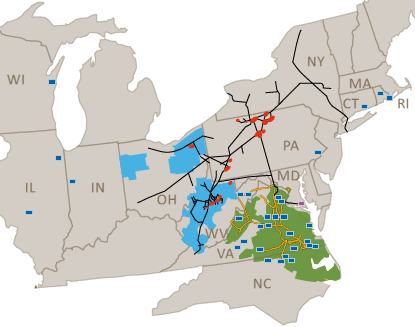 Source: Dominion IR Reference Book, October 2012
Dominion is one of the U.S. largest producers and transporters of energy with a portfolio of approximately 27,500MGW (megawatts) of generation, 11,000 miles of natural gas transmission, gathering and storage pipeline and 6,300 miles of electric transmission lines. The company based in Richmond, Virginia, operates one of the largest natural gas storage systems with 947Bcf (billion cubic feet) of storage capacity and serves retail energy customers in 15 states.
Dominion's strategy is to be a leading provider of electricity, natural gas and related services to customers concentrated in the energy-intensive Midwest, Mid-Atlantic and Northeast regions of the U.S., a potential market of 50 million homes and businesses where 40% of U.S. energy is consumed. Through the years, Dominion acquired and merged with several energy-related companies that allowed its growth. Let's see the most important ones related to its electric and natural gas assets (in bold) for Dominion Energy.
Electricity Distribution & Transmission
In the electricity distribution, the company operates as Dominion Virginia Power for its electric distribution company in Virginia and as Dominion North Carolina Power for its electric distribution to North Carolina customers. For the operations in Virginia, Virginia Power produced 80,753GWH of electricity in 2012 compared to 82,315GWH in 2011. For 2012, total consolidated operating revenue generated from electricity sales was $9.44 billion with 13,890GWH compared to $10.2 billion the year before with 12,995GWH.
Chesterfield Power Station (Dominion Virginia Power)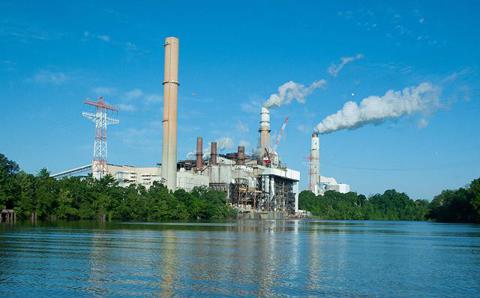 Source: Dominion Virginia Power
According to Dominion's companies descriptions, the operational and planning functions of Dominion's electric transmission system are provided by PJM Interconnection, a regional transmission organization ensuring the reliability of the largest centrally dispatched electric grid in the world. Acting neutrally and independently, it also operates the largest competitive wholesale electricity market in the world.
Dominion Generation
Dominion Generation produces energy through a balanced and diverse energy mix composed of coal, nuclear, natural gas, oil and hydro plants. Its portfolio generates about 19,500MGW of regulated utility. The company forecasts that an additional 4,000MGW will be needed in the next decade to meet expected load growth.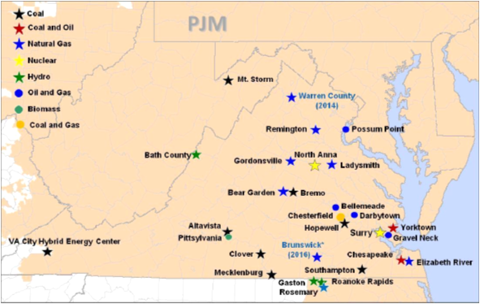 Source: Dominion IR Reference Book, October 2012
Dominion Energy
Dominion Energy's portfolio is composed of the natural gas distribution and transmission businesses. Natural gas distribution is assured with Dominion Hope in Clarksburg, West Virginia, to provide the service to its customers for more than a century, using an extensive 2,800 mile pipeline system with almost 80% of the throughput from Appalachian sources. Dominion Hope serves about 25% of West Virginia market share.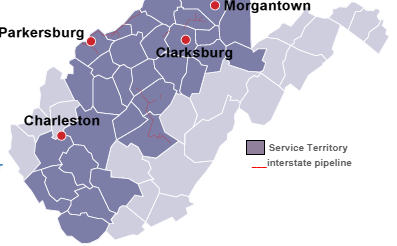 Source: Dominion IR Reference Book, October 2012
The other distribution center, Dominion East Ohio, is based in Cleveland, Ohio. It offers the lowest price for natural gas in the region, serving over 1.2 million customers with about 35% of Ohio market share. Natural gas throughput is estimated at 261.5Bcf.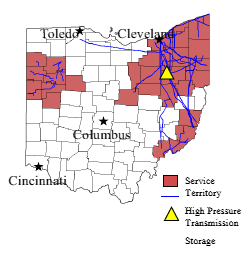 Source: Dominion IR Reference Book, October 2012
In Dominion's 2012 annual report, the total natural gas throughput delivered reached 284,859Mmcf (million cubic feet) compared to 283,233Mmcf in 2011. Revenue generated in 2012 from natural gas sales accounted for $1.3 billion, a drop from $1.9 billion in 2011 while transportation and storage revenue generated $1.4 billion instead of $1.5 billion the prior year.
Dominion's gas transmission business is conducted by four subsidiaries. Dominion Transmission operates gas pipelines and gas storage systems. Headquartered in Richmond, Virginia, it operates one of the largest underground natural gas storage systems in the U.S. with links to other major pipelines and to markets in the Midwest, Mid-Atlantic and Northeast regions of the country.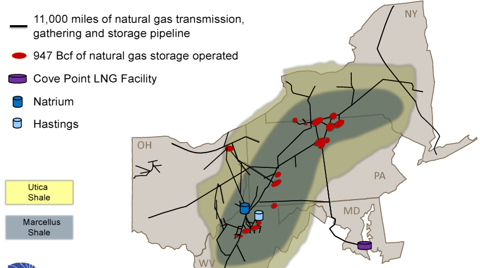 Source: Dominion Investor and Analyst Meeting, March 2013
The company maintains 7,800 miles of pipeline in six states: Ohio, West Virginia, Pennsylvania, New York, Maryland and Virginia. Storage and transport of large quantities of natural gas for large customers, such as major utilities and power plants are provided by this subsidiary.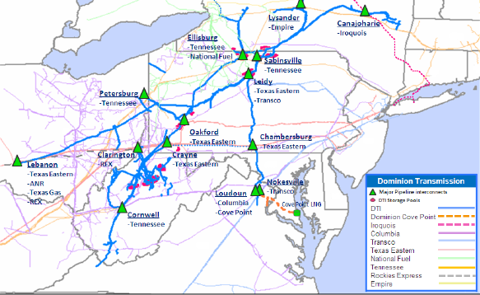 Source: Dominion IR Reference Book, October 2012
As reported in the 2012 annual report, Dominion Transmission has made sales of NGL (natural gas liquids) in the amount of 182.4M of gallons at an average realized price with hedging of $1.34/gal compared to 176.2M gallons at $1.46 in 2011. However, the gas shrinkage cost decreased to $60.1M from $73M the year before. On the chart below, we can look at the processing and fractionation capacity of natural gas according to each plant.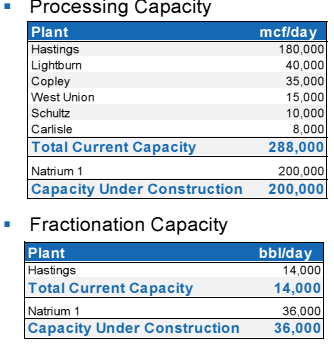 Source: Dominion IR Reference Book, October 2012
Dominion Gathering-Producer Services is the second Dominion natural gas transmission's subsidiary, which is Dominion's primary point of contact for local producers, overseeing more than 11,700 production gas delivery points into the Dominion pipeline system. Producers annually manages and optimizes storage assets of 7.5Bcf and transportation capacity of 225Bcf. They supply over 275Bcf/year to other Dominion affiliates and aggregates Appalachian producer supply volumes of 100Bcf/year.
The Hastings Extraction Plant is the largest natural gas plant in the East, processing and fractionating up to 180Mmcfd (million cubic feet per day) of local production. Dominion's underground natural gas storage system includes 26 storage fields storing about 950Bcf of gas.
Hastings Extraction Plant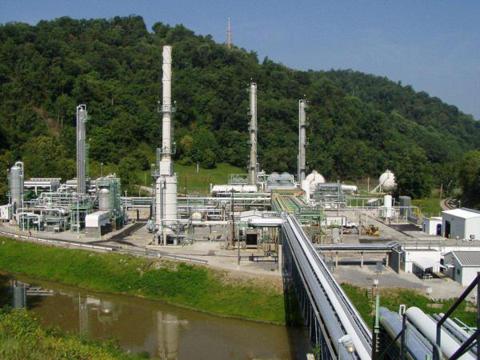 Source: Dominion Resources
Dominion South Pipeline Company LP is the third subsidiary of Dominion's gas transmission. The company provides transportation of natural gas through its facilities for all customers eligible under its tariff on an open-access basis. Dominion South's facilities include the Poole Road Interconnect, with facilities extending from an interconnection with Transcontinental Gas Pipe Line Company in Matagorda County, Texas, to an interconnection with Florida Gas Transmission.
Finally, Dominion Cove Point LNG is the last subsidiary for the natural gas transmission of Dominion.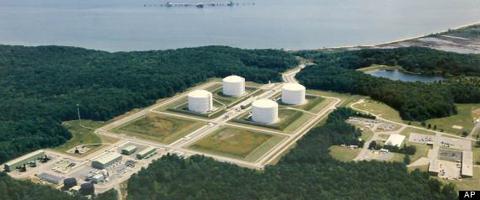 Source: Dominion Resources
Located on the Chesapeake Bay in Lusby, Maryland, it is one of the country's largest LNG import facilities. Dominion acquired Cove Point in September 2002 for $217 million from Williams (NYSE:WMB) and began receiving ships in the summer of 2003. In 2009, Dominion finished an expansion project that increased Cove Point's storage and production capacity by nearly 80%.
Dominion Cove Point LNG will play an increasingly critical role in the coming years. As a matter of fact, the complex is strategically located for receiving transport vessels and storing the LNG onshore. Then, the facility transforms it back to gas when needed to meet demand.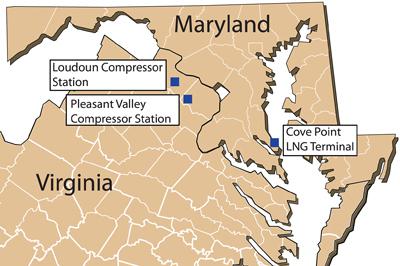 Source: Dominion Resources
According to Dominion, the facility has a storage capacity of 14.6Bcf with seven storage tanks and a daily send-out capacity of 1.8Bcf. The terminal connects via its own pipeline to the major Mid-Atlantic gas transmission systems of Transcontinental Gas Pipeline, Columbia Gas Transmission, Dominion Transmission and the Marcellus Shale deposit.
LNG arrives at Dominion Cove Point on LNG carrier ships from various locations in the world including Trinidad, Nigeria, Norway, Venezuela and Algeria. LNG is off-loaded at an offshore dock, stored for subsequent gasification and then delivered into the pipeline.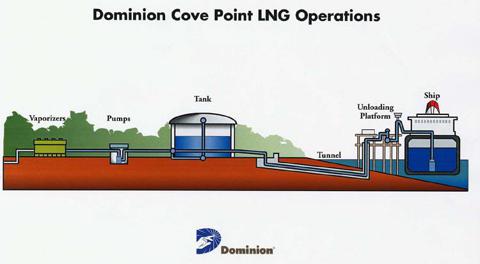 Source: Dominion Resources
A single ship can bring about 34 million gallons of LNG, enough to meet the daily energy needs of more than 10 million homes. LNG is pumped from ships at the facility's offshore dock through a series of pipes to insulated storage tanks.
In addition to linking natural gas supplies from non-U.S. sources with the high-growth natural gas markets in the Mid-Atlantic, Dominion Cove Point is positioned to serve the existing gas-fired facilities of its Dominion Generation business including Possum Point, Remington, Ladysmith and Fairless Works.
Projects Under Development
Dominion Cove Point LNG Export Expansion
According to the company, Dominion is proposing to build liquefaction facilities for exporting LNG at its existing Dominion Cove Point LNG Terminal. Combined with existing facilities, the terminal will provide a bi-directional service of import and export of LNG at the current site, within the fence of the current facility on Dominion property.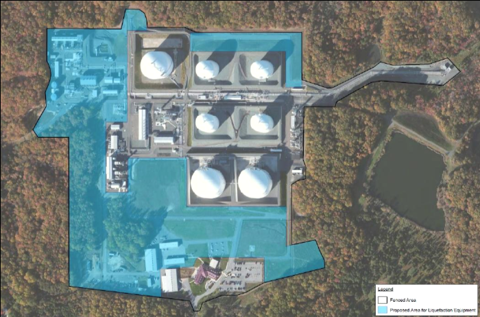 Source: Dominion Investor and Analyst Meeting, March 2013
The facilities would be designed to process an average of 750Mcf/d of inlet feed gas and an estimated 4.5 to 5.0Mtpa (metric tons per annum) of LNG output. Natural gas-fired turbines would drive the main refrigerant compressors as well as generating additional power on site to meet the power demands of the liquefaction plant. The liquefaction facilities will connect with the existing facility and share common facilities such as the LNG tanks, pumps, piping and pier in order to support both functions, importing and exporting LNG.
Dominion Cove Point's natural gas pipeline is connected to Dominion Transmission's interstate pipeline as well as to other interstate pipelines that have access to the growing natural gas supplies in the region. Additional compression on the Dominion Cove Point pipeline would be required to deliver the inlet gas to the terminal. Dominion proposes to install additional compression totaling 29,000 to 34,000 horsepower at its existing Loudoun Compressor Station in Loudoun County, Virginia, as well as its Pleasant Valley Compressor Station in Fairfax County, Virginia.
Furthermore, Dominion has fully subscribed the marketed capacity of the project with signed 20-year terminal service agreements. Pacific Summit Energy LLC, a U.S. affiliate of Japanese trading company Sumitomo Corporation (OTCPK:SSUMY) and GAIL Global U.S. LNG LLC, an affiliate of GAIL India (OTC:GAILF) which is the largest natural gas processing and distributing company in India, both having each contracted for half of the marketed capacity. Sumitomo in turn has announced agreements to serve Tokyo Gas Co. (OTCPK:TKGSF) and Kansai Electric Power Co. (OTCPK:KAEPF).
Therefore, using Dominion Cove Point as an export facility would significantly extends the contracted life of the terminal to 2037 and offer producers, new international markets to address the increasing demand of natural gas globally and provide energy security to the U.S. The projected capex for the project expansion is estimated between $3.4 to $3.8 billion and if everything goes according to plan, construction is expected to begin in March 2014 with commissioning in March 2017.
Blue Racer Midstream LLC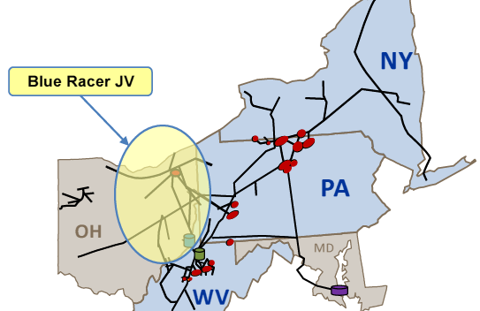 Source: Dominion Investor and Analyst Meeting, March 2013
Dominion and Caiman Energy II LLC, are forming a $1.5 billion joint-venture to provide midstream services to natural gas producers operating in the Utica shale in Ohio and portions of Pennsylvania. Blue Racer will be an equal partnership between the two companies with Dominion contributing midstream assets and Caiman contributing private equity capital.
The joint-venture will leverage Dominion's existing presence in the Utica region with significant additional new capacity designed to meet producer needs as the 2.5 million acres of wet gas acreage of Utica shale are developed. Over 1.5 million acres are still uncontracted at this time. Supportive legislation in Ohio promotes the use of under-utilized utility pipelines. Midstream services offering will include gathering, processing, fractionation and NGL transportation and marketing.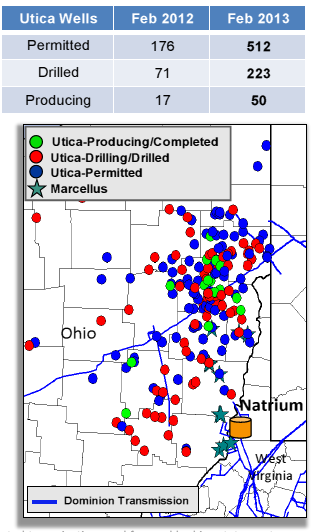 Source: Dominion Investor and Analyst Meeting, March 2013
According to Dominion's December 2012 news release, Caiman Energy brings to the joint-venture a proven track record in developing one-stop midstream shopping for producers. With Blue Racer, Dominion expects to benefit from cash received for its well-positioned assets and pro-rata earnings from the joint-venture.
Dominion facilities to be contributed include both gathering and processing assets. Dominion East Ohio's existing rich gas gathering network will be contributed along with other portions of its gathering system as more lines are converted to rich gas gathering operations. With investment, Blue Racer gathering pipeline system could be expanded to transport at least 2Bcf of natural gas per day.
Also included are Dominion's Natrium Extraction Plant and related facilities currently under construction in Marshall County, West Virginia and a Dominion Transmission pipeline connecting Natrium to the Dominion East Ohio gathering system.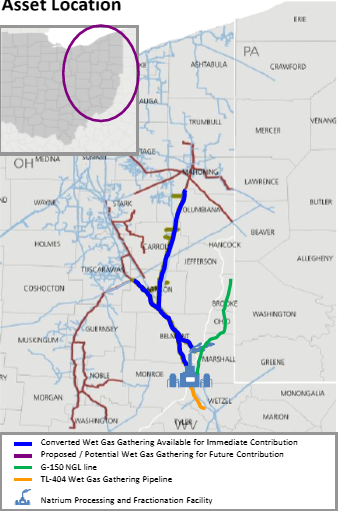 Source: Dominion Investor and Analyst Meeting, March 2013
Natrium is expected to process 200Mmcfd of natural gas and fractionate 36,000 barrels of liquids, while it can be expanded to serve market needs reported the Dominion's news release. Natrium is designed to separate the LNG into industrial-quality propane, butane, ethane and other products. The products will be able to reach multiple markets through a variety of delivery options including truck, railroad, pipeline and barge facilities.
Dominion is forecasting the long-term earnings that Blue Racer should generate over a 5-year span. Moreover, after equalization of the joint-venture, new opportunities will present itself: forming an MLP, getting an initial public offering or continue to grow the project as a 50-50 partnership using non-recourse debt.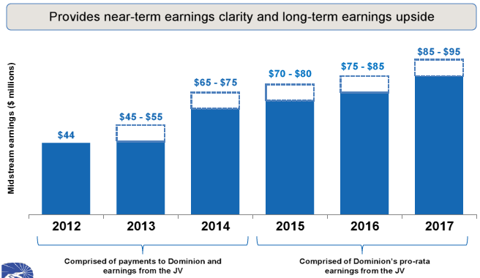 Source: Dominion Investor and Analyst Meeting, March 2013
Financial Highlights And Future Outlook
Dominion's 2012 annual report declared earnings of $302 million or $0.53 per share compared to earnings of $1.41 billion or $2.45 per share for the same period in 2011, a huge decrease of 78.6%. This could be explained by the $1.1 billion loss that occurred during 2012 (including an impairment charge) with certain fossil fuel-fired merchant power stations which Dominion decided to market for sale in Q3 of 2012. According to Dominion's Q4 2012 earnings release, operating earnings for 2012 amounted to $1.75 billion or $3.05 per share, reporting the same amount of operating earnings as 2011.
In its Q1 2013 release, Dominion declared earnings of $495 million or $0.86 per share, compared to $494 million or $0.86 per share for the same period in 2012. Reported operating earnings amounted to $476 million or $0.83 per share, compared to originally reported operating earnings of $486 million or $0.85 per share for the same period in 2012.
Dominion uses operating earnings as the primary performance measurement of its earnings guidance and results. It also uses operating earnings internally for budgeting, for reporting to the Board of Directors, for the company's incentive compensation plans and for its targeted dividend payouts and other purposes. Dominion management believes that operating earnings provide a more meaningful representation of the company's fundamental earnings power.
The long-term debt accounted for $17.28 billion at the end of March 2013, compared to $16.9 billion last year according to Dominion's Q1 2013 release, which is relatively high. However, the company had to use its financing a little more in the last few years to revamp some of its energy centrals and fund a few projects along the way such as the Appalachian Gateway Project to provide firm transportation services for these new Appalachian gas supplies by building about 110 miles of pipeline between 20 and 30 inches in diameter, running between West Virginia and Pennsylvania as well as four new gas compressor stations. Transportation services has begun in September 2012.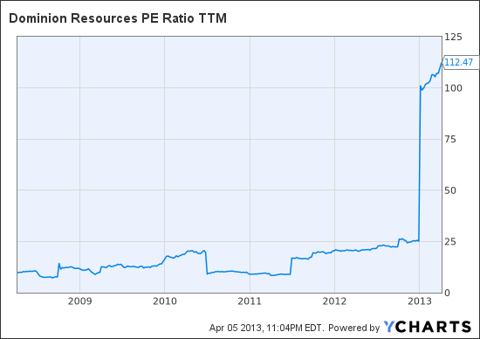 Dominion has a high P/E ratio of 112.47, drastically rising from a P/E ratio of 25 in early 2013. Obviously, Dominion's shareholders have great expectations about the future growth of the company. I believe it is intrinsically linked to some projects under development such as Blue Racer Midstream and Cove Point LNG. The downside is that the stock could hit a brick wall if future earnings are not up to expectations.
Looking at the forward P/E ratio by comparing it with its peers can give us a better perspective of what to expect considering the future earnings. Depicted below is a comparison with "then and now" forward ratios. Dominion's management seems to believe that its future growth average should outperform its peers giving its higher P/E multiple.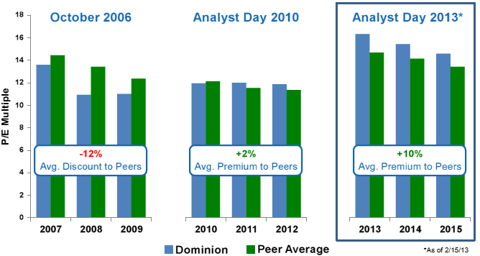 Source: Dominion Investor and Analyst Meeting, March 2013
As mentioned in its Q4 2012 release, Dominion forecasts its operating earnings for this year at about $1.84-$2.04 billion or $3.20-$3.50 per share. To achieve this, the company planned its capex for the next three years as follows: 2013, $4.68 billion; 2014, $4.15 billion and 2015, $3.3 billion.
Dominion is planning to continue to build on strategy of commodity risk reduction and execution of regulated infrastructure build out. Thus, regulated infrastructure investment plan in place to support future earnings growth is elaborated as this: 2013-2017 plan of about $3 billion per year growth capex, diverse plan with growth across all business units and constructive regulatory environments. The company is well positioned in Marcellus and Utica shale regions to profit from this coveted place.
In the electric transmission business, the company planned its growth capex for 2013-2017 period, about $2.6 billion with various projects from revamping existing facilities to developing new assets. See the chart below.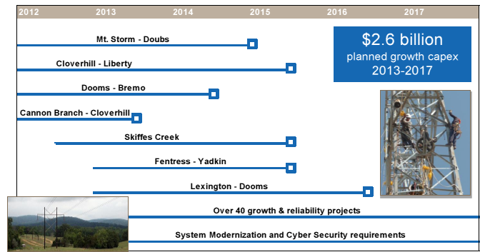 Source: Dominion Investor and Analyst Meeting, March 2013
Electric distribution forecasts a growth in demand averaging 2% of annual sales and 455MW increase in energy demand during 2013-2017.
Dominion Energy is estimating its planned growth capex for 2013-2017 period, about $2.2 billion and including its Cove Point Export Project, about $5.6-$6.0 billion. See the chart below.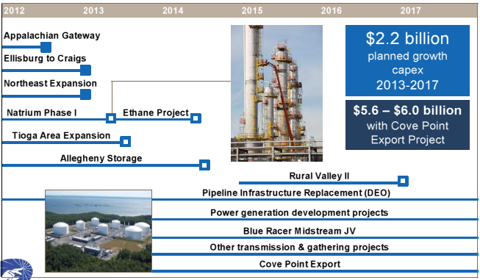 Source: Dominion Investor and Analyst Meeting, March 2013
Dominion Generation is estimating its planned growth capex between 2013-2017 period with about $4.0 billion, as shown in the chart below.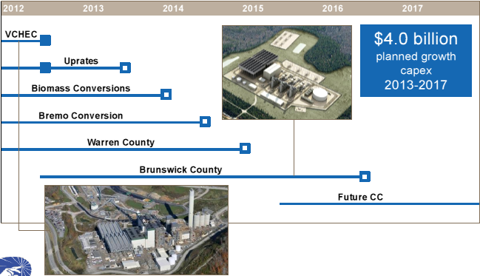 Source: Dominion Investor and Analyst Meeting, March 2013
Finally, as an overall view, Dominion is forecasting its global capex as shown below, by producing business.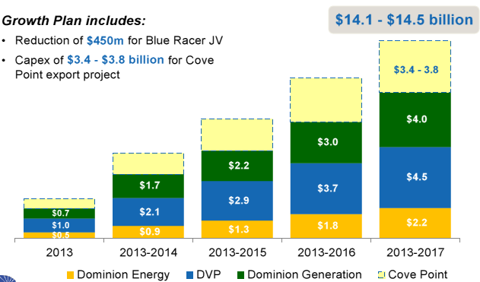 Source: Dominion Investor and Analyst Meeting, March 2013
Bottom Line
As we have seen, there is a lot of projects for Dominion's next four years. Its growth should increase over the years but at the expense of its capex and ultimately, its long-term debt because even if the company renew with over a billion earnings per year, it will not be possible to fund a quarter of the upcoming capex without loaned money.
That being said, Dominion is well positioned to profit from its LNG business over the long term with assets consolidated in key regions of its business: Marcellus and Utica shale gas plays. Furthermore, its Blue Racer Midstream and Cove Point LNG export project will play a major role in the company's future growth.
Looking at the chart below gives us a hint of what to expect for Dominion's shareholders as the old saying tells us that if the past can be an indication of what the future holds, total return over the years have been a bliss for them with 80.4% compared to 38.4% with Dominion's industry on a 3-year period and 52.9% compared to 15% respectively over a 5-year period.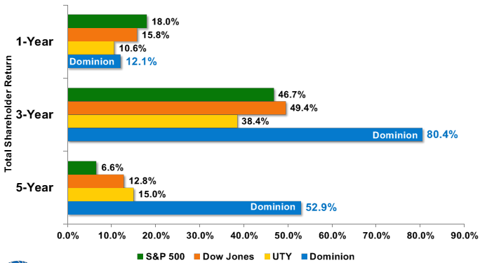 Source: Dominion IR Reference Book, October 2012
As for its dividend, Dominion has seen its dividend per share growing at an average of 7% annually, from $1.83 in 2010 to $2.25 in 2013. Currently, the dividend yields 3.77% which is a more than decent payout.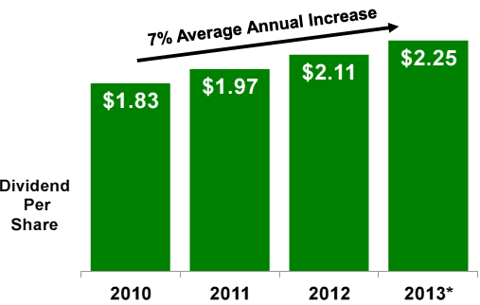 Source: Dominion Investor and Analyst Meeting, March 2013
Finally, I believe that Dominion represents a good buy for an investor looking to seize an opportunity to profit from the natural gas boom that is reshaping the natural gas market. The company has a well-diversified energy portfolio that will ensure its profitability until some of its current projects regarding LNG matures. Then, Dominion's profit should rise exponentially as it will export its LNG to Asian markets. Investors should expect both its dividend and stock value to grow by that time.
My next article will reveal the first of the top three promising U.S. LNG exporter that is expected to profit from this great opportunity of exporting LNG mainly to emerging markets to meet the global increasing demand for natural gas.
Disclosure: I have no positions in any stocks mentioned, and no plans to initiate any positions within the next 72 hours. I wrote this article myself, and it expresses my own opinions. I am not receiving compensation for it (other than from Seeking Alpha). I have no business relationship with any company whose stock is mentioned in this article.