Shares of the company sold significantly Friday. However, according to estimates by the American Pet Products Association, spending on pets will remain strong despite our current recession. The agency estimates that in 2009 close to $45 billion on pets will be spent; this figure is a 5.1% increase from last year's estimates and nearly double compared to a decade ago.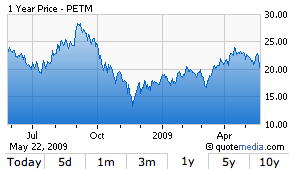 Moreover, PETM's recent earnings announcement further validates the optimism stated above. For the quarter ended in April, PetSmart's earnings were $.37 per share, handily beating both analysts' expectations of $.30 and results from the year before of $.32. The company raised its predictions for 2009 earnings. Same-store sales at PetSmart were up 3.9%. Traffic at its stores actually increased (but only 0.1%), the first rise in traffic in two years. The company leveraged almost every line of the SG&A portion of income statement including store payroll, travel and supplies, which helped it in saving costs in the first quarter. Given the tough economy, that's an impressive feat. The company has raised their EPS guidance becuase the first quarter came in better than expected; it now expects to earn $1.42 to $1.52 a share in fiscal 2009 compared with its prior view of $1.40 a share to $1.50 a share.
So, what went wrong as to why shares tumbled? The stock has done exceptionally well in the past year as the S&P 500 Index dropped more than 35%. It appears that the selling in wake of the company's top earnings is due to profit taking as portfolio managers struggle to lock unrealized gains for their clients.
For those looking to commence a long position on PETM, consider the following analysis:
Shares at the current level of $20.40 could be hedged rather well with the June strike 20 calls which are paying $1.20/contract. This gives you an intrinsic time value of $.80/share and a downside protection to $19.20. At $19.20, the company is not far from its solid support of $17.25 set back in March 9 2009. The risk to reward ratio is worth the returns. Besides, at $19.20, you can dollar-cost-average the shares by adding on both new shares and new calls.
As one of the only large public companies focused solely on pet care, PetSmart's results are an important window into the U.S. pet economy.
Disclosure: Author does not own any securities pertaining to the company mentioned above.