The coal industry has been facing some uncertainty lately as numerous analysts and researchers have voiced their opinion that the industry is headed for further declines. One of the most reputable studies is this peer-reviewed study from three researchers at Duke University, where the conclusion is that the coal industry is extremely vulnerable. According to the study, 9% of current coal capacity is challenged by low natural gas prices, while over half (56%) is challenged by stricter emission regulations. And the declining coal industry is already apparent, as in the past five or six years we have seen coal plants substantially reduce their capacities: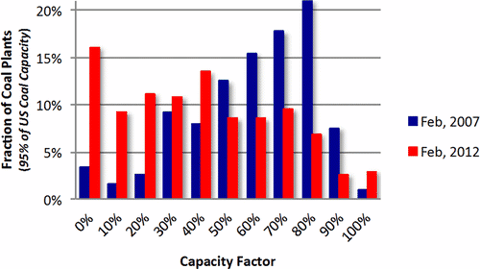 We can see that during 2007, coal plants were mostly running at around 50%, 60%, 70% and 80% capacity, whereas in 2012 far more coal plants were running at 0%, 10%, 20% and 30% capacity. Regarding the 0% figure, it has transpired that not only have coal plants been running at reduced capacity, but numerous coal plants have been retired completely across the U.S. Examples of coal companies cutting back include Duke Energy (DUK), which retired eight coal plants, Dominion (NYSE:D), which retired nine coal plants, and FirstEnergy (NYSE:FE), which retired three coal plants. Outside of the U.S., it was recently announced that China has also reduced its coal production.
In the wake of the declining coal production, it is not surprising that major banks including Bank of America (NYSE:BAC), Citigroup (NYSE:C) and JPMorgan (NYSE:JPM) have reduced their investments in the U.S. coal industry. Investment in the U.S. coal industry sank by 50% in 2012 compared with 2011, with a total investment in 2012 of only $20.8 billion. It still has been reported that despite the obvious slowdown, the number of jobs in the coal industry in 2011 and 2012 were at the highest level in the last 15 years, and not all analysts are bearish on the coal industry. Zacks Equity Research comes to the conclusion that despite the numerous pressures for the coal industry, "the global power industry will continue to depend on coal for a large part of its generation," though it acknowledges that the industry is facing serious challenges.
Regarding the two main challenges facing the coal industry (cheap natural gas and strict environmental regulations), we know that natural gas prices are unpredictable. But according to the Duke University study, natural gas would remain competitive even if the ratio of natural gas to coal prices rose from its current level of 1.7 to 4. As Zacks states, natural gas is an attractive choice for new plants due to its fuel efficiency, low emissions and relatively low capital requirements. Tighter environmental regulations further threaten the coal industry and make natural gas more attractive. Global warming has become an extremely serious issue, and governments are under pressure to introduce new legislation to tax polluters and limit air pollutants. We can see that the Obama administration and the Environmental Protection Agency [EPA] have taken numerous actions against the coal industry, with the result that coal plants have become more expensive to run. Coal plants will require upgrades to their Emission Control Systems (ECTs), and must bring their sulfur dioxide, particulate matter and mercury emissions under control. Natural gas plants, by comparison, typically only produce nitrogen oxide in excess of new thresholds.
A Look Into Some Major Coal Companies
Not surprisingly, major coal stocks have declined over the past few years, and investors generally have not felt comfortable with so much uncertainty looming. The only major coal stock I have looked at that has actually performed well over the past few years is Alliance Resource Partners (NASDAQ:ARLP), which has reported extremely strong net profit margins (in Q1 2013 its net profit margin was 17.59%) and owns 11 mining complexes. But right now, a prosperous coal company is something of a rarity. Some of the main coal stocks (based on market cap) that are facing difficulties are the following:
Peabody Energy Corporation (NYSE:BTU), a private-sector coal company with 28 active coal mining operations in the U.S. and Australia. BTU currently trades at around $20 after being above $60 in 2011, and above $80 in 2008. It recently announced a new quarterly dividend of $0.085 per share, and reported Q1 2013 revenue of $1.75 billion (net profit margin was still slightly in the red at -0.59%). BTU CEO Gregory Boyce is still optimistic about the coal industry, stating that "We now expect that during 2013, coal will recapture the vast majority of its 2012 demand that was lost to natural gas."
Yanzhou Coal Mining (NYSE:YZC), a Chinese-based coal stock, which has declined in the same way as most U.S.-based coal stocks. It trades at a low volume and has not generated much interest among investors within the U.S. However, it is still profitable, and perhaps worth considering for anyone interested in a major Chinese-based coal stock.
CONSOL Energy (NYSE:CNX), which operates in both the coal and natural gas industries, and has thus not suffered as much as coal-only stocks (though it has still seen its stock price generally decline over the past couple of years). CNX offers an attractive quarterly dividend ($0.125 per share), and in Q1 2013, it barely reported a loss on earnings of $275 million. CNX perhaps represents a reasonable investment for those who wish to invest in the coal industry, but still want to have their investment protected if natural gas dominates in future.
Arch Coal (ACI), with a current market cap of around $1 billion. ACI stock has taken a huge hit, as it traded above $70 in 2008, and now trades at around $5. Its decline has been far more severe than the decline of the coal industry as a whole, which leads one to the conclusion that it has been making some bad decisions. Perhaps ACI could still be a good turnaround stock, though it's hard to envision it becoming profitable.
Alpha Natural Resources (ANR), which has a higher market cap than ACI (above $1.5 billion), but has had a similar collapse, from over $100 in 2008 to the mid $7s now. And just like with ACI, it would seem that achieving profitability for ANR would be a formidable task.
Will The Coal Industry Continue To Decline?
The performance of coal stocks and the threats to the industry do not paint a pretty picture. Since coal stocks have declined substantially from their highs, perhaps they could be taken as speculative investments, but it's very difficult to predict if the coal industry will be able to hold its ground. I would not recommend a huge investment in any coal stock unless the investor has a substantial risk tolerance and has conducted a reasonable amount of independent research.
Disclosure: I have no positions in any stocks mentioned, and no plans to initiate any positions within the next 72 hours. I wrote this article myself, and it expresses my own opinions. I am not receiving compensation for it (other than from Seeking Alpha). I have no business relationship with any company whose stock is mentioned in this article.