Lately, it seems everyone is on board with the idea that the housing recovery is under way. Yesterday for instance, the Case-Shiller 20 City Index showed that existing home prices increased 0.3% in February.
The Amercan Bankers Association reported that:
For the second consecutive month, all metro regions included in the release reported home price appreciation from year-ago levels, a first in almost five years. Phoenix reported the highest change from year-ago levels, increasing 23.0%. New York was the lowest at 1.9%.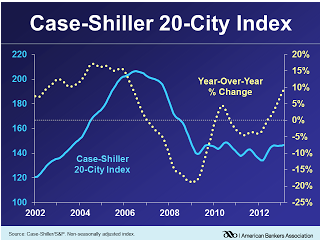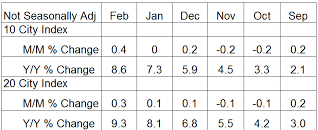 To me, this news, coupled with the previous announcement that new home sales increased in March paints a pretty positive trend for housing bulls.

And to be fair, this information is a big positive for banks like Bank of America (NYSE:BAC), Wells Fargo (NYSE:WFC), Citigroup (NYSE:C) and JPMorgan (NYSE:JPM) because when combined:
Rebounding prices + improved sales should = higher profits on mortgage sales + improved equity/capitalization on existing loans.
And, borrowing from a couple recent earning releases, this seems to be the case:
BAC: First-lien mortgage production up 57% from Q1-12 to $24 billion.
JPM: Mortgage originations up 37%
But, what is really going on?
After the housing bubble blow up, we know home prices were deeply slashed and new requirements were implemented for mortgage applications in order to make them more "safe." But, didn't the new requirements make it harder for the average buyer to get approved for a loan? And, doesn't the new FHA policy change make it even more expensive for new home buyers and FHA mortgage holders looking to streamline their existing loans?
Looking at yesterday's U.S. Census Bureau announcement on home ownership, we see something more in-line with this thought process:

What does this mean?
Increased sales and values are good but, it would appear the average new home buyer is not getting any relief. And, anyone trying to re-finance or streamline an FHA loan will need to now start to consider if an indefinite and larger PMI is really worth a lower interest mortgage. The banks have been, sorry to say it, "banking" on re-fis but how much longer will this be the case? Wells Fargo's average home lending rate is already down to 4.69% from 4.77% in the prior period (how much lower can it go?) and Citi's mortgage margins continued to decline in the 1st quarter of 2013. Will landlords be able to pick up the slack? Pulling again from yesterday's Census Bureau report, it would appear they definitely have an incentive to: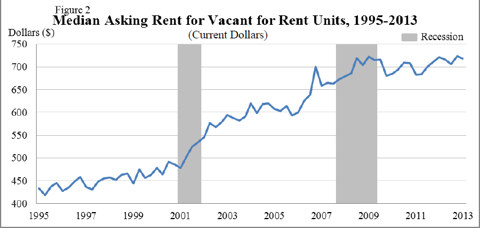 Bottom Line
It's starting to look like the big banks' current low valuations are a little more in-line with reality. Banks continue to have their margins tested and it would appear that the fight back to their old profitable ways may take longer than investors hope. Lately, I have been more impressed with Wells Fargo and JPMorgan in comparison to Bank of America and Citi, but to be fair, all of them are doing pretty good with what the market is giving them (because it's not giving them much!). I wouldn't be surprised if a sudden short-term price movement were to occur in either direction, and for all of the four banks discussed in this article, but I do believe they all offer compelling valuations for long-term and extremely patient investors.
Anyone looking to invest in one of these banks should take this into consideration but, a lot more research is advised! These banks are complicated and trying to calculate a meaningful estimate on valuation requires looking at all of the banks' operations, not just their mortgage-related ones. Good luck and hope this article added a different perspective and new insight!
Disclosure: I am long WFC. I wrote this article myself, and it expresses my own opinions. I am not receiving compensation for it (other than from Seeking Alpha). I have no business relationship with any company whose stock is mentioned in this article.