The S&P 500 index (NYSEARCA:SPY) is trading at record highs along with professional investor's being most bullish in decades. The Barron's semi-annual Big Money poll of professional investors shows that 74% of money managers identify themselves as bullish or very bullish about the prospects for U.S. stocks. Further, nearly 33% of money managers expect the Dow to scale 16,000 by the middle of 2014. Amidst these highly bullish sentiments, this article discusses the reasons to be contrarian.
Before discussing my contrarian view, I would like to mention that equities can go up further by 5-10%. That's entirely possible when sentiments are very bullish. A more important point is that the risk-reward equation is in favor of higher risk on fresh exposure at these levels than meaningful returns. From this perspective, investors might be safer in cash or Treasuries than being exposed to equities. The current levels can also be considered for profit booking for investors having garnered substantial returns in the rally.
Coming to the main topic of discussion, I take a contrarian view based on the following points:
Surge in Speculative Activity
The rise in equity markets is primarily a function of current earnings, future earnings, expected economic growth and liquidity. It is always a healthy sign when markets rise on the back of strong fundamentals or on the back of very optimistic economic and earnings outlook. On the other hand, it is a dangerous sign when markets rise on the back of liquidity and speculative activity than the factors mentioned above. In the current scenario, the rise in markets has been associated with a rise in speculative activity. This is indicated by the margin debt, which is at record high levels in the last 13 years. I would be wary of this because any minor correction or panic in the markets will trigger margin calls and subsequently result in a deeper correction.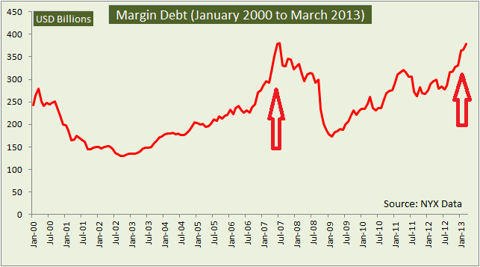 Bleak Global Economic Outlook
I mentioned above that it is encouraging when markets rise on the back of strong economic fundamentals. Unfortunately, we have a scenario where economic fundamentals are weak and are expected to remain weak. Equity markets surging higher amidst weak economic fundamentals underscore my point of a liquidity driven rally.
Recent global economic data has been pretty disappointing. The latest data suggest that the Euro zone recession has deepened with jobless rates at a record high. Retail sales in the US dropped the most in 9 months in March signaling a slowdown in consumer spending. Also, China's official purchasing managers' index fell to 50.6 in April from an 11-month high in March of 50.9. India's growth has also declined to 5% and is most likely to remain weak over the next few quarters.
Amidst all these economic concerns, it is surprising to see the markets surging higher. Investors can take advantage of the bull market to boost portfolio returns. At the same time, caution is advisable considering the economic factors.
Weak Earnings Growth
The global slowdown has a gradual impact on earnings. This fundamental factor is another reason for investors to avoid equities at these levels. The charts below give the operating and as reported earnings growth of the S&P 500 index.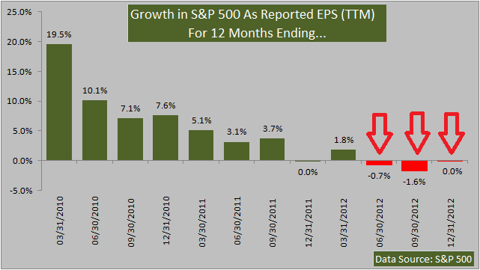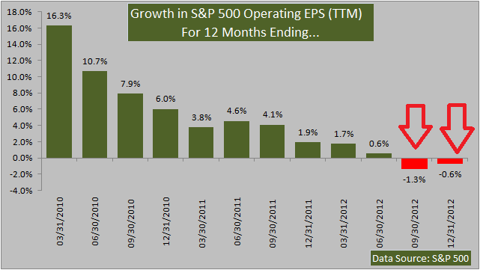 On a trailing twelve month basis, earnings growth has been waning in line with weakness in the global economy. Strictly going by fundamentals, a weakening earning performance does not justify current market levels. Some readers might argue that stock markets are a discounting mechanism. I however don't see any optimism related to economic growth and hence earnings growth over the next few quarters. Liquidity again emerges as the driving factor for the markets in the absence of strong earnings cues.
Rich Market Valuations
Amidst weak earnings growth, market valuation is rich at current levels and a correction is very likely in order to bring back valuations at a more realistic level. The S&P 500 is currently trading at a PE of 18.1 based on last 12 month earnings. This seems expensive when compared with a PE of 19 during pre-crisis market peak in September 2007. A clear idea of overvaluation emerges on considering the PEG ratio for the index.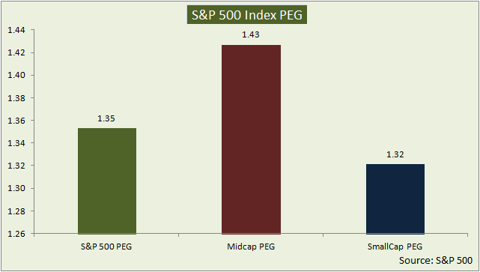 Based on 2013 earnings estimates, the index is trading at a PEG ratio of 1.35. In general, a PEG ratio of over 1 suggests overvaluation. As the chart below shows, the Midcap and the small cap PEG are also well above 1 suggesting relatively expensive markets as a whole.
It is also important to note that the PEG valuation for the S&P 500 is based on 2013 earnings estimates of $107. I am of the opinion that these estimates are relatively optimistic considering S&P 500 2012 earnings of $86.5. Considering the current global economic scenario, earnings growth might not be as optimistic as projected. Therefore, the PEG might be slightly higher than 1.35 for the index. Certainly, it is more advisable to remain cautious at these levels than to exercise aggression in terms of fresh exposure to equities.
Gradual Shift to "Risk Off" Trade
The 10-year Treasury bond yield in the US has been declining along with a surge in equity markets. This is an important trend to notice and it might be signaling a gradual shift from "risk on" to "risk off" trade. From a high of 2.06% in March 2013, the yields have dropped to 1.67% suggesting an increase in demand for bonds.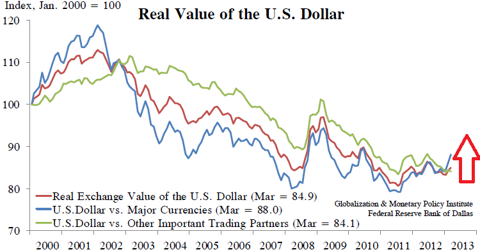 At the same time, the dollar has been strengthening and underscores my point on gradual risk aversion. In general, a stronger dollar is a symptom of tightening global liquidity and results in a decline in risky asset classes. The trend in the dollar and bond yields gives investors another big reason to exercise caution at current levels.
Conclusion
I am certainly not suggesting that investors should short the markets. It needs to be remembered that markets can remain irrational longer than an investor can remain solvent. Therefore, all I am suggesting is that investors need to keep away from equities at these levels and consider exposure on correction. I can say with some conviction that markets are headed for a meaningful correction over the next 3-6 months. The above discussed points strengthen my current outlook for the markets.
Investment Ideas On Market Correction
Johnson & Johnson (NYSE:JNJ) - is a good investment option. I like this highly diversified healthcare company, with products as well as regional diversification. Further, the sector catered to by JNJ is not very prone to economic shocks. JNJ has been a good dividend payer in the past, with a dividend yield of 2.6%. In my opinion, the stock is excellent for a long-term portfolio. It also commands a higher rating than the U.S. sovereign rating.
BP Plc (NYSE:BP) - is an attractive long-term buy due to several reasons: excellent and diversified asset base, presence across the value chain, presence in alternative investment themes and a good dividend yield of 5.1%. Further, the TTM P/E is at an attractive level of 11.75. Overall, BP is well positioned to take advantage of the long-term appreciation in crude oil prices. I had discussed the reasons to be bullish on energy for the long-term in one of my earlier articles.
Total SA (NYSE:TOT) - The French oil giant is another excellent near-term and long-term investment option. A strong dollar and cost associated with the North Sea natural gas spill has depressed the stock in the near-term and provides a good buy opportunity. Like BP, TOT has integrated operations and is a globally diversified player. TOT also offers a very attractive dividend yield of 5.6% and is trading at a low TTM PE of 10.3
Apple Inc (NASDAQ:AAPL) - can be considered to be a relatively good dividend investment option more than a growth stock option. The stock is currently trading at an attractive PE of 10.6 with a dividend yield of 2.9%, which will improve further over the next quarters. Also, with the next line of products to be rolled out in autumn 2013, and in 2014, the stock might consolidate at current levels before the next significant move on product announcement and subsequent market response.
Disclosure: I have no positions in any stocks mentioned, and no plans to initiate any positions within the next 72 hours. I wrote this article myself, and it expresses my own opinions. I am not receiving compensation for it (other than from Seeking Alpha). I have no business relationship with any company whose stock is mentioned in this article.