Introduction
Kraft Foods (KRFT) will be reporting earnings Thursday, May 2nd after the market closes. Kraft is constantly a favorite amongst analysts, and with its 3.9% dividend yield, it's a great income stock for almost any portfolio. Shorts stay far away from Kraft in general, with a short position of just over 1%, as it's generally a cash producing beast. It's been up about 14% YTD in 2013 thus far.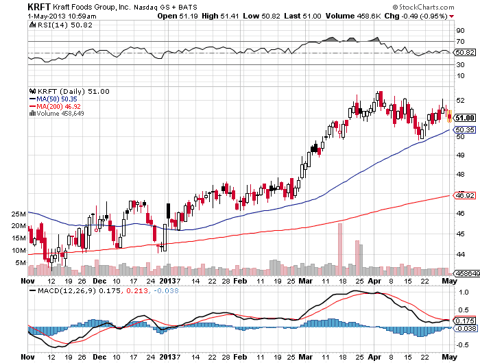 However, leading up to earnings is always a different story, as the stock could swing wildly in one direction or the other on the heels of a catalyst like earnings. The bearish case for the company usually revolves around how it manages debt and the effect that it's debt (about 3 times the amount of cash on hand) could negatively impact share value in the future.
This article, by Wall Street Cheat Sheet, claims there is no way to predict Kraft's upcoming earnings:
Apologies are in order, as no attempt will be made to predict earnings. Investors should consider waiting to see what happens and then plan accordingly. Listening carefully to management will often provide a good indication on where the company is headed. By not getting involved prior to earnings, investors might miss some upside potential, but it's not worth the risk. This is a dividend play anyway; there is no sense in taking unnecessary risks. The generous yield will be in place either way. Kraft is a WAIT AND SEE.
While I don't necessarily disagree, I also don't think that money can't be made off of their upcoming earnings, even if you're feeling ambivalent about how things are going.
Josh Arnold does a really nice job of laying out a balanced case for Kraft as both a bearish and bullish trade for the long-term in his article "3 Dividend Stocks with Rapidly Increasing Debt." He states:
Kraft is a very profitable but slowing business that has very questionable growth prospects. The company does pay a very nice 3.8% dividend currently, even with the stock trading near its highs. However, the stock is trading for greater than 16 times 2013 estimated earnings and sports an eye-popping PEG ratio of 2.94. With markets near all-time highs and likewise for KRFT shares, I would stay away from this company as its terrible prospects for growth mean that a forward PE of 16 is far too high. This stock should be bought as a bond equivalent only based on its robust dividend; don't expect much, if any, capital appreciation in the future.
My focus for this article is primarily on the upcoming earnings this Thursday after the bell. Long-term, I'm personally not drawn to Kraft, but what I am drawn to is the potential to make money off of catalysts like earnings.
Here's 6 different ways you can potentially position yourself to make money on an earnings announcement:
Bullish on Earnings, Bullish Long-Term
If this is your stance, you no doubt probably already own shares of Kraft outright. If this is your strategy, you could position yourself for earnings by retaining the shares you have, writing puts, and purchasing calls for both short-term and long-term.
As a hedge, I'd be buying cheap vanilla calls to protect against any type of (rare) catastrophe.
Bullish on Earnings, No Long-Term Interest
If you think earnings will be great, but don't really care about Kraft in the long-term, a great way to position yourself quickly and with leverage is to purchase calls. May 18th $52.50 calls are extremely cheap with very little implied volatility in them leading up to an earnings announcement.
These contracts are just $0.25/share and $52.50 could be easily left in the dust with just a small 5-6% upward move which is doable on an earnings blowout.
As a hedge, you could short the stock outright or buy dirt cheap way out of the money puts.
No Interest Short or Long-Term, But Expecting Volatility
These are my favorite types of plays; the seductive options straddle. A straddle is when you buy calls & puts for the same expiration and strike, and hope that the volatility of a major event sends the price far enough in one direction for you to recoup the cost of the contracts that will expire worthless. Kraft today is trading at around $51/share.
A May 18th $52.50 straddle will cost you $2.05 plus your commissions and a May 18th $50 straddle will cost you about the same, at $1.95. You can adjust which you'd buy if you're leaning slightly in one direction or the other. They both put your break-evens around $50.45 and $54.55 in either direction. This is a cheap and savvy way to play volatility.
Also to note, you still have two weeks post earnings to try and wait for a pullback or correction and cash a paltry sum from the losing end of your straddle.
Bearish on Earnings, Bullish Long-Term
If you're bullish long-term, you probably already own shares of Kraft. A great way to scoop up some quick money if you're bearish on upcoming earnings is to write calls. The bad news for call writers is that usually implied volatilities leading up to earnings are a bit more substantial than they are here for Kraft, but you can still make some money.
If your cost basis is below the $51 that Kraft is currently trading at, you can write $50 June calls and yield $195 per contract sold. I always make sure when writing calls to hedge that my strike price is higher than my average price, in case I get exercised.
If Kraft tanks post-earnings, you pocket those premiums and then use them to average down and buy more for the long-term.
Bearish on Earnings, No Long-Term Interest
This is strictly a quick negative volatility play for you? Short the stock outright; worse comes to worse and you have to cover, you're holding a stock that pays 3.9% annual dividend yields. Good old vanilla puts can get the job done for you if you want to be more aggressive and risk less while potentially gaining more.
May 18th $55 puts are $420 a contract and are already in the money, giving you a bit of breathing room if the stock isn't hit especially hard post-earnings.
A hedge that could offer a win/win would be to buy out of the money cheap LEAPS.
Bearish on Earnings, Bearish Long-Term
Maybe you think the market in general is about to turn around like I do. Maybe you have had a scarring moment with Kraft Mac & Cheese as a kid. For whatever reason, if you loathe Kraft and want to position yourself accordingly for earnings and the long-term, here's how I'd do it.
I'd short the stock outright and buy in the money vanilla puts before earnings. If earnings go as you're expecting, cash the puts and cover the short afterwards. Against the cover write calls and scoop up the premium, sell the equity on the bounce.
As a hedge, I would buy some cheap, way out of the money long-term calls. $60 January 2015 calls are (in my opinion) a dirt cheap hedge at $0.75.
Conclusion
The general sentiment here is that there isn't going to be much volatility behind Kraft's earnings. It's evident through reading the analyst reports and looking at the option prices. This is where great option traders can make serious loot. Should something loom in the wings for Kraft, there could be serious money to make. Personally, I'd be buying an option spread here, but I'm overextended at the moment and I'm going to have to sit this one out.
Hope this article helped you position yourself one way or another. Remember to always hedge and, as always, best of luck to all investors.
Disclosure: I have no positions in any stocks mentioned, and no plans to initiate any positions within the next 72 hours. I wrote this article myself, and it expresses my own opinions. I am not receiving compensation for it (other than from Seeking Alpha). I have no business relationship with any company whose stock is mentioned in this article.