Merck Inc. (NYSE:MRK) released its Q1 2013 earnings report yesterday. The corporation experienced an 8.3% drop in first quarter profit from the year prior, with total revenue falling 9%. A variety of factors have made things difficult for the drug conglomerate. It is important to outline what created a weak quarter for the company and to see whether these conditions are fleeting or permanent.
Drug Sales
Merck makes its money by selling drugs. When Merck sells fewer drugs, it makes less money. When a company like Merck first creates a drug the US government gives it exclusive rights to sell that compound for 20 years. When that time period runs out generic drugs are allowed to enter the market. Usually the result is a steep decrease in drug sales for the brand name drug.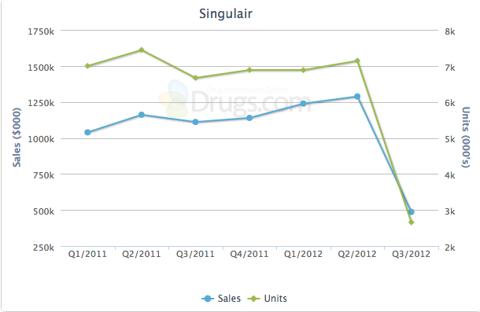 Merck was affected this quarter because it has not been able to keep selling its once-popular asthma mediation, Singulair. Singulair used to be one of Merck's best sellers, but an outdated patent as of last August has allowed generics to compete against it.
The result has been a steep decrease in sales. Merck will never be able to sell the same amount of Singulair now that generics have flooded the market. It's revenue from the drug will continue decreasing, and Merck will have to rely on other drugs to pad its pockets.
Also worth noting are the drugs Januvia and Januvet. These are both type-2 diabetes medications accounting for a hearty chunk of Merck's profits. Januvia is the medication by itself, while Januvet combines it with a slightly different generic (metformin) in order to keep costs down. The sales of both drugs were significantly below analyst expectations. While Januvia has been the company's fastest growing drug since its approval in 2006, this quarter generated 1% less sales for both of the drugs.
Diabetes medications are still necessary, however, and Merck still has the patent for Januvia for a while longer. There will continue to be long-term growth both domestically and internationally for the drug, but Merck officials have stated that it will experience a slowdown from the rapid growth it has experienced in the past seven years.
Merck currently has five drugs pending regulatory review. Predicting how these drugs will perform is impossible, but Merck has had a long history of wildly popular drugs. If one them take off as well as Singulair the company will experience a surge in profits. Until then, however, the stock will not be going anywhere fast.
Stronger Dollar
Merck officials stated that a stronger dollar reduced revenue by as much as 2%. The dollar has been getting stronger as eurozone and Asian inflation continues to be high; there is little reason to expect that the value of the greenback will fall any time soon. This will continue to negatively affect Merck's profits.
Conclusions
Merck has to contend with the same problems as every other drug manufacturer, yet on a larger scale. The loss of Singulair exclusivity hurt the corporation worse than the management anticipated, and the strengthening dollar has continued to eat away at profits. Until Merck gets its next superstar drug out of the door the stock should remain relatively flat or in slow decline. A hold or a sell call seems appropriate.
Disclosure: I have no positions in any stocks mentioned, and no plans to initiate any positions within the next 72 hours. I wrote this article myself, and it expresses my own opinions. I am not receiving compensation for it (other than from Seeking Alpha). I have no business relationship with any company whose stock is mentioned in this article.