I still believe this is the best-positioned company to benefit from the avalanche of programs to keep almost every breathing American inside a house with taxpayer handouts. I'll continue to add to Ocwen Financial (NYSE:OCN) on dips, and sell some on jumps. This name seems to have very little correlation with the market and dances to its own drummer. Analysts are finally beginning to understand the story here, with 2009 estimates raised from $0.80 to $1.00 over the past quarter, and 2010? From $0.85 to $1.30.

At some point the gravy train runs out (2011? 2012?) as every ounce of blood will have been squeezed out of the stone, but with my views on what is yet to come in the housing market, and sustained unemployment - there is still a lot of taxpayer money to be thrown after bad money. And more government programs or expansions of current ones - hip hip hooray.

Until the squiggly red line is broken, OCN is a buy on dip story - not even 12x forward earnings for some supreme growth coming in the next few years, yet it remains ignored while people want to go buy organic food retailers at 40x earnings. Aye carumba. I added a 0.7% stake (around $11.90) to my already "top in portfolio" exposure of 3%; I'll let some of this go on the next jump to $13 if and when. Squiggly red line is $11.40, so if it gets there I'll add more.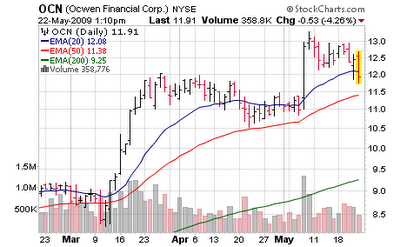 p.s. I am still ambivalent on the market. Friday, the big money was up at the Hamptons chuckling about how they always win (even this time!), and we're range bound here with the obvious floor we cited and for now S&P500, 930 seems to be the upside... This gives us about a 50 point range where people are just trading back and forth or chasing the theme of the day (the "consumer is back" trade is now old news, and we've moved to the "commodity is back" trade).
Until we make a decisive move up or down; I'm just staying high in cash waiting to see if it should be deployed short or long.

[May 7, 2009: Ocwen Financial (OCN) with Large Beat]
[Apr 22, 2009: Fight the Power - or at Least Hedge Against It with Ocwen Financial]
[Apr 15, 2009: Treasury Saving $10 Billion for Big Banks to Modify Loans]
[Apr 16, 2009: Bookkeeping - Starting to Ramp Up Purchases in Ocwen Financial]
[Feb 3, 2009: Freddie Mac to Outsource Delinquent Collections - Ocwen Financial Chosen to Start]
[Jan 9, 2009: Bookkeeping: Starting Ocwen Financial]

Long Ocwen Financial in fund; no personal position