By: Steven Ralston, CFA
Coca-Cola Hellenic Bottling Company (CCH) has begun to buy back shares after the resolution was passed at the extraordinary General Meeting of shareholders on April 27th. On April 30th, the Board of Directors approved the buy-back of up to 5% of the company's paid-in capital over the next two years. Based on the company's current balance sheet and the stock's price, over 18 million shares could be repurchased.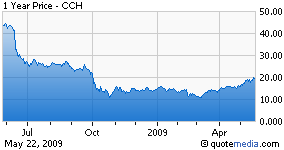 Since Coca-Cola Hellenic is headquartered in Athens, it acts in accordance with the Regulations of the European Commission. My email inbox has been flooded with daily reports of the share repurchases. On May 13, 24,000 shares were repurchased; on May 15, 25,300 shares; on May 19, 27,000 shares; on May 20, 21,800 shares; and on May 21, 25,000 shares.
Interpreting the results, it appears it took the company about two weeks to implement the repurchase program. Considering the due diligence and documentation, along with the policies and procedures required to initiate a share repurchase program (not to mention the selection of the firm to execute the program), two weeks is impressive. Also, on average, the company is repurchasing 25,000 shares daily.
The company has always generated strong cash flow. Operations generated €877 million in cash flow in 2008, of which free cash flow (after deducting capital expenditures of €615 million) was €262 million. The Board has increased shareholder value in the past with dividends. Most recently, on March 20, 2009, the Board of Directors increased the annual dividend by 12% to €0.28 per share. Now the Board has instituted a share repurchase program to enhance shareholder value.
We continue to rate the stock a Buy. Coca-Cola Hellenic Bottling Company is one of the largest bottlers of non-alcoholic beverages in Europe. The company's core competency is a strong distribution system with its route-to-market assets. With fragmented trade channels, the company's route-to-market systems can drive increased delivery of the company's full product line and build relationships with outlet owners.
Management has increased capacity both through acquisitions and by building incremental production lines. Over the past three years, the company has completed three strategic acquisitions and is building a greenfield production facility in Russia.