Credit and debit payment network provider Visa (NYSE:V) announced fantastic second-quarter results. Revenue for the quarter jumped 15% year-over-year to $3 billion, easily exceeding consensus estimates. Earnings per share, adjusted for a one-time tax benefit during the second quarter of the prior year, increased 20% year-over-year to $1.92. Due to litigation expenses, free cash flow does not look great year-to-date, but management is confident the company can generate $6 billion in free cash flow for the full-year.
Considerable focus on the earnings call addressed the company's new exclusive card branding with JPMorgan's (NYSE:JPM) credit unit - not surprising given CEO Charlie Scharf's previous position as Chase's retail financial services chief. The deal will slightly change how Visa receives revenue, as best explained by CFO Byron Pollitt:
The new 10-year deal structure with Chase has the effect of simultaneously reducing both gross fees and revenue incentives with one largely offsetting the other. This contractual change which is now signed and in effect in combination with the timing and revenue mix have caused us to lower our full year client incentive outlook from 18% to 18.5% down to 16% to 17% for fiscal 2013.
While on the surface the deal may look net-neutral, Visa should receive a nice boost from the volumes Mastercard (NYSE:MA) previously accounted for at Chase. The deal will also give Chase access to an exclusive VisaNet platform for transaction processing. Given the customization, we believe the deal could be quite sticky, and the 10-year agreement could turn Chase into a lifelong customer.
The other story of the earnings call focused on the potential for the purchase of VisaEurope. Given how Scharf and Pollitt speak about the unit, we feel its operations are far inferior to the rest of Visa; meaning a deal could unlock significant earnings potential.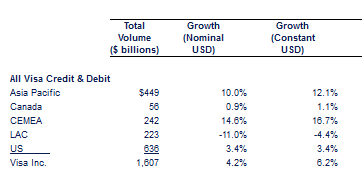 Payments volume growth (Image Source: Visa Q2 2013 Earnings Release) was relatively strong across the board, growing 4.2% overall. The only region that meaningfully underperformed was Latin America. While management refused to provide commentary on the situation, we think it could be related to currency instability in Venezuela, and Argentina.
In the United States, Visa finally saw its first quarter of debit card growth in the U.S. since the enactment of Dodd-Frank; not the interchange-fee-regulating Durbin Amendment. Due to partners reducing incentives and focusing on credit rather than debit cards, Visa's business mix has simply tilted in favor of credit cards. The impact on the business has been minimal thus far.
As far as capital management goes, there are few management teams as willing to return excess cash to shareholders as Visa's. Since the company's inception, virtually all excess free cash flow has been plowed into share repurchases and dividends. Scharf's tenure looks to be no different, as the firm repurchased 12 million shares of stock for $1.8 billion during the second quarter. Year-to-date, the company has bought back over $3 billion worth of stock, and remains on track to buy about $4 billion worth this year. Combined with nearly $1 billion in dividend payments, the firm will return all but $1 billion worth of projected free cash flow to shareholders. As long as Visa can avoid pricey litigation, we think the share count will consistently shrink in the coming decade.
For the full-year, the company kept its revenue, capital expenditures, and free cash flow guidance, but upped its earnings per share guidance to about 20% expansion from the mid-to-high teens. Visa's powerful network effect, focus on innovation through custom relationships and programs like V.me, as well as its cash-rich business model leave us feeling optimistic about the company's future. While we believe shares look nearly fairly valued at current levels, we will continue to hold the name in the portfolio of our Best Ideas Newsletter.
Disclosure: I have no positions in any stocks mentioned, and no plans to initiate any positions within the next 72 hours. I wrote this article myself, and it expresses my own opinions. I am not receiving compensation for it (other than from Seeking Alpha). I have no business relationship with any company whose stock is mentioned in this article.
Additional disclosure: Valuentum holds shares of Visa in its Best Ideas Newsletter portfolio.