Yahoo Inc. (YHOO) and Google (NASDAQ:GOOG) have been battling it out for the top search engine spot for many years and although Google remains way out in the lead, Yahoo has been restructuring and it looks as if there may be some growth on the horizon.
In July 2012, Marissa Mayer was appointed CEO. Prior to this she worked at Google where she oversaw product management, engineering, design and strategy for the company's local and geographical suite of products. This background has allowed her to change the direction of Yahoo and implement a more dynamic product offering and revenue generation strategy.
Yahoo has developed drastically over the past 10 years, from a vanilla search engine, to offering now a technological media interface. Advertising revenue makes up a significant proportion of income, however as the environment for web searches and advertising changes, Yahoo looks to evolve its offering to a media interface primed for mobile and handheld devices.
Since Mayer joined, the share price has reacted strongly rising 55%, and it is evident already, the new management team has a new focus and direction for the company, which is pleasing to see. Declining market share of search engine use has been the major downfall in revenue and performance over the past 10 years, and it has been the narrow-minded nature of previous management that has constricted growth.
Mobile phones and tablets have become more and more popular in recent years, and especially in the past couple of years this has come in leaps and bounds. Around 88% of all adults own a mobile phone and some 55% use this to surf the Internet. This is a staggering figure, and intriguing for businesses like Yahoo and Google. Mobile phones tend to be used more now than laptops and computers as they provide the flexibility to be used in almost any place. As such potential revenue available from well-placed ads and popular apps or software is massive.
Below is a snippet from Yahoo's CEO from their recent earnings report, and it highlights the progress they are making.
"I'm pleased with Yahoo!'s performance in the first quarter. We saw continued stability in our business, strengthened our team, and started the year with fast execution against our products and partnerships," said Yahoo! CEO Marissa Mayer. "We are moving quickly to roll out beautifully designed, more intuitive experiences for our users. I'm confident that the improvements we're making to our products will set up the Company for long-term growth."
Yahoo has taken its check book out and acquired a number of mobile phone start-ups so far in 2013, including Snip.it, Alike, Jibe and Summly's technology and IP. These are positive steps for the company and it will likely develop the revenue stream for Yahoo targeting mobile phone content.
Mayer has no qualms about teaming up with Yahoo's rival Google in a bid to generate revenue. Recently they joined a partnership program that allows them to integrate advertisements, which will ultimately benefit the customer.
Whilst it may take some time for advertising revenue to be built from mobile phones, this success has been reflected in Yahoo's Japanese counterpart, Yahoo Japan (OTCPK:YAHOY). Unlike in the US, Yahoo, in Japan is their major search engine, and they have made the same strategic move to boost revenue from the mobile phone industry. Their recent numbers showed it, and the share price rallied 77% year to date as a result.
Yahoo is fairly robust financially, with a strong balance sheet and free cash flow. The following table compares their latest first quarter results.

There has been an improvement in Q1 earnings from the year before, however declines from display and search engine advertising revenue have been a recurring issue. Yahoo's new focus may help stop this trend and get the company back on track.
Free cash flow has been fairly consistent apart from December last year, which relates to a tax payment of $2.3bn from the sale of Alibaba shares.
Another positive for shareholders is the share buy backs Yahoo has recently been implementing, and in the first quarter of 2013, it repurchased 38 million shares for $775m. During the year ended December 31, 2012, Yahoo repurchased 126 million shares for $2.2 billion.
Underdogs are always an intriguing purchase, and I have found many can offer a large amount of upside. Once Yahoo can start growing revenue again, the share price should do too. Although we have seen the share price rise 24% this year, outperforming the index, there is still plenty of room for share price growth over the long term.
The following chart shows their performance versus Google and as you can see there was a big divergence in 2005 as Yahoo lagged in terms of search engine market share and vision for the company.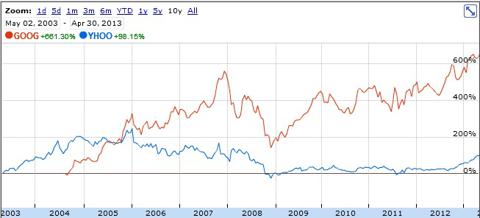 Now as both companies have evolved, the gap could begin to close. Many would look at Yahoo and think it was expensive with a P/E of around 25, however, as it looks to grow revenue this figure carries little value for the long term.
This story highlights the importance of management, and the positive steps taken by Mayer and co. Updating the style of Yahoo and having scope to evolve in order to generate revenue from the changing habits of consumers is a sign of good things to come.
Disclosure: I have no positions in any stocks mentioned, and no plans to initiate any positions within the next 72 hours. I wrote this article myself, and it expresses my own opinions. I am not receiving compensation for it (other than from Seeking Alpha). I have no business relationship with any company whose stock is mentioned in this article.