Investors seeking income from emerging markets can find it in an unlikely place - the Middle East and Africa. Although many markets in these regions are considered 'frontier', a comparison of dividend yields shows above average returns when compared to global emerging market (NYSEARCA:GEM) ETFs.
Middle East and Africa ETFs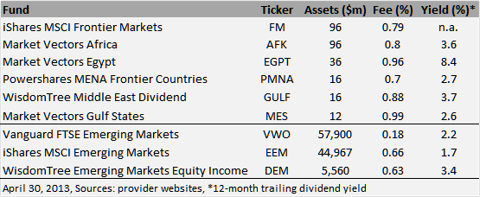 Poor benchmark GEM fund returns
Admittedly the higher returns reflect the weak yields broad benchmark GEM ETFs offer. Vanguard's FTSE Emerging Markets (NYSEARCA:VWO) and iShares MSCI Emerging Markets (NYSEARCA:EEM) yield just 1.7%-2.2%, while WisdomTree Emerging Markets Equity Income (NYSEARCA:DEM) yields 3.4% on a 12-month trailing basis.
The Middle East and Africa region (ex. South Africa) has little representation in traditional GEM portfolios, yet there are a few ETFs investors can consider to broaden their exposure to the regions.
iShares MSCI Frontier Markets (NYSEARCA:FM) is the purest 'frontier' emerging market ETF listed in the US. Around 60% of FM's portfolio is in the GCC (Gulf Cooperation Council) region represented by Kuwait (28%), Qatar, UAE and Oman. The fund also has meaningful country exposure in Nigeria (13%), Pakistan and Kenya. Although it is a global frontier ETF over 77% of FM's portfolio exposure is in the Middle East and Africa region.
FM's sector exposure is concentrated in financial services (53%), telecoms and broad industrials. Launched in September 2012 the fund is relatively new and has grown to nearly $100m currently. Although investors have yet to receive distributions, it is safe to assume the fund will pay meaningful income given its portfolio orientation to high dividend paying sectors like GCC banks and telecoms. iShares currently reports the 30-day SEC yield to be 3.5%.
Market Vectors Africa (NYSEARCA:AFK) holds companies that are publicly traded in Africa, or that generate a majority of their revenues in Africa. Of the fund's holdings, a large percentage are domiciled in South Africa (25%) or in developed markets like the UK. Other major country exposures of the fund are in Nigeria (25%), Egypt, and Morocco. AFK also has its largest sector exposure in financials (47%) as well as the energy, materials and telecom sectors. South Africa, Egypt and Morocco are generally high dividend paying markets and as a result AFK pays investors above average income with a 12-month trailing yield of 3.6%.
Market Vectors recently announced that AFK will move to a new self-indexed methodology called the Market Vectors Africa GDP index. According to the GDP weighted methodology the index will favor countries whose economic impact may be greater than their equity markets alone may imply. How the portfolio may shift from a country allocation perspective is unclear. A look at the top economies in Africa shows South Africa with the largest GDP, followed by Nigeria and Egypt.
Top 10 economies of Africa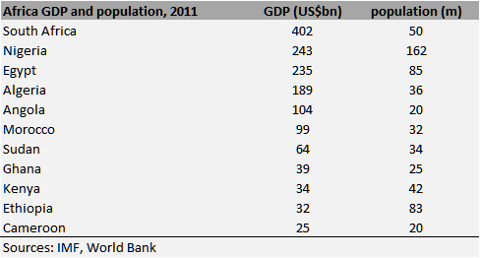 AFK is partially 'frontier'
AFK is a partial 'frontier' emerging market fund thanks to its large exposure to Nigeria. South Africa, on the other hand, is a major component of the GEM benchmark ETFs, representing around 7-9% of the portfolios of EEM, VWO and Schwab Emerging Markets (NYSEARCA:SCHE).
Egypt and Morocco are also components of GEM benchmark ETFs so are not classified as 'frontier'. Egypt, outlined below, has characteristics common to other 'frontier' emerging markets notably a large young population and weak governance. Given Egypt's challenging circumstances, the country may soon be relegated to 'frontier' status.
Market Vectors Egypt (NYSEARCA:EGPT) offers unique exposure to Africa's second largest country by population and third largest economy. Egypt's political transition post the Mubarak era has proven to be difficult. Current president Mohamed Morsi (elected in June 2012) has struggled to govern effectively at a time the country badly needs leadership. Egypt is attempting to hold parliamentary elections that could lead to greater consensus, but preparations have been fraught with disagreement among politicians and courts.
Political dysfunction risks credit
A key item on the agenda is financing Egypt's structurally high budget deficit. The country is currently negotiating with the IMF to secure a $4.8bn loan but needs to outline a plan to reform its inefficient tax system and reduce subsidization of fuel and food staples. Efforts to reform tax law have stalled in parliament while the country's key negotiator with the IMF resigned recently.
Egypt's key asset, the Suez Canal, is a major revenue earner for the country. Lower traffic volume this year has led to revenue declines, further pressuring the budget. Confidence in the currency has weakened recently and is another major risk to the investment case. Egypt holds great promise as a young and large country. Over 60% of the country's 85m citizens are 30 years old or younger.
EGPT tracks the Market Vectors Egypt index. Egypt's market structure is also heavily weighted towards financial services (42%) as well as the telecoms and materials sectors. EGPT records the highest 12-month trailing dividend yield of any emerging market equity product at over 8%. Part of last year's high payout was due to an extraordinarily high payout by Orascom Telecom Media and Technology Holding (OTMT) which had divested some assets the prior year.
Finally in Africa, a new fund, Global X Nigeria (NYSEARCA:NGE) is the first ETF dedicated towards Nigeria. Nigeria represents probably the most significant 'frontier' equity market opportunity in the world thanks to the country's large population and abundant natural resources. Nigeria is growing fast, around 6-7% annually, but like many developing countries has struggled with poor governance and underinvestment particularly in basic infrastructure. Internal conflict between the Muslim north and Christian south, and a high dependence on oil exports pose further risks. Nigeria's equity market is comprised mainly of banks, energy and consumer-related companies.
GCC and North Africa Funds
There are a handful of ETFs investors can use to target the GCC and North African markets. The ETFs are primarily composed of banks, telecoms and industrial groups including property developers. The funds have little direct exposure to the energy sector since most of it is closed to portfolio investors. Country weights are concentrated in Kuwait, Qatar and the UAE.
Of the funds, Powershares MENA Frontier Countries Portfolio (NASDAQ:PMNA) has the largest Egypt exposure (21%) along with large positions in UAE, Kuwait and Qatar. It is also heavily weighted toward the financial sector (including property) which represents 62% of holdings.
WisdomTree Middle East Dividend (NASDAQ:GULF) has highest exposure to UAE (36%) of the funds and some exposure to Egypt (6%) and Morocco (9%). The fund has the highest concentration of telecoms (33%) in its portfolio compared to the other funds. GULF follows a fundamental indexing methodology favoring regular dividend paying companies in the region. GULF is also the deepest fund of the group with 48 holdings.
Market Vectors Gulf States (NYSEARCA:MES) is focused exclusively on the GCC region and has over 90% of its holdings in either Kuwait, UAE or Qatar. The fund also has the most significant concentration of financials (67%) in its portfolio.
GCC is a good macro story
The investment case for the GCC region hinges on energy yet, despite the stagnant global pricing environment, countries in the region are faring well. With small populations to manage, the governments are in relatively strong political and economic positions. Fiscal and trade balances are strong, currencies stable and growth has come through. Government-led stimulus is also a looming support. Looking ahead, Qatar will host the FIFA World Cup in 2022.
Middle East/GCC GDP and population

On a micro level, GCC companies have been able to grow earnings and many are active regionally.
GCC focused funds have outperformed recently
A look at the performance of FM and AFK since the launch of FM in September 2012, shows that FM has performed well while AFK has been a laggard. This is attributable to the stronger performance of GCC markets (a majority of FM's portfolio) in contrast to the relatively weak performance of South Africa and the energy and materials sectors which have also been a drag for AFK.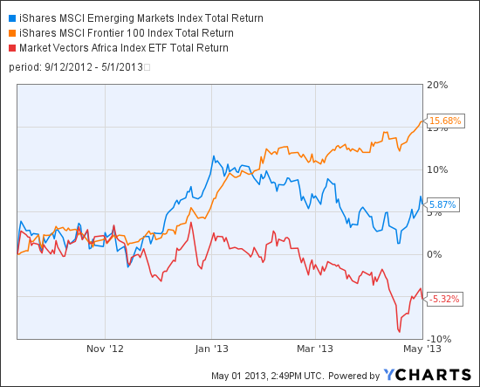 A look at two year performance shows the recent positive divergence of the GCC-focused funds, GULF and MES. PMNA has lagged that group due in part to its exposure to Egypt. All the funds have nonetheless returned more than the benchmark EEM with the exception of EGPT.
Two year chart: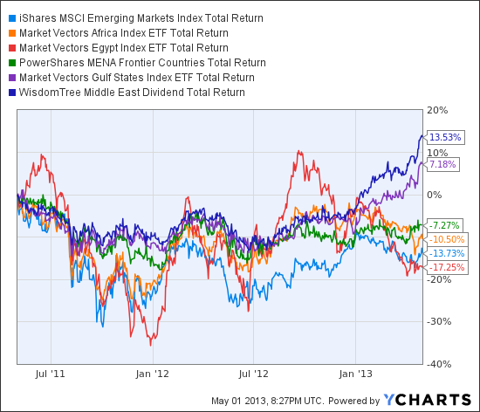 Daily liquidity is low
Of the funds outlined above, AFK is the most liquid fund trading over $4m/day. FM trades around $1.5m/day while the GCC/North Africa funds trade around $100k/day. EGPT trades close to $500k/day. Index tracking is also challenge in many Middle East and Africa markets due to lower liquidity and can result in performance drag.
GCC is the income and growth driver
For investors seeking income from emerging markets the GCC region offers a compelling alternative. Because the countries are relatively small, they can still benefit from resource wealth despite the sluggish global pricing environment. Politics is also simpler. Near-term economic activity looks strong and many companies are seeing underlying earnings growth. GULF and MES have the most direct exposure to that particular region. FM also gives concentrated exposure to the GCC along with other Africa and global frontier exposure, while PMNA is essentially a GCC/Egypt fund.
AFK offers varied exposure to the regions. The fund's orientation to South Africa could continue to be a burden given that country's weak macroeconomy. The fund's exposure to Nigeria is unique and offers potential. EGPT also faces macroeconomic risks. Political consensus could be a major catalyst for EGPT, should it ever materialize.
Disclosure: I have no positions in any stocks mentioned, and no plans to initiate any positions within the next 72 hours. I wrote this article myself, and it expresses my own opinions. I am not receiving compensation for it (other than from Seeking Alpha). I have no business relationship with any company whose stock is mentioned in this article.