Pengrowth Energy (NYSE:PGH) remains one of the more undervalued energy stocks out there. Not only does it trade at a massive discount to its net asset value, but it also offers a large monthly dividend of $0.04 per share. Per year, this dividend is $0.48 per share and would make Pengrowth yield about 9.40% at current prices.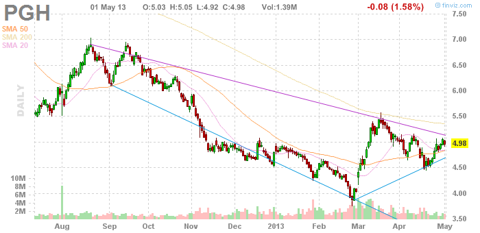 On May 1, Pengrowth reported its Q1 2013 earnings. Pengrowth saw average daily production of 89,702 BOE/D, a 5% decrease from Q4 2012, but above 2013 guidance of between 85,000 to 87,000 BOE/D. The majority of this decline was from 2,000 BOE/D in lower natural gas volumes, a further 1,000BOE/D was due to property dispositions and 1,300 BOE/D was due to one-time operational restriction. The decline in natural gas production is a result of Pengrowth continuing to allocate capital away from natural gas assets and towards light oil and heavy oil projects. The Lindbergh pilot's production averaged 1,620 bbl/d and reached 1,750 barrels per day of bitumen (heavy oil).
Pengrowth's Q1 oil and gas revenue was $391 million, 9% lower than Q4 2012. The primary cause to this decline was low production volumes and lower realized prices for light and heavy oil. Pengrowth's Q1 FFO was $148 million, or $0.29 per share, a 22% decrease from Q4 2012. The decrease in FFO was mainly due to lower production volumes and lower realized oil prices.
During the quarter, Pengrowth invested nearly $37.8 million in the Lindbergh project, with 26 delineation wells drilled. The planned expansion to 12,500 bbl/d remains on track, with Environmental Protection and Enhancement Act approval expected during the summer. The Lindbergh project targets the Lloydminster formation, where the bitumen has above average flow characteristics and oil quality, which translates directly into higher operating netbacks.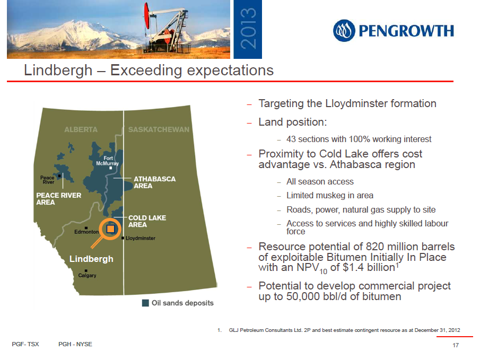 Also during the quarter, Pengrowth closed the $316 million Weyburn asset sale on March 8, 2013. This enables Pengrowth to balance cash inflows and outflows for 2013, and should result in no additional growth in debt this year. In addition, Pengrowth is in negotiations on the sale of $100 million to $125 million worth of non-core assets. Proceeds will be used to help fund 2014 spending at Lindbergh.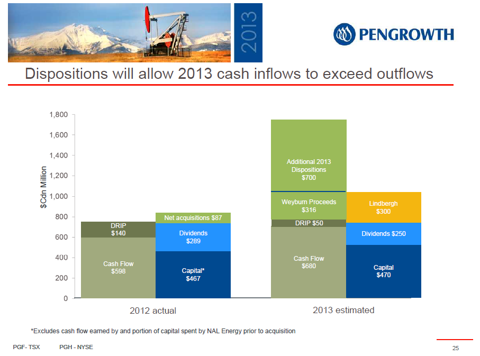 Pengrowth also added additional hedges during the quarter. The company now has 64% of its expected 2014 oil production and 33% of its expected 2014 natural gas production hedged at average prices of CDN$94.51 per bbl of oil and CDN$3.79 per Mcf of natural gas.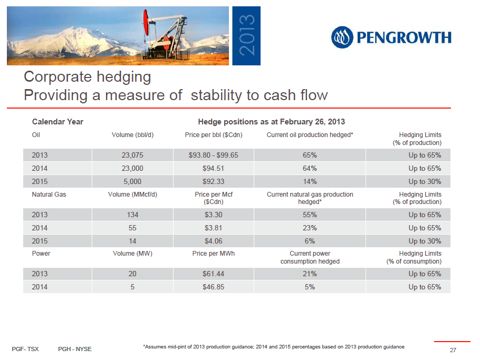 Pengrowth also reaffirmed its FY 2013 guidance and its commitment to its $0.04 per share monthly dividend. The company does expect that Q2 2013 production to decline 3,000 to 4,000 BOE/D from Q1 2013 levels due to the Weyburn disposition and planned downtime. The company's outlook for FFO remains on track despite the volatile commodity price environment, as a result of its hedging program.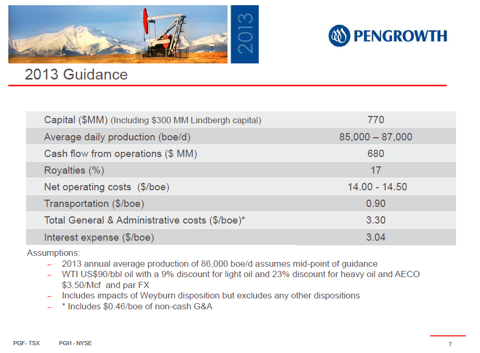 Conclusion
Using a 10%, Pengrowth currently trades at a 42% discount to its $8.61 NAV per share. When you add the 9.40% yield, Pengrowth becomes a compelling value proposition.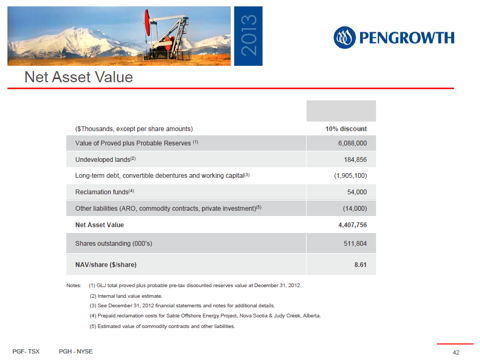 Pengrowth does offer a high yield, but also high risk. In addition, Pengrowth remains at the mercy of natural gas and oil prices. While natural gas has recovered during the quarter, oil has recently weakened. I would only recommended Pengrowth for investors who have a high risk tolerance.
Disclaimer: The opinions in this article are for informational purposes only and should not be construed as a recommendation to buy or sell the stocks mentioned. Please do your own due diligence before making any investment decision.
Disclosure: I am long PGH. I wrote this article myself, and it expresses my own opinions. I am not receiving compensation for it (other than from Seeking Alpha). I have no business relationship with any company whose stock is mentioned in this article.