By Sumit Roy
Natural gas plunged over 6% to nearly $4.05/mmbtu after the Energy Information Administration reported that operators injected 43 billion cubic feet into storage last week, above the 28 to 33-bcf build most analysts were expecting. The injection was above last year's build of 28 bcf, but below the five-year average build of 70 bcf.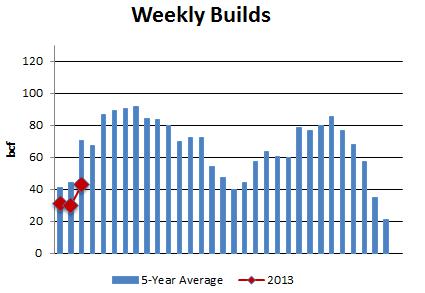 In turn, inventories now stand at 1,777 bcf, which is 799 bcf below the year-ago level and 111 bcf below the five-year average (calculated using a slightly different methodology than the EIA).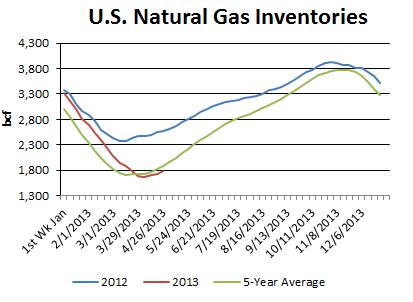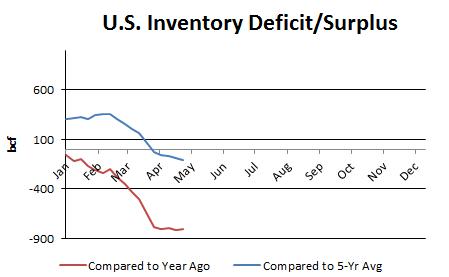 The weather last week was much cooler than seasonal norms. Going forward, the NOAA's six- to 10-day outlook calls for mixed weather across the country. However, given that it's early May, heating and cooling demand should be minimal.
For the next few weeks, weather will be less of a factor since spring is a fairly mild period in general. However, as we move into the late-May period, weather becomes an important factor once again. During the summer months, colder-than-normal temperatures are considered bearish, while warmer-than-normal temperatures are bullish for their ability to boost cooling demand.
NOAA Six- to 10-Day Outlook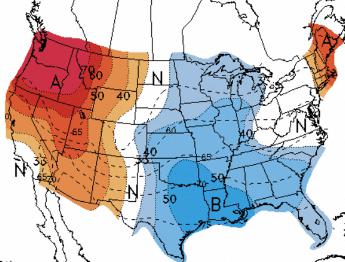 Meanwhile, the number of rigs drilling for natural gas in the U.S. fell by 13 last week to 366, a 14-year low, according to Baker Hughes.
Natural Gas Rig Count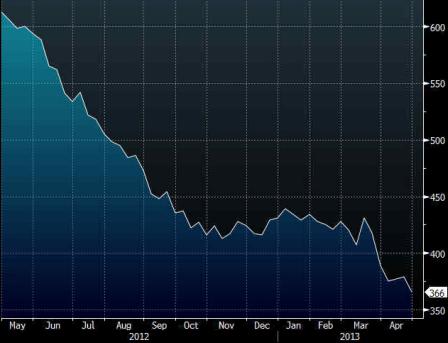 Natural Gas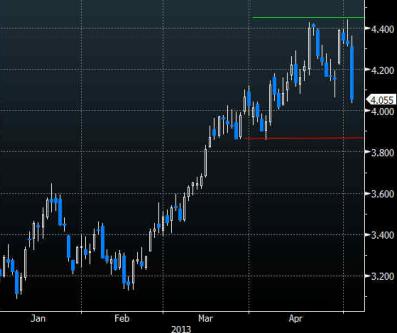 The latest inventory report from the EIA was mixed. On the one hand, the deficit over the five-year average grew from 84 bcf to 111 bcf, which is bullish. On the other hand, the build was well above market expectations, which is obviously bearish. Traders are particularly concerned with the fact that the weather last week was slightly cooler than the week before (104 heating degree days vs. 91), but the injection was almost 2 bcf/d higher.
That said, it's hard to draw any significant conclusions from that comparison. Supply and demand in the natural gas market fluctuates every day; thus, we wouldn't make too much of a single data point, and instead opt to see how injections evolve over the course of the month.
The next four reports will be of particular interest. In our view, the market is currently anticipating three or four triple-digit injections (100+ bcf) during May. If this comes to pass, prices may drop to the support level at $3.85/mmbtu. On the flip side, if those triple-digit injections do not materialize, the deficit against the five-year average will be maintained and prices should resume their rally.