By Chris McKhann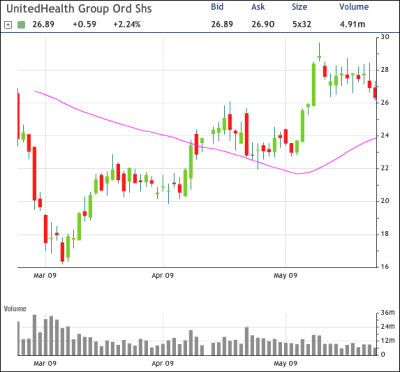 UnitedHealth Group is rising again today, and the continued rally in the stock has bought in the option traders.

The health benefits company is up 2.24 percent to $26.89 in midday trading, regaining Friday's losses and bouncing off the technical trendline that has been in place since the shares bottomed just above $16 in early March.

Today's option trade in UNH appears to be a "ratio spread," buying 7,500 of the July 25 calls for $2.90 and $2.85 while selling 15,000 of the July 30 calls in one block for $0.75.
This would be a net debit of $1.375 on the trade, which is the maximum risk with the stock anywhere below $25. The maximum gain comes if the stock is at that $30 strike at expiration but takes one-for-one losses with shares above roughly $33.65.

This type of trade is bullish but does not expect the stock to move much above its recent highs.

(Chart courtesy of tradeMONSTER)