On Jan. 27 of this year I wrote an article discussing the stock split of Brazilian water and sewage services utility Companhia de Saneamento Basico do Estado de Sao Paulo, also known as SABESP (NYSE:SBS). After an incredible run in 2012, the stock was split 2-for-1 on Jan. 24. After the split, SBS opened at $44.31 on that day and closed at $44.62.
Since the split in January, the stock has mostly remained stable and reached a high of $49.05 in March. However, unlike the last time the stock was split, when the price went over $90.00, this time the stock was split 3-for-1 on April 30, 2013, when the price was in the low $40s. After closing at $42.06 on April 29, SBS opened at $14.03 the next day on a split-adjusted basis. Today it closed at $14.31.
The following chart shows the two-year returns:
Click to enlarge image.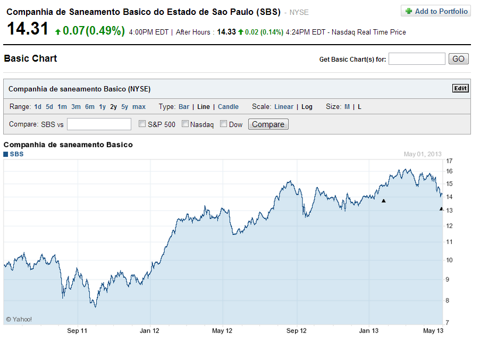 Source: Yahoo Finance.
Currently, SABESP has a market cap of $9.80 billion and a dividend yield of 2.27%.
Disclosure: No positions.