I have learned that trying to short a tech name on valuation is suicide. If it were that easy, making money on a short position would be as easy as pulling up a stock screener, finding the highest P/E names, and shorting until the cows come home. However, what an absurdly high valuation implies is that the expectations for future growth are incredibly high and that any miss of said expectations - either from a financial or "event" standpoint - will lead to a sharp correction in the share price as investors become less willing to pay high premiums for the stock. A beat of these expectations, as we saw in the most recent earnings report from ARM Holdings (NASDAQ:ARMH), in which the company reported $263M in sales against sell-side (and guidance) expectations of $250M leads to a dramatic increase in share price/valuation.
Rationalizing Irrationality
As I mentioned above, a $13M revenue beat led to a $3B increase in market capitalization. While a "rational" investor may write this off as absurd, there really is "reason" here - the stock simply became more desirable and people were buying. The thing to understand is that stocks are traded on secondary markets. While technically, yes, buying ARM (or any other equity) on the open market gets you a "piece" of the company, people generally buy stocks for one reason, and one reason only: to make money.
After the earnings beat, ARM shares became more desirable, and therefore given constant supply (well, that's not strictly true - ARM is actually diluting its float to the tune of ~2%/yr, but who's counting?) and increased demand, the price went up. It's really that simple.
See, now that ARM "beat expectations," the sell-side analysts usually chime in with their research reports trying to justify a target price that's higher than what the shares currently trade at. It's dressed up to "sound smart" and you'll get some reason for why shares deserve a "premium," yadda yadda, but the truth is, the stock is going up and the brokerage houses make money from commissions, so why not say that 53x CY2013e for ~20-25% Y/Y revenue growth is reasonable?
Now, ARM's business model means that it carries a significant backlog. This, as fellow contributor Rob Tanner astutely points out, means that an earnings miss is a virtual impossibility: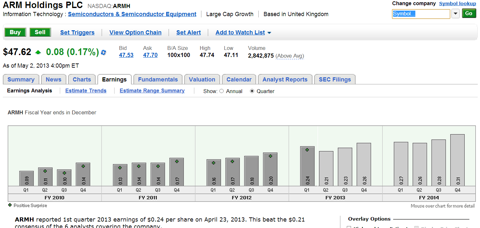 So, reading what I wrote above, you would come to the conclusion that you should buy shares of ARM and that it will continue to grow indefinitely, correct? Well, not so fast.
This Is Partially A Sentiment Trade
Right now, the prevailing sentiment that drives the quite high future earnings growth expectations that people project is that ARM will:
Have very little competition in tablets, smartphones, etc.
Will take significant share in low power servers.
Will see an ASP/unit volume/royalty explosion thanks to the "internet of things."
I believe that in the near term, this sentiment remains unshaken; anybody looking to make some money on a "bubble pop play" short over the next quarter will be disappointed. However, looking out longer term, my view is that by the end of 2013, Intel (NASDAQ:INTC) takes significant tablet market share with a - as a friend of mine likes to call it - "pincer attack" on ARM's tablet designs, with "Haswell" taking the high end and "Bay Trail" leading the charge at the lower end. Now, I'm not just blowing smoke, either. The recent numbers from research firm Strategy Analytics suggest that in a mere quarter, Intel has taken ~7% of the tablet market thanks to Windows 8 tablets and its Atom Z2760 ("Clover Trail").
However, this market share loss is currently masked by secular growth in the space, coupled with the fact that tablets are a fairly miniscule part of ARM's royalty stream. However, you will see this share number grow quarter after quarter, until all of a sudden Intel has ~20-30%+ of the tablet market (or more?). This, coupled with the likelihood that Intel will likely block any major share gains in the rapidly growing micro-server space, means that some of the future growth drivers that are baked into the stock don't really materialize.
But see, these things are NOT obvious to the layman investor, and I don't think the sell-side as a whole wants to be too early to make this call. When Intel shows, say, a few more quarters of meteoric share gains, the sell-side guys will start to downgrade ARM on competitive pressures, rising wafer costs for its partners, a mix shift towards lower end feature phone chips (this is what killed Qualcomm (NASDAQ:QCOM) at its recent earnings report), and so on and so forth.
Not Everything Is Rosy
In addition to this being a potential sentiment degradation trade, I believe that investors are also ignoring some of the broader industry wide problems that make ARM's seemingly "perfect" business model seem not so perfect. In particular, ARM bulls will argue the following:
One Size Doesn't Fit All: Many ARM bulls believe that the variety of chip vendors that customize their own SOC ("system on chip") designs based on ARM's IP means that a firm like Intel can't compete and that ARM just continues to win.
Fabless Model Is Good: People praise the fabless model since it does not require the deep capital outlays that an IDM ("integrated device manufacturer") needs, and believe that it gives everybody in the ARM camp a competitive advantage.
The problem(s) here are pretty clear. The majority of the ARM SoC vendors in the compute space are having margin problems. Nvidia (NASDAQ:NVDA) is actually losing money on its "Tegra" mobile SoC, despite being the leading merchant tablet vendor, Qualcomm's QCT (chips) operating margin eroded from 26% to 17% in the most recent quarter, as mix shift towards undifferentiated, lower-end products took its toll. Texas Instruments (NYSE:TXN) said "cya" and exited the mobile chip business despite being a leader in the space, Freescale (NYSE:FSL) did similarly.
The problem with ARM's business model is that you have most likely everybody using the same core/graphics IP, in which case your market degenerates into a commodity one in which the vendor with the best cost structure ultimately wins. The fabless guys, all fighting for fabrication space at TSMC (NYSE:TSM), aren't exactly in a position to one-up each other on cost as the majority of them are using the same transistors, with the same processor cores, and the same graphics cores. Qualcomm so far has shielded itself from these effects by having modem/integration leadership (meaning it wins all of the marbles), but it is only a matter of time before other vendors step in and make life even more difficult on that front.
In short: how many Cortex A15's paired with Imagination graphics or Mali graphics are needed in the marketplace?
Now, in the short run, it seems that ARM just sits back, collects its royalties, and calls it a day, letting the fabless semiconductor guys duke it out, not caring who wins. But longer term, most of these vendors will simply call it quits and move on to higher margin pastures, or simply be absorbed by larger entities. In the long run, it then might seem as though ARM's royalty base is unaffected, just more concentrated, but I offer up a different perspective.
New process nodes are becoming increasingly expensive. It is already well known that TSMC's 20nm will not offer enough of a density advantage to offset the increased wafer costs, which means that these expenses are passed right on to the SoC vendors, making it even more difficult for companies to compete with Intel. If ARM has the nerve to raise royalty rates on top of wafer costs getting uglier, then the business becomes a lot more difficult for the fabless players, and there is a significant advantage for Intel. Do investors really think that ARM-based SoCs for $25 will be sustainable in light of these industry dynamics?
Conclusion
I'm not saying short ARM today; this call hasn't been particularly good, and I believe the reasons that have made it a bad call thus far still remain. However, longer term - especially when there are clear signs of these trends that I'm describing (market share loss, cost structure problems, etc.), this will become a very good structural short as growth expectations fizzle out. I believe the dominoes begin to fall in 2H 2013, but the wreckage won't truly manifest itself until early 2014. Until then, this will be a tough, tough short... but it will likely eventually be a very profitable one.
Disclosure: I am short ARMH. I wrote this article myself, and it expresses my own opinions. I am not receiving compensation for it (other than from Seeking Alpha). I have no business relationship with any company whose stock is mentioned in this article.
Additional disclosure: I am long INTC, NVDA, QCOM