Earlier this week on May 1, 3D Systems Corporation (NYSE:DDD) announced that it had acquired and will immediately integrate San Diego-based Rapid Product Development Group, Inc. ("RPDG").
RPDG is described in the press release as a provider of "on-demand additive and traditional manufacturing services" and services a global customer base in the automotive, computer, consumer appliance, medical device, and industrial equipment industry.
The term "additive" refers to 3D printing services, and by "traditional" they are referring to the use of older technologies such as CNC machining, injection molding, die casting, etc. The company offers a Rapid Quote service that allows customers to upload CAD files, configure a project, and instantly receive a quote; as shown in this brief video and the screen shots below, place an order, and have their parts and prototypes quickly produced and delivered.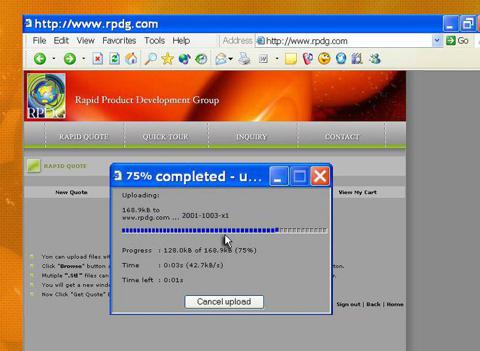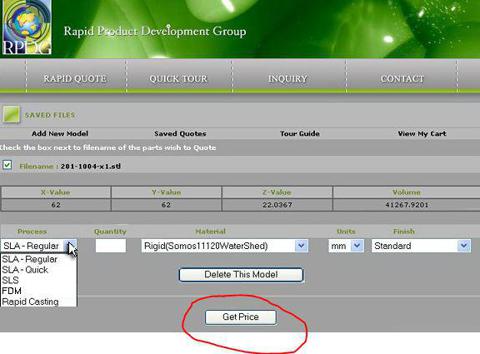 This will sound very familiar to followers of Proto Labs, Inc. (NYSE:PRLB) as it is essentially the same business, with the notable exception that Proto Labs only provides the older traditional services and not additive 3D printing capabilities.
Given the similarities in the businesses, I thought it would be interesting to triangulate some information about RPDG and the deal to see if there is information that could have valuation implications for PRLB.
While financial terms were not disclosed (meaning the deal was small enough that the specific terms were not deemed material enough to 3D Systems), we do have some tidbits to chew on that allow us to take an educated guess on the price paid.
First, we know that 3D Systems will be integrating RPDG with its QuickParts division. QuickParts, another rapid prototyping company like PRLB and RPDG, was acquired by 3D Systems in February 2011 for a total of $23.1 million in cash. At the time, the company had approximately $25 million in trailing revenue, resulting in a deal price of approximately 0.92x revenue.
At the time of the QuickParts acquisition, 3D Systems' market cap was approximately $800 million, meaning $23.1 million deal represented about 2.9% of DDD's value. 3D Systems concluded this was material enough that the terms should be disclosed in the press release. 2.9% of DDD's current $3.5 Billion market cap would represent a value of approximately $100 million. We can safely conclude that the undisclosed RPDG deal is under this threshold.
I am going to assume that the transaction is valued at somewhere between this 0.9X revenue figure on the low end, and $100 million on the high end. I would finally note that at least one Street analyst has estimated a price in the $27-34 million range.
So what do we know about RPDG's finances, given they were not disclosed?
First, we know that 3D Systems upped its guidance for 2013 by $20-$25 million in revenue as a result of the transaction. However, this would reflect only eight months (May-Dec) of performance. Using the $22.5 million revenue midpoint and annualizing it, we arrive at a revenue figure of approximately $34 million (22.5 / 8 X 12 = 33.75).
Second, we know that DDD upped its EPS guidance by exactly $0.05 for the year, or an annualized $0.075. We know from DDD's recently filed 10-Q that it has 93.2 million shares outstanding. Thus 0.075 cents X 93.1 million shares = $7 million.
I will therefore use the 2013 estimates of $34 million and $7 million respectively for my calculations below.
Fortunately, it also turns out that RPDG advertised that it was named an "Inc. 5000" company in 2012: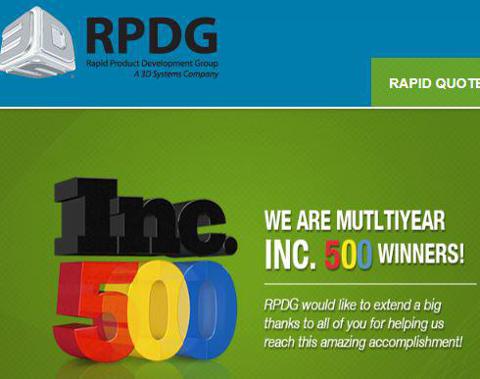 The Inc. website helpfully shows financial and employee information for RPDG (the criteria used for ranking the Inc. 5000):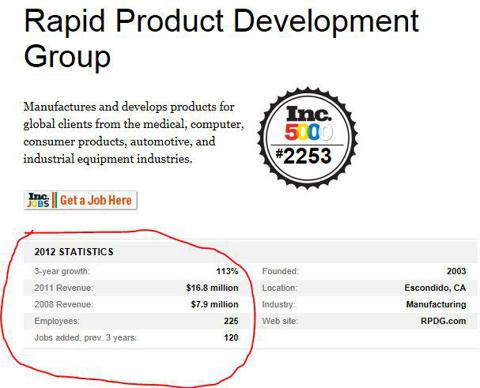 2008 revenue was $7.9 million, and 2011 revenue was $16.8 million. We know from our analysis above that 2013 revenue is expected to be approximately $34 million. The 5-year (2008-2012) revenue CAGR is 34%, while growth from 2011 to 2013 has accelerated to 43%.
The table below gives a snapshot comparison of RPDG and PRLB for those financial metrics that we can determine: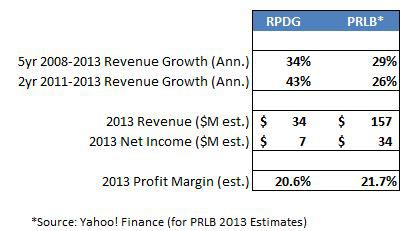 The table above demonstrates that both RPDG and PRLB have experienced good growth over the past several years, and have attractive levels of profitability.
Applying the deal parameters estimated above, we get a low transaction value estimate based on 0.9x revenue of $31 million, and a high estimate of $100 million (based on my crude materiality test above). With Street views seemingly in the $27-$35 million range, I think these are reasonable bookends for the valuation. The midpoint of this range would be approximately $66 million.
The table below shows a summary of the transaction valuation metrics at the low, midpoint, and high ranges established above:

Now let's apply those valuation metrics to estimates of PRLB's financial performance and calculate an equivalent per share value (giving PRLB full credit for the net cash on the balance sheet):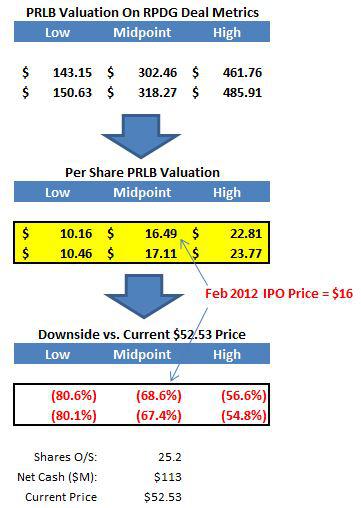 It's worth noting that PRLB completed its IPO just over a year ago in February 2012 at a (raised at the last minute) price of $16 per share. While this illustration is based on only one deal for which we don't have all of the details, it does underscore the risk that PRLB investors are taking on in paying such a lofty valuation.
With the share price now over $52, and riding high seemingly on the back of a 3D printing investment craze (a market in which PRLB does not participate!), it's not surprising that PRLB insiders have unloaded nearly $200 million in stock. To be fair, if I were an executive of a company such as PRLB and trading at an enterprise value / trailing sales multiple of 9X, a EV/ trailing EBITDA multiple of 27x, and a P/E of 49x, I would sell in May and run away.
When asked on the recent quarterly conference call why he was unloading so much stock, PRLB CEO Bradley A. Cleveland had this to say:
"My stock sales have been in two categories, one is sales from my kids' trusts, which are controlled by my wife and sales from my trust, which I control.

My wife and her co-trustee decided it was time to get the kids out of the stock, which is their call. And I decide that a chunk of my equity was - it was time to diversify it a bit and that's really all there was to it."
Hmmph.
"Take care to sell your horse before he dies. The art of life is passing losses on."
- Robert Frost
Disclosure: I am short PRLB. I wrote this article myself, and it expresses my own opinions. I am not receiving compensation for it (other than from Seeking Alpha). I have no business relationship with any company whose stock is mentioned in this article.
Additional disclosure: This article reflects my personal views only. I have a short position in PRLB stock. All data and calculations presented are accurate to the best of my knowledge but have not been vetted, checked, proofread, or independently verified. This article should not be relied upon for any purpose other than for entertainment. I welcome comments and or corrections.