Outstanding HeartWare 1st quarter result:
HeartWare (NASDAQ:HTWR) is to be congratulated on its outstanding results for the 1st quarter on the back of a >300% increase in US sales compared to 1st quarter 2012.
In a previous article, 'HeartWare's Public Offering: Takeover Bid For Sunshine Heart?' I included an estimate for HTWR's full year 2013 performance based on HeartWare guidance. And that guidance was reasonably good except for US sales where they were not as clear as for OUS sales (guidance for OUS "flat" but up 16%) and SG&A and R&D. That lack of clarity on forward US sales was probably due to some uncertainty about what they might achieve, together with a desire to under promise and over perform.
But it seems obvious from comments in their press release that Heartware performed beyond even their most optimistic estimations.
Below is a comparison of HeartWare's actual Q1 results to the 1st quarter numbers included in the previous projections (projections based largely on HeartWare guidance) -
Table 1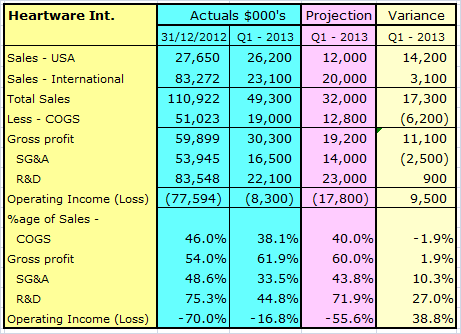 The table above shows that the actual loss for Q1 is only ~47% of the estimated loss for Q1 and on an annualised basis ~58% reduction from 2012 full year Operating Income Loss.
There could be even further reductions if growth in sales continues, subject to the affect of increasing SG&A and R&D expenditure.
Congestive Heart Failure (CHF) Treatment - A Paradigm Shift:
Apart from great execution by Heartware staff, the compelling message from HeartWare's presentation is one of fast growing acceptance by surgeons and cardiologists of left ventricular assist devices. Here is an excerpt from Heartware CEO's address regarding a meeting of the International Heart and Lung Transplant Society (ISHLT) (see here) -
Perhaps the most important aspect of the ISHLT was to see how accepted VAD therapy has become generally. It is no longer one or two physicians postulating that VAD could be a leading therapy for their patients with advanced heart failure. It now seems to be taken as a given by a broad spectrum of ISHLT members. The society is realizing that it needs to incorporate mechanical circulatory support into its branch so it's perceived as much more than just a transplant society by the outside world.
This aspect of acceptance is of huge importance to all suppliers of mechanical heart assist devices including Thoratec (NASDAQ:THOR) and Sunshine Heart (SSH).
The need for wide acceptance is also clearly recognized by Thoratec, which is in direct competition with HeartWare.
What the CEO of Thoratec had to say about competition from Heartware (from Seeking Alpha transcript) -
... we definitely don't view this as a zero-sum game. While we're certainly focused on maintaining a strong leadership position, we have seen in Europe for a number of years ourselves and HeartWare kind of growing robustly, that market growing very robustly.
and
Most of these patients continue to be managed in the community by heart failure cardiologists. So getting them referred to an implanting center for consideration for treatment is really job 1 in terms of market development. Our MDM sales force where we have over 40 individuals now, they're focused 100% of their time on that education outreach process. It's the most important focus of that. And you can see a number of other things that we're doing there.
In addition, REVIVE-IT study, supported by Thoratec with up to $11M, is likely to be a major catalyst for a switch from drug therapy for treating NYHA Class III CHF.
This is particularly so because the study is co-sponsored by the National Institutes of Health's National Heart, Lung, and Blood Institute (NHLBI).
There could be no better organisation than the NHLBI to have on board, to promote the switch from drugs to mechanical devices, if the trial is successful (NHLBI Mission Statement here). Their promotion would extend to both Clinicians and patients, and also the wider community.
Just as HeartWare's work with the ISHLT will benefit Thoratec, so too will Thoratec's work with NHLBI benefit HeartWare. The CHF patients in the target market they address are estimated to number in the order of 50,000 to 100,000. Based on their sales to date, they have barely scratched the surface of this market. Competition is likely to grow the total market and actually contribute to the growth of the individual participants for the foreseeable future.
And the efforts of both Heartware and Thoratec should also benefit tiny Sunshine Heart and their C-pulse system, which addresses NYHA Class III and ambulatory stage IV CHF. CHF patients in Sunshine Heart's target market are estimated to number in the order of 5,200,000 (yes, that is 5.2 million worldwide, a much larger market than for HeartWare and Thoratec).
HeartWare's improving results - implications for cash on hand:
In the article, referred to above, I postulated that HeartWare's recent capital raising was most likely undertaken to provide assured funding through to achievement of positive cash flows. This followed a comment on an earlier article questioning whether the HeartWare equity raising could be for a takeover bid for Sunshine Heart.
At the time of the recent HeartWare equity raising there would have been an awareness of the good results for US sales in Q1, so the question remains whether the funds were purely for ongoing operations.
I would still lean toward the notion that these funds were raised to assure funding through to achievement of positive cash flows.
But if HeartWare continues to grow sales in the manner they have in the 1st quarter they might well be looking at other purposes for the funds raised.
Their announcement on the capital raising did include in part -
HeartWare intends to use the net proceeds from the offering for working capital and general corporate purposes, including ............. acquisition or licensing of or investment in complementary products, technologies or businesses.
That could quite easily include a takeover bid for Sunshine Heart.
And as I wrote in my previous article, if Heartware were to make a bid for Sunshine Heart, it would likely give rise to competing bids from Thoratec and larger players such as St Jude (NYSE:STJ), Medtronic (NYSE:MDT) and Johnson & Johnson (NYSE:JNJ).
Conclusions:
The ventricular assist device space is to my mind a very interesting area with significant developments taking place towards meeting a large unmet need. Thoratec is presently the clear market leader with HeartWare the challenger. Sunshine Heart is the junior player, obviously with the greatest risk profile due to its earlier stage, but addressing the largest potential market. It would seem their collective efforts are only likely to grow market acceptance, and individual market share.
Caution
Investing in small cap and micro cap companies is not suitable for all investors and can be risky. It's important that investors thoroughly perform their own due diligence and analyze the potential risks. Due to illiquidity, share prices can fall despite strong fundamentals and possible inability to raise sufficient additional cash to continue to fund ongoing operations is always a serious concern. Fuller details of risks associated with Sunshine Heart as identified by the company may be found with their form 10-12B/A registration filing with the SEC and their other SEC filings.
Disclosure: I am long SSH. I wrote this article myself, and it expresses my own opinions. I am not receiving compensation for it. I have no business relationship with any company whose stock is mentioned in this article.