Three months after the launch of the BlackBerry (NASDAQ:BBRY) Z10, a BlackBerry with a touch screen has managed to not only stop, but also seriously reverse, years of market share erosion. The stats below show you the BlackBerry's vendor market share based on browser observation.
A few words about methodology: Statcounter Global is a very good 'non-mobile' industry barometer in my opinion. This company is in the business of providing stats, similar to Google analytics, for website owners. They do not sell research to hedge funds or analysts. Using the network of client sites (largely English language) they are able to track browser usages, desktop vs mobile, screen resolutions etc. They can then slice that data up by country and device types. As such, they have no 'skin' in the game and are not fazed about the mobile OS wars and neither the browser wars. They simply report data for their clients.
You may use the links to look at different countries; I stuck to the UK as this is where the Z10 will have the greatest impact as it has been here three months.
The sample size used in the UK is based on 703 Million page views.
http://gs.statcounter.com/#mobile_vendor-GB-monthly-201201-201305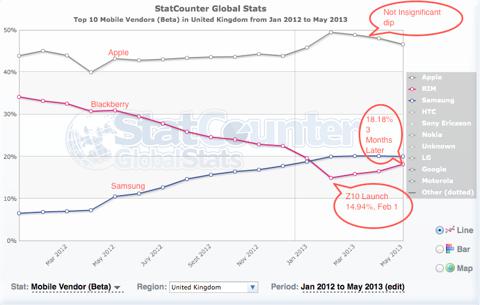 D-Day February 1, 2013
The inflection point is evident: February's launch of the Z10. Since then BlackBerry's mobile vendor market share has risen from a low 14.94% to 18.18%, representing a gain of 21.7% in three months. Did a BlackBerry Z10 without a keyboard reverse a multi-year monthly drop? It would certainly appear so. Would anybody in his or her right mind had foreseen that on Feb 1? No.
A significant part of the loss is coming at Apple's (NASDAQ:AAPL) expense, dropping from 49.46% to 46.59%. iPhone is feeling the pain of upgrade fatigue; certain users are burned out with ponying up significant sums for the same experience with only marginally smaller, marginally lighter handsets. The novelty of the iPhone5 is gone (My maid has one) and the OS is worn.
Now imagine what the Q10 is going to do to that chart?
What Should Investors Do:
Investors need to see this data as the first very bullish signal of Z10's impact in the UK. BlackBerry does not break up sales by country, but the data here suggests the Z10 is a runaway hit.
At the very least, if this continues with the Q10 in the coming three months we can expect BlackBerry browsers to overtake those of Samsung (OTC:SSNLF). In the UK, it is clear to me that BlackBerry is once again rapidly regaining lost market share.
Disclosure: I am long BBRY. I wrote this article myself, and it expresses my own opinions. I am not receiving compensation for it (other than from Seeking Alpha). I have no business relationship with any company whose stock is mentioned in this article.