Triple Play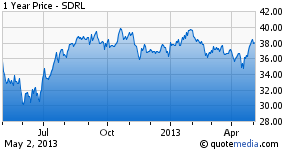 Bermuda based offshore drilling giant Seadrill (NYSE:SDRL) might be a true triple play. The company offers three strong pillars of dividend yields, earnings and fleet expansion to support a future of growth and wealth creation for shareholders.
First, investors have been rewarded with a forward annual dividend yield of 9.30% with a payout ratio as high as 99%. This means the company is returning nearly all of its income per share to investors. This metric alone puts the company at the top of the pack relative to others in the industry. Consider how this stacks up against a Value Line study that compared the dividend yield of 6,177 publicly traded companies as of January 2012. The analysis concluded that the average yield was 2.20%. The average for companies within "Oil/Gas Distribution" was only 3.58% and "Oil Field Services & Equipment" was an unimpressive 1.47%.
In the past some have speculated that this strong dividend is unsustainable. Seeking Alpha questioned the company's ability to consistently deliver such a substantial sum, writing, "there has been some doubt cast on the sustainability of Seadrill's dividend." They explain this by stating, "these numbers (2010 dividend payouts) give Seadrill a payout ratio of 100.18%. If the payout ratio is over 100%, as it is in Seadrill's case, it could be a sign that a dividend is not sustainable and could be cut shortly. This is because the company is paying out more in dividends than it earns in income." These statements were made in May of 2011, since then the dividend payment has risen to $2.94 for 2011-2012 and currently has a payout of $3.22.
Second, the company's impressive dividend has an equally strong earnings record to back up the payment. Over a period of 5 years the EBITDA have shown significant growth despite a dip in 2008. SDRL has seen this metric grow by nearly 20% from 2010 to 2011 alone. The consistency of their annual revenues should attract investors. This number has increased year over year since 2011 when the company earned $4.2 billion, then $4.5 billion in 2012 with estimates for 2013 in the range of $4.9 billion. These earnings figures help to reassure investors that they can continue to expect a healthy dividend in the future. Strong dividends are the result of strong earnings and Seadrill's strong earnings are the result of the third aspect of the company's value: expanding operations.
This third pillar is the most exciting because it illustrates the future value potential of shares. This value will be derived from expanding fleets, partnerships and purchase agreements. The latest news in their expansion came this month with the announcement that Seadrill secured a 3-year contract with LLOG Bluewater Holdings for the use of a drill ship in the Gulf of Mexico. In a statement released by Seadrill the company explained, "the potential revenue for the primary contract term is approximately US$662 million. The West Neptune is expected to be delivered to Seadrill from the Samsung Heavy Industries shipyard in Geoje, South Korea, in early June 2014. The rig will be outfitted to work in up to 10,000' of water and is capable of water depths up to 12,000' and drilling depths up to 37,000'." Between the release of this news on April 16th and April 25th the share price picked up 6.36%.
In a February 28, 2013 financial report issued by the company the management made the following commitment, "the focus in the next quarters will be to optimize our operational performance related to the economic utilization of our rigs and ensuring that operating costs do not exceed current levels. The Board is based on a detailed budget review comfortable that we have good control over the development in offshore operating cost. It is our near-term ambition to deliver utilization rates exceeding 95 percent for our units in operation." Given that the company was incorporated as recently as 2005 investors should be impressed with Seadrill's ability to grow and manage such substantial assets. The above statement indicates the officers' dedication to leverage these assets in the coming quarters.
Building Value
No stock analysis should ignore potential risks and every company has their share. Seadrill is no exception. As one Motley Fool writer puts it, "the biggest risk in my mind is Seadrill's use of debt to fund its growth. While the contract backlog provides security, it's still a risk as debt has been known to be the weight that's sunk many businesses." This is true. The debt to equity ratio is unfavorable relative to industry standards. Seadrill shows this value at 1.5 versus the average of 0.5. This issue has not gone unnoticed within the ranks of the company.
The February 28th statement also provides this insight, "The Board is as previously stated confident that all new builds can be financed without raising additional equity and recognizes that the Company will have significant financial flexibility after completing the tender rig sale to Sapura Kencana. The transaction will reduce Seadrill's net debt position with approximately US$2.5 billion through a reduction in debt and future capital commitments and the receipt of cash proceeds from the transaction." The company is making the right moves at the right time and that means the timing is equally appropriate for long-term investors willing to allow their shares to appreciate as these assets begin to deliver.
Over the years, and particularly the last several months, the company has worked impressively to build up assets and procedures that promise to continue to deliver the already substantial value shareholders have largely enjoyed. The expectation of profitability from newly acquired arrangements like the one with LLOG Bluewater should reassure those interested in including oil drilling in their portfolio. Seadrill's sufficient due diligence is the mark of a thoughtful company with solid plans. Some have expressed concern with dangerous operations like those important to Seadrill but the prudent management of the company's strategic moves is testament to their commitment to a holistic approach to building wealth.
Disclosure: I have no positions in any stocks mentioned, and no plans to initiate any positions within the next 72 hours. Catalyst Investments is not a registered investment advisor or broker/dealer. Readers are advised that the material contained herein should be used solely for informational purposes. This information is not investment advice or a recommendation or solicitation to buy or sell any securities. Catalyst Investments does not purport to tell or suggest which investment securities readers should buy or sell. Readers should conduct their own research and due diligence and obtain professional advice before making investment decision. Catalyst Investments or anyone associated with Catalyst Investments will not be liable for any loss or damage caused by information obtained in our materials. Readers are solely responsible for their own investment decisions. Investing involves risk, including the loss of principal.
Business relationship disclosure: This article was written by an analyst at Catalyst Investments.