About 50 days ago, I wrote an article stating that short interest in Nokia (NYSE:NOK) was near all-time high. Since then, the short interest seems to have fallen sharply which may signify start of another rally for the company's share price.
By the end of February, there were 337,984,576 Nokia shares that were shorted in New York Stock Exchange. This number excludes the Nokia shares that are being traded in European markets; however, those numbers were similarly high as well. As of the latest available data, the number of shorted Nokia shares fell to 260,549,003. We are looking at a 23% reduction in short interest in less than two months, which is massive. In other words, there are 77,435,573 less shorted Nokia shares today than there were two months ago. The current number of shorted Nokia shares is the lowest since August 31, 2012 when Nokia was trading for $2.75 per share. The last time short interest fell this much in Nokia, the company's share price rallied from $2.75 to $4.72. If the sudden sharp fall in short interest represents anything, the company's share price might see another rally.
Of course, when there are fewer short sellers, there are fewer people to "cover" which reduces the chances of seeing a short-squeeze rally. On the other hand, many people consider short sellers to be more sophisticated than long-only investors, which means that the behavior of short-sellers can be a good indicator for a stock's performance in the near future. The chart below displays the short interest in Nokia's NYSE shares by date.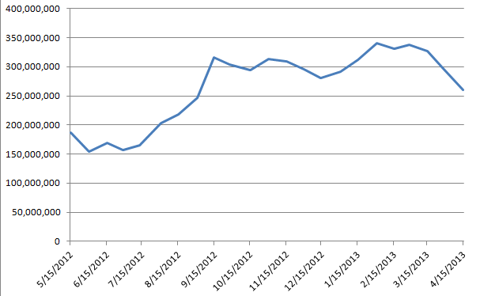 Of course the data hasn't been updated since April 15 and Nokia announced its quarterly earnings on April 18. Some short sellers might have simply covered their position due to the earnings announcement to make sure that they are not caught off guard. There is also a possibility that some of those short-sellers re-opened their position after Nokia's earnings announcement. We will find out more about this soon enough.
Last time I checked, Nokia's short interest rate was 11% in Finland. Today, the rate seems to have fallen below 9%. Keep in mind that this only includes the short sellers that have big positions (at least 0.5% of the float), because anything less than that is not reported.
I definitely wouldn't short Nokia because the company's current market value of $12.51 billion is well-supported by the company's current cash balance of $14 billion. The worst things that could happen to Nokia are pretty much already baked in the price of the company. In order for Nokia's fundamentals to justify further price decline, the company should go back to burning cash like it was in the first part of 2012. I don't see that happening anytime soon because the company's cash burn was mostly due to some one-time costs that were associated with the company's restructuring efforts. In the short term, Nokia is expected to see either a breakeven or a small profit/small loss whereas in the long term, the company is expected to report positive earnings. At this point, there isn't another cash burn in the horizon; therefore, the company should be valued at least as much as its cash reserves.
According to the company's latest earnings report, Nokia is expected to grow its Lumia volume by 20-25% in the next few quarters. Combined with average sales price of Lumias (i.e., about $250), we are looking at about $8 billion in Lumia revenue alone until the end of the year.
Currently, the biggest market for Nokia is in Europe and the continent is seeing the worst recession in its history since World War II. When the European recession starts reversing, Nokia will benefit greatly from this (even though it may take at least a few years because the European economy is not in a great shape right now). Meanwhile, the company will continue to gain market share in North America and try to at least keep its market share flat in Asia and Africa.
If I was shorting Nokia, I would definitely cover now. While there is always a chance for a pullback, there is absolutely no justification for such pullback in the near term. Shorting Nokia is no different than gambling in the near term. In the long term, the risk gets even higher. Remember, when you are long in a stock, you can only lose the money you put in but when you are short in a stock, you can lose a lot more than what you put in. This is especially true when we are talking about a stock that's already underpriced.
Disclosure: I am long NOK. I wrote this article myself, and it expresses my own opinions. I am not receiving compensation for it (other than from Seeking Alpha). I have no business relationship with any company whose stock is mentioned in this article.