Those who own physical gold and GLD, may be interested in the continuing drawdown of COMEX warehouse gold inventories that has been occurring over the last few months. This has been noted in gold blogs for a few weeks now, but what is interesting is that this is the biggest drawdown in COMEX gold since the beginning of the gold bull market.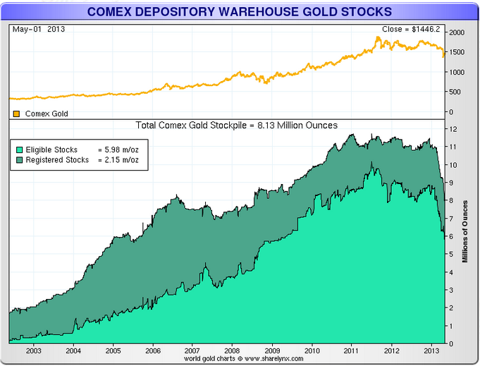 As you can see on the chart above, both registered and eligible gold stocks have been declining significantly since the beginning of 2013. What does this mean? First let us start with a brief overview of how warehousing works at the COMEX.
Introduction to Comex Warehousing
COMEX is an exchange that offers metal warehousing and storage options for its clients. The list of their silver warehouses can be found here and their gold warehouses can be found here. In the case of silver and gold, the metal is stored at these official warehouses on behalf of banks and their clients and can be used to settle futures contracts, transferred between clients, or withdrawn from the warehouse. This offers large holders of precious metals a convenient way to store their metal with minimal storage fees - very convenient indeed if you hold large amounts of gold or silver and you don't want to store them in your basement.
Silver and gold stored in these warehouses can fall into two categories: Eligible and Registered.
Eligible metals are those that conform to the exchange's requirements of size (1000 ounce bars for silver and 100 ounce bars for gold), purity, and refined by an exchange approved refiner. The first category, eligible metals, are stored at COMEX warehouses on behalf of banks or private parties but are not available for delivery for a futures contract. Registered metals are similar to eligible metals except that these metals are available for delivery to settle futures contracts. COMEX issues a daily report on gold, silver, copper, platinum, and palladium stocks, which lists what is currently stored in COMEX warehouses and how much eligible and registered metal is present.
This information allows investors insight into how much metal is currently backing COMEX futures contracts, what large gold and silver owners are doing with their metals, and how many clients are requesting delivery of their metals. There is a lot more to glean from this information but for the purpose of this article we will focus on the gold drawdown.
The 2013 COMEX Gold Inventory Drop
So now back to the large gold drawdown we are seeing at the COMEX - what does this mean? Unfortunately, the only thing we can tell for sure is that some clients have decided to withdraw significant amounts of gold from the COMEX - why they are withdrawing it and where this gold is going we just don't know. But we do know it started at the beginning of 2013 (way before the large drops in gold) and is continuing through the April gold smack down, so whatever the reasons are for the drawdown they are not related to the large price drop.
There is a lot of conjecture in the gold market that this may be due to large clients wanting to bring physical gold closer to them (foreign or domestic) or bullion bank shorts forced to remove COMEX metal to supply physical gold obligations because of a tightness in the physical markets. Both of them seem plausible but ultimately it is just conjecture, but we do know the metal is leaving COMEX warehouses at a rapid pace. This is something that gold investors should note and also should cause them to evaluate their own paper and physical gold allocations to make sure their physical allocation is sufficient.
Waiting for a COMEX Default
These significant drops in COMEX gold inventory have also led to speculation among some gold bloggers and enthusiasts that a COMEX default in gold may be imminent, which causes many of them to religiously check the COMEX inventory reports to watch the drawdown. While a COMEX default is in the realm of possibilities - do not expect to see it on COMEX inventory reports!
The last thing that COMEX wants to do is have a physical default on its exchange - if that occurs then confidence in the whole exchange will be shattered. Even though the COMEX is a private exchange, it is also a strategically important asset to the government (too big to fail) and they will come to its aid if necessary. So while following inventory reports can be useful to investors, if there is severe stress in any of the gold or silver inventories then COMEX will try its best to cover that up by either suspending reports (unlikely since it will tip investors to the stress) or by finding some accounting trick or loophole to make the numbers more favorable.
This does not mean there will not be a default in the gold or silver markets - there definitely could be. But investors should not expect to see it by reading through COMEX inventory level reports - they should look elsewhere for tightness in the gold market that would be early signs of a possible default.
Disclosure: I am long PSLV, SIVR, SGOL. I wrote this article myself, and it expresses my own opinions. I am not receiving compensation for it (other than from Seeking Alpha). I have no business relationship with any company whose stock is mentioned in this article.