Some of you may have heard the legendary folklore about the investors that were able to sell out of American stocks before the terrible crash of 1929-1933. The story goes that when certain investors heard that the "shoeshine boys" were giving out stock recommendations, it meant that it was time to get out of stocks because there was an impending crash.
Recently, Barron's ran an interesting cover that featured a bull riding a pogo stick to the Dow Jones 16,000 mark.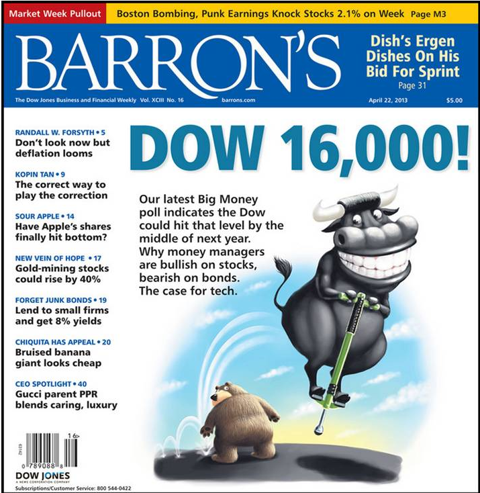 John Hussman, the gentleman that runs the Hussman funds, offered this commentary in response to the Barron's cover:
Rule o' Thumb: When the cover of a major financial magazine features a cartoon of a bull leaping through the air on a pogo stick, it's probably about time to cash in the chips.
On its face, what Hussman says may appear to make a lot of sense. The optics of a giant bull about to take off on a giant pogo stick does seem like something you'd encounter while reminiscing about the dotcom bubble or another period of irrational exuberance in the American stock market.
But there is a huge flaw with thinking "time to sell all my stocks" in response to any kind of catalyst. The assumption behind that kind of thinking relies on the premise that all stocks in the market are trading at the same valuation. In the context of Hussman's commentary, the assumption is that all stocks must be overvalued.
You don't have to invest like that. Feel free to recognize the stock market for what it is: a giant auction house that facilitates your ability to buy ownership stakes in businesses that happen to be easily sold to the public at large.
The implication is that each company has its own unique growth characteristics and is trading at its own unique valuation that allows you to capture an ownership stake. Even though your portfolio represents a comprehensive entity, there is no reason why you shouldn't analyze each company on its own individual merits.
For the past twenty years, General Electric (NYSE:GE) has traded at a P/E ratio of 15 and grown by about 7% annually (by the way, I used common sense and manually removed some of the years during the dotcom bubble when GE traded at 35-40x earnings from my calculations. I wanted a more conservative/realistic number to use as a reference point. If this judgment call bothers you, ignore my commentary on GE). Right now, GE trades at 15-16x earnings, and analysts estimate that the company will grow earnings and dividends by 13% annually over the next five years. Unless GE ends up growing by much less than 7% over the next five years, it is highly unlikely that this company is overvalued at the present price.
For the past twenty years, Hershey (NYSE:HSY) traded at right around 20x earnings. Now, depending on how you treat special items in your personal calculations of a company's earnings power, Hershey is trading at 26-30x earnings. The company is generating the same 16% return on assets like it has always been. The dividend has grown by 6% for the past five years, and 9% for the past ten years. Analysts are predicting that the five-year future for Hershey's dividend growth will fall somewhere between that range at 7-8% annually. Hershey is a fantastic business, but it is hard to find a justification for why it is worth much more than its historical average. Would it surprise anyone if the total returns for shareholders trailed earnings growth over the next five to ten years? It shouldn't, if history is any guide.
Likewise, Kimberly-Clark (NYSE:KMB) has a twenty-year record of trading at 16-17x earnings (while growing at around 7%). Now, depending on how you treat non-recurring items in your personal calculations, Kimberly-Clark is trading at around 20-22x earnings. The total returns ought to lag the earnings growth over the next five to ten years by a little bit if Kimberly-Clark experiences the tug of "Reversion To The Mean."
A fun fact about Wells Fargo (NYSE:WFC) is that the company has delivered returns that have almost doubled the S&P 500 over the past twenty years, and this includes the financial crisis. The company did this while typically growing earnings at 9% and trading at 15x earnings (ideally, we'd want to value a company like Wells Fargo on something involving book value, but that is difficult in this case because Wells Fargo has not experienced much consistency in giving investors a meaningful book value figure that would be a good time to sell, although selling at 2.5-3x book value would be a ballpark approximation). Right now, Wells Fargo is trading at 10-11x earnings and is expected to grow at 11% over the next five years. Unless we experience another financial crisis in the next five to ten years, it's hard to see how one could value Wells Fargo in such a way that it would seem overvalued and worth selling.
The general storyline with today's stock market is that the excellent companies, particularly consumer staple stocks like Coca-Cola (NYSE:KO) and PepsiCo (NYSE:PEP), are trading at multiples that leave no margin of safety because they are a little bit above historical norms. As Bob Dylan might say, investors are seeking "Shelter From The Storm" by flocking to excellent companies that grow earnings and dividends reliably every year. Speaking strictly in terms of valuation, I do not understand any basis for thinking that Exxon (NYSE:XOM), Chevron (NYSE:CVX), and IBM (NYSE:IBM) are trading anywhere near the expensive valuations of Kraft (KRFT), Kellogg (NYSE:K), and Brown-Forman (NYSE:BF.B). Equality of valuation simply does not exist in the stock market.
The power to think independently, deliberately, and with common sense is the greatest asset that we as individual investors have. Don't outsource that power to anyone. I'll be the first join John Hussman is saying that the optics of a bull riding around on a pogo stick seem to be "Exhibit A" in demonstrating irrational exuberance in the marketplace. But that should not translate into "cashing chips in", as he put it. Look at each company individually. Make educated (perhaps even conservative) guesses about each company's future cash flows and dividends. Determine an intelligent price to pay for a share of those profits. If someone is offering you a price well above your calculations, maybe consider selling your stock. If it is at or below your calculations, buy or hold. The Barron's bull bouncing around on a pogo stick is pretty meaningless when you speak in terms of individual companies.
Disclosure: I am long IBM, GE, XOM. I wrote this article myself, and it expresses my own opinions. I am not receiving compensation for it (other than from Seeking Alpha). I have no business relationship with any company whose stock is mentioned in this article.