The decline in average weekly hours from 34.6 to 34.4 from March to April mutes the gain in total jobs of 165k. While these hour figures are rounded to just the tenth, it's not precise. Regardless, this is a big deal.
This picture showing the seasonally adjusted month over month change in aggregate hours worked, which I get simply by multiplying the average weekly hours of private employees by total employees per the Bureau of Labor Statistics, speaks for itself: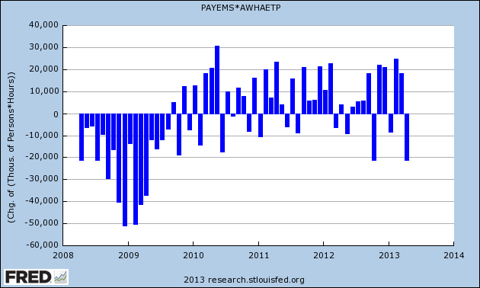 We could say, the U.S. economy shed 21.385 million hours of work in April Vs. March. Using these data sets, this happens to be the biggest drop since April of 2009.
This reminds me of a job I had in my early 20's. I began working for a printed circuit board manufacturing company in January of 1999. The factory was humming with overtime, partly due to a huge order from Intel (NASDAQ:INTC). I remember having a hard time finding a parking space because of so much overlapping of employees working overtime as this was a 3 shift run company. Then in June, just 6 months after I started, Intel abruptly cancelled their orders and a good deal of the overtime was gone. The company did not lay anybody off, we just cut the hours. Next, we slowed hiring and finally, the layoffs came in the recession of 2001.
While the economy has been steadily adding jobs month over month, as per this chart: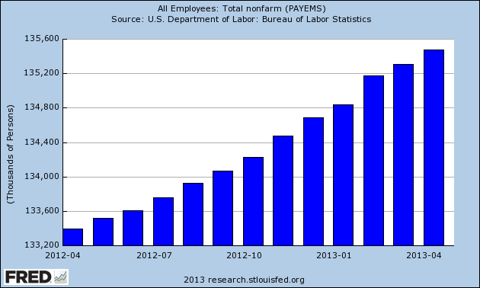 The picture of the employment or work situation changes when we factor in average weekly hours worked.
This chart shows the average weekly hours worked since 2006: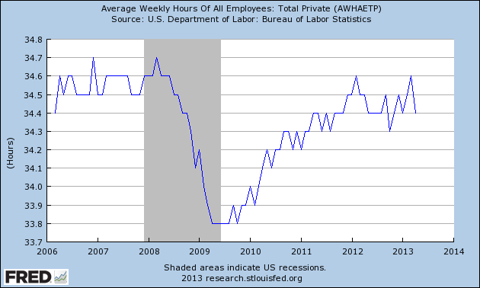 When we multiply the two data sets together, to get an "aggregate hours worked" per month, the chart looks like this: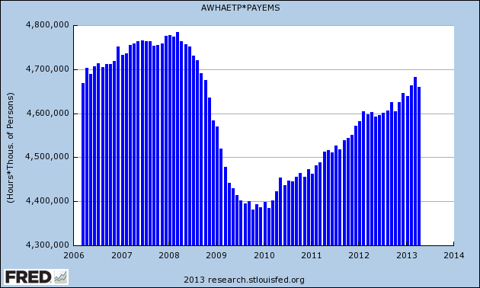 Looking at aggregate hours worked on a year over year percent change basis, we can see that the slowdown continues as growth in aggregate hours worked grew just 1.3% year over year: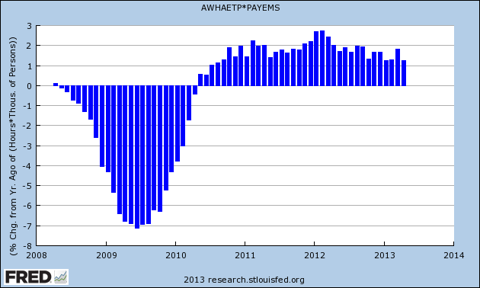 The economy will grow on account of two factors: Total hours worked and the output per hour. As we can see, total hours worked is only growing 1.3% year over year. More important is that this trend remains to the downside.
The other factor is how much output per hour is being had, which is the rate of productivity. Productivity growth has stalled these last 2 years. Here is a chart of the output per hour percent change from year ago on an annual basis: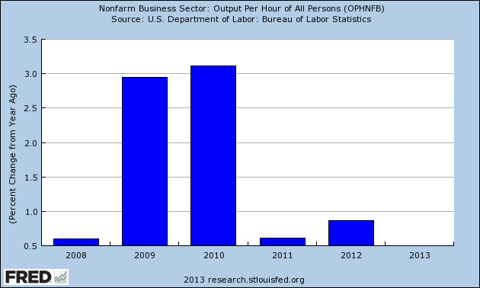 So far in Q1 of 2013, output per hour only grew .9% year over year per yesterdays productivity report.
I would say at a minimum, the markets and pundits reaction to today's job report is overly optimistic and frankly, not very objective.
Given the drop in hours worked for April, expect a very muted average weekly earnings report for April which should hit personal consumption expenditures, especially discretionary spending. That may in and of itself mean less aggregate hours worked required.
It's too early to see if this down trend continues but it's very much worth keeping a close eye on.
Disclosure: I have no positions in any stocks mentioned, and no plans to initiate any positions within the next 72 hours. I wrote this article myself, and it expresses my own opinions. I am not receiving compensation for it (other than from Seeking Alpha). I have no business relationship with any company whose stock is mentioned in this article.