InvenSense (NYSE:INVN) has remained an incredible technology firm with huge upside potential since its IPO back in 2011. Yet the stock trades near the IPO pricing as the company has had to continuously throttle back expectations including the guidance for Q1 2014 provided on the earnings call.
As pointed out in previous articles, the maker of motion sensing technology had tons of potential held back by the inability to correctly forecast the growth potential. Prior to earnings Thursday night, the stock traded at roughly 12x this year's earnings expectation yet the company just completed a year of over 100% growth. Even after a huge gain following the strong outlook for fiscal 2014, the stock might offer the most incredible price in the market.
Q4 2013 Highlights
The company reported the following highlights for Q4:
Net revenue for the fourth fiscal quarter of 2013 was $55.2 million, up from $33.1 million for the fourth fiscal quarter of 2012. Net revenue for the fiscal year 2013 was $208.6 million, up from $153.0 million for the fiscal year 2012.
Net income for the fourth fiscal quarter of 2013 was $13.6 million up from $5.9 million for the fourth fiscal quarter of 2012. Net income for the fiscal year 2013 was $51.7 million, up from $36.9 million for the fiscal year 2012.
Non-GAAP net income for the fiscal year 2013 was $56.4 million, or $0.65 per diluted share. This compares to non-GAAP net income of $39.5 million, or $0.50 per diluted pro forma share for fiscal year 2012.
The company ended the fiscal year of 2013 with $200.3 million in cash, cash equivalents and investments, compared to $157.8 million at the end of fiscal year 2012.
The company reported revenue surging 67% in Q4 over last year. More importantly earnings jumped more than 100% suggesting the market continues to focus on momentum versus actual results.
Q1 2014 Guidance
After providing glowing commentary on the pipeline, the company provided somewhat subdued guidance at revenue of $53M to $55M and earnings of $0.12 to $0.14. Management was very cagey on the full year numbers other than to non-stop gloat about having the best products and a robust pipeline. As an example, the CEO made the following statement in the earnings release:
Also, last quarter our customer design pipeline for fiscal year 2014 continued to expand significantly across all of our products, with solid traction for the 6-axis product (MPU-6500), 9-axis product (MPU-9250), and 2-axis (IDG-2020) in optical image stabilization applications. We look forward to ramping these design wins to production as they contribute to our continued market share gain in mobile and computing, and consumer market segments.
In addition to a robust pipeline or possibly including, management again hints that Apple (NASDAQ:AAPL) has no choice other than becoming a future customer. Time will tell on this customer though it isn't needed to justify higher prices. Wedge Partners even stated back in March that InvenSense is the likely supplier in the new iPhone 5S.
Legal Matters
The legal matters with STMicroelectronics (NYSE:STM), the world's top manufacturer in the MEMS (Micro-Electro-Mechanical Systems) sector, might be the biggest contributing factor to the weak stock price to start this year. InvenSense recently announced that the United States Patent Office has determined substantial questions of patentability exist for eight of the nine patents asserted by STM. The United States District Court for Northern California stayed the initial litigation brought by STM.
As the chip provider for Apple products and with a revenue base over $8B, STM has a large incentive to push this patent case as far as possible in order to protect that revenue base whether legitimate or not. The management team of InvenSense was rather emphatic that the new technology released by it far exceeds anything else in the market.
Stock Performance
The stock performance over the roughly 18 months as a public company continues to be a roller coaster. The stock that started off as a mediocre IPO quickly soared from below $9 to over $22. Any investors that held on quickly saw all those gains vanish as the stock plunged back to $9 repeatedly in the last year. It is incredible to think that InvenSense could report 100% earnings growth and the investors that bought in the $20s wouldn't have been satisfied with those numbers. Now those same investors get the opportunity to buy the stock at what would've been around 12x future earnings prior to substantial gains on Friday.
After these results, the stock will attempt another break out on the back of a strong Q4 and guidance of a substantial pipeline (hint iPhone).
18-Month Chart - InvenSense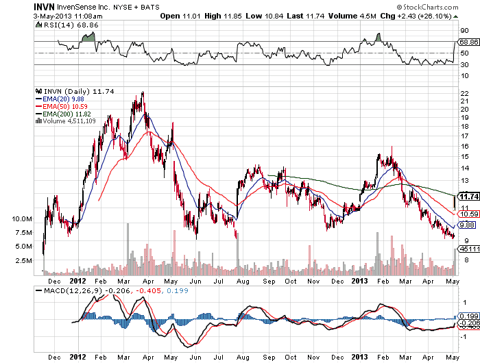 Conclusion
Not only is the company an exciting technology stock trading at a low multiple, but also it continues to produce the new technology to obtain the iPhone/iPad business from Apple. The company already obtains up to 30% of its business from Samsung (OTC:SSNLF) suggesting an extremely meaningful bump to revenue with such a deal.
Naturally STM won't let Apple go without a fight suggesting a prime reason for the patent suit against InvenSense. It appears as a last step desperation to maintain that massive customer, but it continues to be a risk to the stock. Outside of that lawsuit, the stock has multiple catalysts between fast market growth and a potential homerun win with Apple. Either catalyst alone would justify a much higher stock price and a combination of both opportunities could make this stock a market leader for the rest of this year.
InvenSense has possibly the most incredible price for its growth rate in the market. Investors should load up at these levels even after the large bounce back.
Disclosure: I am long INVN, AAPL. I wrote this article myself, and it expresses my own opinions. I am not receiving compensation for it (other than from Seeking Alpha). I have no business relationship with any company whose stock is mentioned in this article.
Additional disclosure: The information contained herein is for informational purposes only. Nothing in this article should be taken as a solicitation to purchase or sell securities. Before buying or selling any stock you should do your own research and reach your own conclusion or consult a financial advisor. Investing includes risks, including loss of principal.