Judging from the Treasury TIC data, the US might expect to import about $400 billion of capital from the rest of the world, against a $1.8 trillion federal financing requirement. Earlier this year the World Bank warned of a possible $700 billion reversal out of emerging markets to finance the Treasury's requirements. No such thing will happen. For the first time, the Treasury has to bid against other, competing assets, such as commodity-backed emerging market equities. In two fell swoops, the Bush and Obama administrations have put the US at a disadvantage in world markets.
Was I ever wrong on Monday about the Treasury market! The bloodshed continued all week as the market contemplated the relative merits of holding US government debt vs. competing assets. For the Treasury to finance the $1.4 trillion in borrowing that will NOT be supported by global purchases of Treasuries, the Fed will have to pick up $300 to $400 billion of the total, an unprecedented degree of debt monetization. The savings rate in the US will have to rise to accommodate the rest, which means that yields have to go up, and consumers have to spend less. The moment the zombie pulls on his chain, rates rise, consumption falls, and the zombie gets less oxygen. Treasury borrowing crowds out mortgages. Forget a housing recovery anytime in the next few years.
The whole of the recent increase in term yields has been absorbed into the inflation premium in the Treasury market, as shown in the TIPS-Coupons spread ():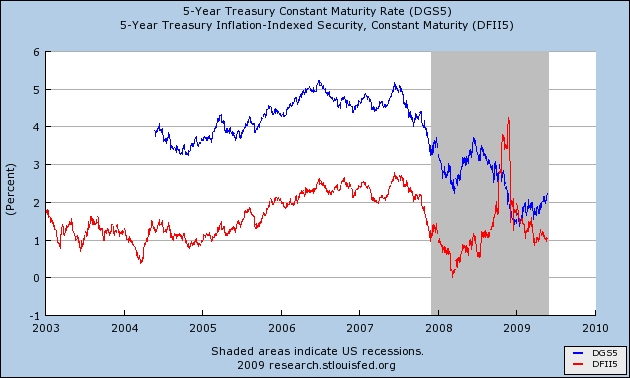 And the price of credit protection of the United States of America has popped up from LIBOR +28 basis points to +36 basis points (it had been 70 basis points in early January).
G7 Industrialised Countries CDS
| Ticker | CLIP | Name | 5Y Today | Daily Chg (bp) | Weekly Chg (bp) | 28 Day Chg (bp) |
| --- | --- | --- | --- | --- | --- | --- |
| USGB | 9A3AAA | Utd Sts Amer | 36 | 4 | 6 | -8 |
| JAPAN | 4B818G | Japan | 37 | -3 | -12 | -30 |
| DBR | 3AB549 | Fed Rep Germany | 37 | 0 | 4 | -5 |
| UKIN | 9A17DE | Utd Kdom Gt Britn & Nthn Irlnd | 83 | 1 | 9 | -18 |
| FRTR | 3I68EE | French Rep | 41 | 2 | 6 | 0 |
| ITALY | 4AB951 | Rep Italy | 100 | 6 | 13 | -17 |
For the moment this is not a panic; it is paralysis. Last December I warned of a feedback effect in the Treasury market: yields failed to rise (then) in the face of massive supply because the Treasury deficit financing requirement created its own risks, and this in turn led to greater demand for Treasuries.
I don't like the fact that commodities have crept up while the S&P tanked and term yields popped up (despite gold's fall today). Here is the Deutsche Bank Commodity Index vs. the S&P during the past five days ():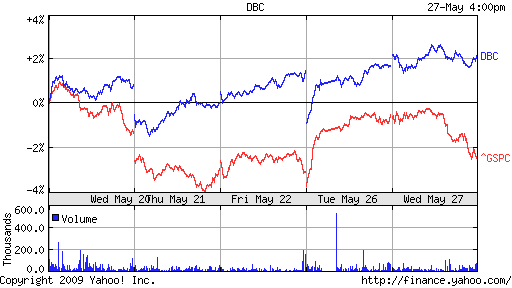 It's time to buy (in fact, it was time three weeks ago) to buy commodities and commodity currencies as an inflation and dollar hedge.
Disclosures: None